Make your cooking fun and easy by planning your meals. Here comes my weekly meal planner with many one-pot meal options loaded with veggies yet a simple one to make.
PS – Substitute the rice with grains of your choice.
I am back with my meal planners. Even though I was planning and making my meal planners, I couldn't share them on the blog regularly. Anyways I happy to start sharing them again!
Working from home and online schooling makes the planning bit tricky. We need more snacks these days, and by 3 PM, we all feel hungry these days. I make sure I have plenty of fruits, idli/dosa batter, and some homemade and store-bought snacks. Some days are busy, and I can't make everything from scratch.
Coming Friday, i.e., October 16th, is the new moon day, and the Navratri begins on the 17th. As I have to plan my golu and other stuff this week, my menu is simple with many one-pot meal options. I love one-pot meals because it's not only easy to make, but cleaning is also easy after cooking.
(PS – Last year, I shared a no-onion no-garlic meal planner before Navratri. Do take a look)
After zucchini, we are getting a good yield of bitter gourd, and that's why you see a couple of bitter gourd recipes here. 
Browse my other weekly meal planners:
Without any further ado, here is my weekly meal planner with one-pot meal options.
Weekly Meal Prep
Chop all the required veggies. (Cabbage, bottle gourd, capsicum, grated carrots, sliced bitter gourd)
Make sure you have yogurt and prepare idli-dosa batter. You can also knead the dough for the roti.
Soak the black chickpeas the day before or soak it before and let it sprout.
Now here are details and the recipe links. I have highlighted the fruits and vegetables that I have used in this weekly meal planner.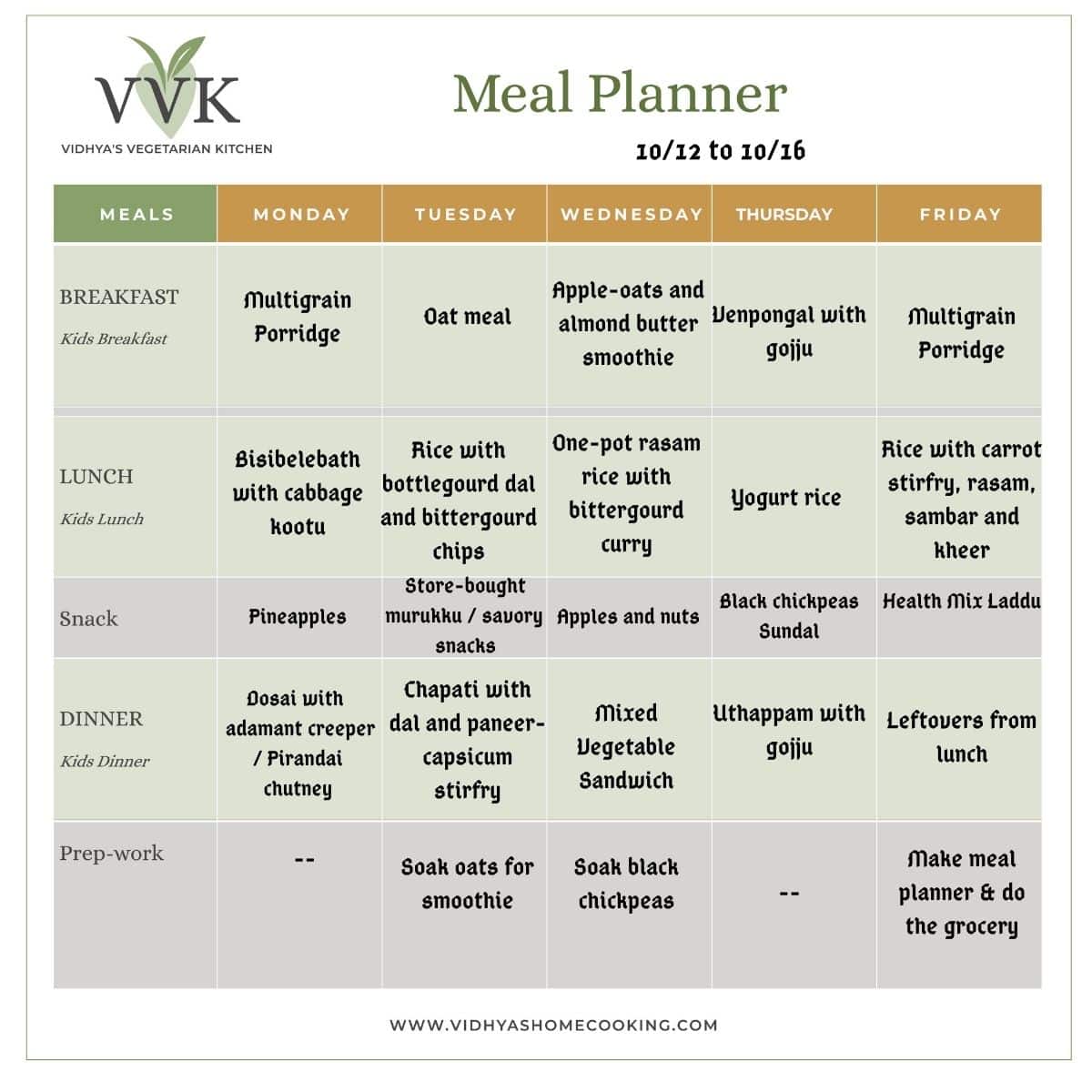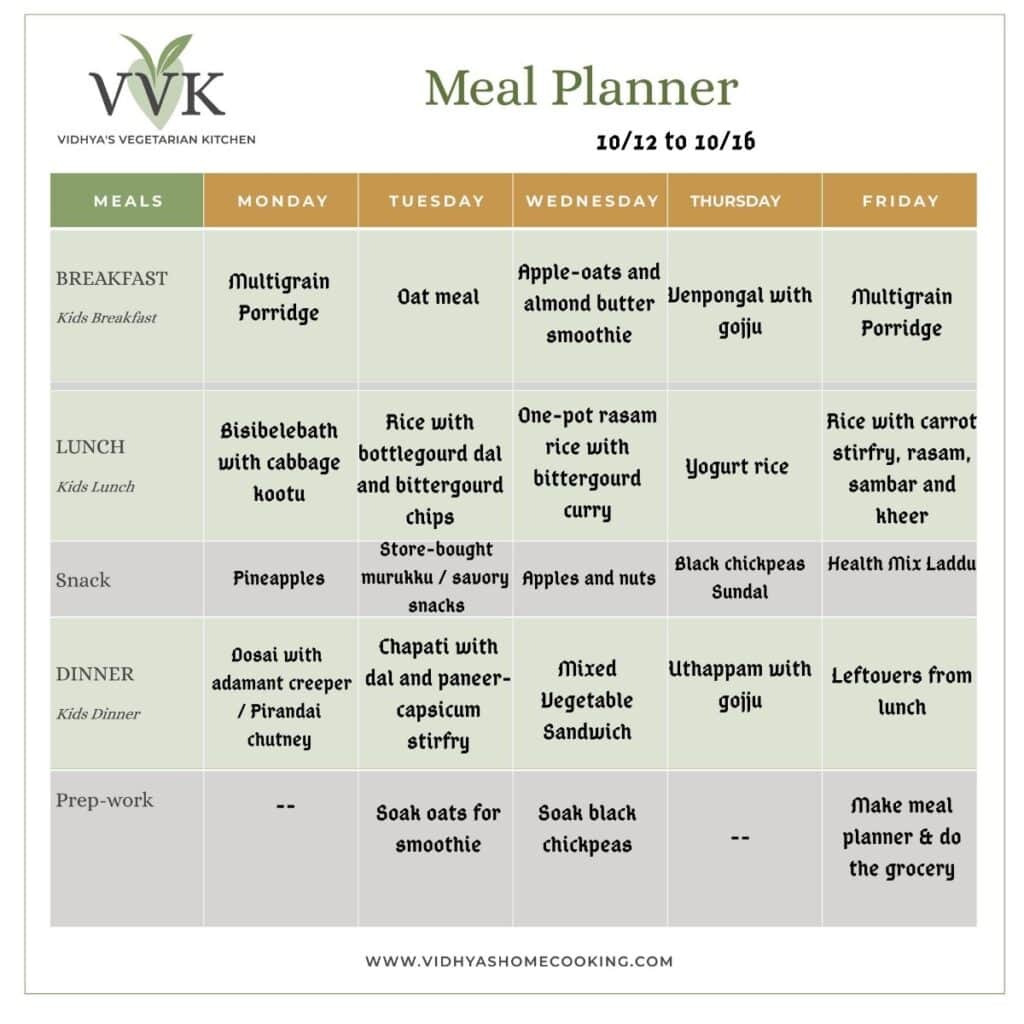 This week's fruits are apples and pineapples. Banans will always be there. I have just listed it twice, which doesn't mean that we don't include fruits the other days.
Monday Meal Details
Veggies – Mixed veggies (carrot + zucchini + brinjal) for bisebelebath, cabbage, and adamant creeper.
Fruits – Pineapples
Tuesday Meal Details
Veggies – Bottle gourd, bitter gourd, and colored bell peppers.
Fruits – Not listed
I am starting the day with oatmeal, and that will include some apples or bananas. 
It's the simple dal with bottle gourd (of course made in Instant Pot, planning to make it like my dosakaya pappu) for lunch, and I am pairing it with bitter gourd chips. The chips recipe is not on my blog. I will share it soon. 
We got some store-bought murukku, and I am planning to use that for snacks. 
And for dinner, I plan to make some roti and paneer and capsicum dry stirfry and use the leftover dal from the lunch. 
Wednesday Meal Details
Veggies – Bitter gourd and carrots
Fruits – Apples
For breakfast, it is the oatmeal smoothie. It's more like my banana peanut butter smoothie but replacing the banana with apple and peanut butter with almond butter.
Lunch is one-pot rasam rice with bitter gourd curry.
For the snack, it's apples and nuts.
For dinner, I am planning to make like Iyengar bakery sandwich. The recipe is not on my blog yet, but I will share it soon.
Thursday Meal Details
Veggies – Tomatoes and carrots for gojju and uthappam
Fruits – Not listed
As it's Thursday, I thought of making venpongal and sundal and planning to offer that as neivediyam and use the pongal for our breakfast with gojju.
I am keeping the lunch simple with yogurt rice.
Snack is, of course, the black chickpeas sundal. (Linking garbanzo beans sundal here)
For dinner, it's uthappam with the gojju from the morning.
Friday Meal Details
Veggies – Carrots, brinjal for sambar
Fruits – Not listed
I am ending the week, again, with multigrain porridge or the sathumaavu kanji for breakfast. 
It is Amavasya and the Navratri beginning, I thought of making a full course meal with sambar, rasam, and kheer. 
Snack is health mix laddu or nei kasadu laddu. I plan to make ghee on Thursday, so I thought of making some health mix laddus that I can use for neivediyam and snacks. 
Dinner, of course, the leftovers from lunch.
Happy Navratri to all.
I hope this weekly menu/meal planner with the one-pot meal option helps, and you all can draw some inspiration. If you have any questions, please leave a comment below. I will share the daily updates on my Instagram and my FB group. So stay connected!
Stay Safe & Happy Cooking!
Vidhya