Yet another meal plan with semi-homemade recipes that you can make with just one stove-top and Instant Pot. Here is my meal planner for this upcoming Pongal festival week with mostly no-onion no-garlic recipes.
Pongal Festival-
The Indian harvest festival is just around the corner, and with my makeover kitchen, it isn't very easy for me to make elaborate meals. So I am opting for quick and straightforward options. I am not skipping both savory pongal and sweet pongal. Planning to make them in Instant Pot and stove-top pressure cooker.
Kitchen Updates-
This weekend we started our cabinet installation. Once we get those installed, then comes the counter-top installation, and that's going to take ten days. So as I mentioned last week, I will get my kitchen only by this month's end.
Like last week, I am going to rely on one-pot meals and leftovers for the coming weeks also. I have two Instant Pots, and that helps me a lot. With that in mind, I have created my meal plan.
Usually, I use my portable induction stove-top for making curry/stir-fry, and I use my cast iron on the induction and so far, no issues. I even posted a video of making dosai in my cast iron pan on the induction stove-top on my Instagram.
Weekly Meal Prepping:
Semi-Homemade Meal Planner in Detail: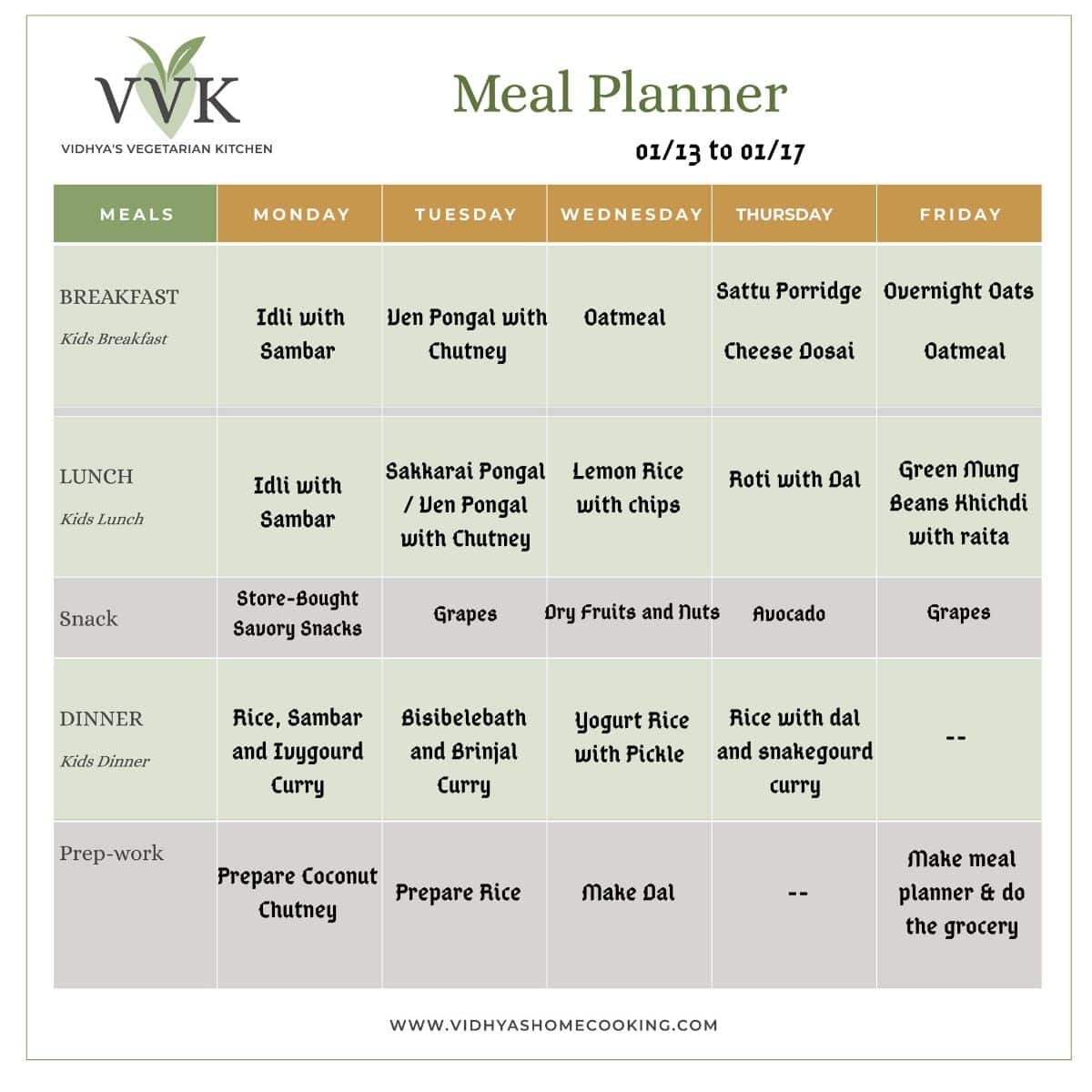 Monday:
Tuesday:
It's the pongal festival day, and I am making both the Pongal (savory and sweet) :-)
Wednesday:
Usually, on festival days, we don't use leftovers, but with the given situation, I am planning to use leftover rice.
Thursday:
Friday:
I hope this menu planner helps, and you all can draw some inspiration. If you have any questions, please leave a comment below. I will share the daily updates on my Instagram and my FB group. So stay connected!