I am back with my meal planners after a small break. Here is my vegetarian meal planner with various grain options and with more vegetables.
Even though I was planning my weekly meals, I couldn't share them here on the blog. I relied a lot on my Instant Pots, and my meal planners were similar to this one with a lot of one-pot meal options.
The final renovation stretch was very tiring, and then unboxing was not fun either. On top of it, I had to come out of the writer's block as well. After a three weeks break, I posted the cabbage kootu recipe last week. Please do check it out.
Now back to this week's meal planner. It's a long weekend for us, and we have a day off tomorrow. So I am starting the week with an elaborate meal. But as it progresses, it becomes manageable.
Planning Your Weekly Meals with Various Grains-
You can also notice that I am trying to incorporate various grains into my meal plan. You can find quinoa, handpound rice, millet, and regular rice and wheat flour in this week's meal planner.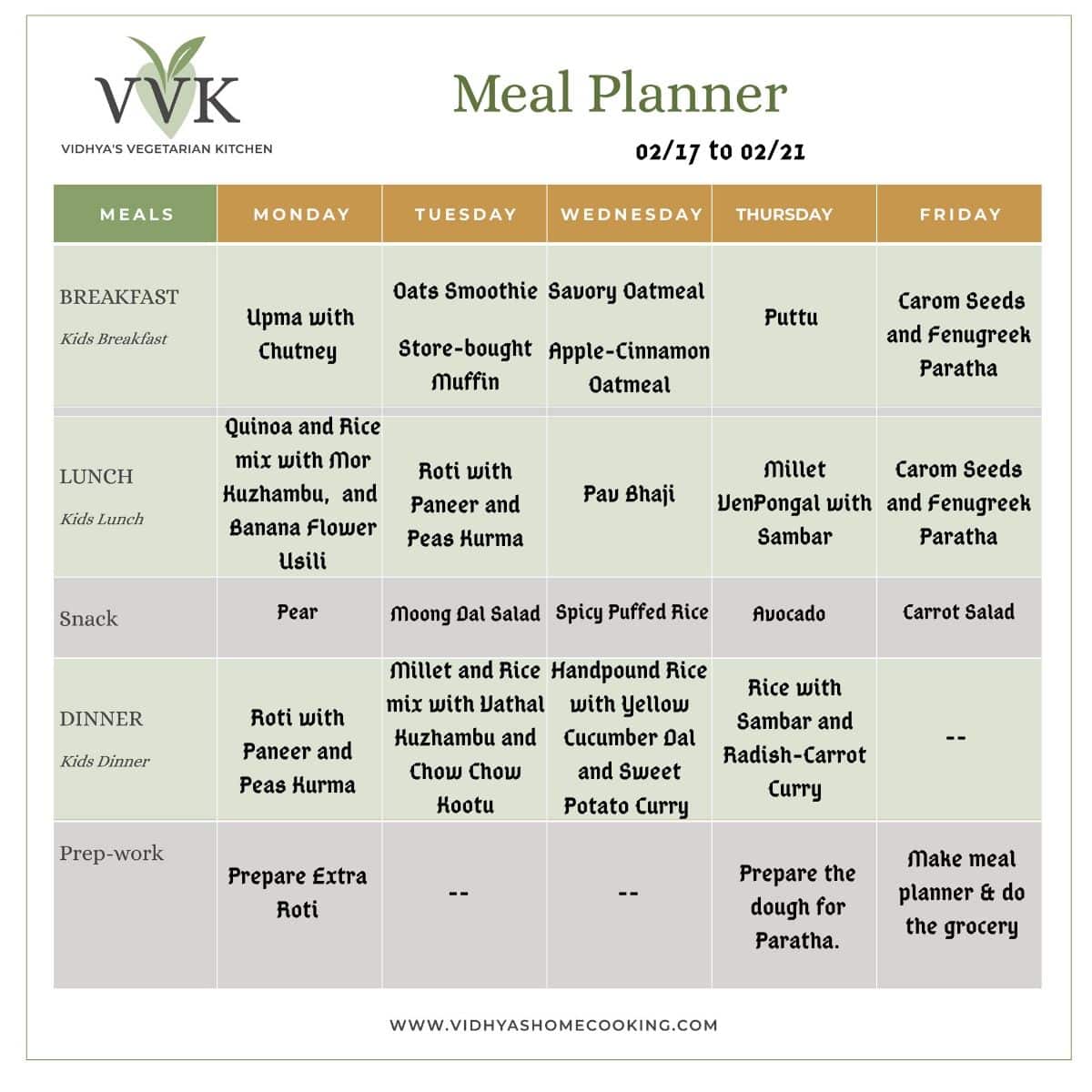 Spring is slowing peeping in, and the weather is much better now. Slowly I will be adding more salads and afternoon beverages to my meal planners, so stay tuned.
Meal-Prep:
Chop all the required veggies.

Soak the moong dal for 8 hours and let it sprout. You can read more about my sprouting process in the matki usal post.

Knead the roti dough. I usually refrigerate my roti dough for two days, but not more than that. So for Monday and Tuesday, I knead the dough on Sunday, and for Friday's paratha, I prepare it just the day before.

Prepare masala pori/spicy puffed rice and store it in an air-tight container. You can also make it a day before.
Now here are details and the recipe links. I am trying to add more millets, oats, quinoa and some complex carbs in my meal plan. You can also use plant-based rice instead of carbs if you are following a low-carb diet. Check how I have incorporated various grains into my weekly meal planner. I
Meal Planning in Detail:
Monday:
Starting the week with the simple breakfast upma. I always make it more like Khichdi. I am planning to serve it with cilantro coconut chutney. It's a new recipe that I am going to test. I hope it turns out good. :-)
As it's a day off, we (MIL and I) decided to make an elaborate lunch with mor kuzhambu/ buttermilk sambar, rasam, and with paruppu usili. The recipe will be updated soon. Instead of plain rice, I am planning to add quinoa also in my rice. If you don't like quinoa plain, try mixing it with rice. You will love it.

I harvested some fresh green peas today from my backyard. I was contemplating if I should make peas soup or pulav or try a new dish. Finally, I decided to make some kurma with it. So it's roti and paneer peas kurma not like matar paneer.
Tuesday:
For breakfast, its oats smoothie for us and store-bought muffin for the kiddo.

Lunch is the leftovers, and it's the roti with kurma. (PS- My in-laws are okay with leftovers. If required, my MIL whips something quick for them)

For a snack, I am planning to make moong dal salad. It's more like kala chana chaat but with moong dal.
Dinner is our favorite vathal kuzhambu and chow-chow kootu. Instead of quinoa, I am planning to mix some millets along with the rice.
Wednesday:
I am planning to make savory oatmeal for us and the sweet one for the kiddo. I will soon share the spicy oatmeal recipe here.

Lunch is the pav bhaji with store-bought pav buns.

For dinner, I am planning to make some dosakaya pappu/yellow cucumber dal with sweet potato curry.
Thursday:
As always, my Thursday meals are without onion and garlic and kicking off the day with the simple breakfast puttu.
For lunch, it's the millet pongal with sambar.
For dinner, it's the same sambar from lunch but serving it along with the carrot-radish curry.
Friday:
Back to my paratha Fridays and this week, I am keeping it simple. I am making plain ajwain, and methi paratha or the carrom seeds and dried fenugreek paratha for both breakfast and lunch. I know I have quite a few paratha recipes to share; it will be all up in the month in April. I know that's a long time. But bare with my peeps, I need that time.
This week, I will be staring to share my home renovation project here on the blog. So stay tuned!
Happy Cooking!
I hope this menu planner helps, and you all can draw some inspiration. If you have any questions, please leave a comment below. I will share the daily updates on my Instagram and my FB group. So stay connected!