A south Indian vegetarian weekly meal planner with breakfast, lunch, and dinner options! Check out what I have on my menu for this week.
PS – Substitute the rice with grains of your choice.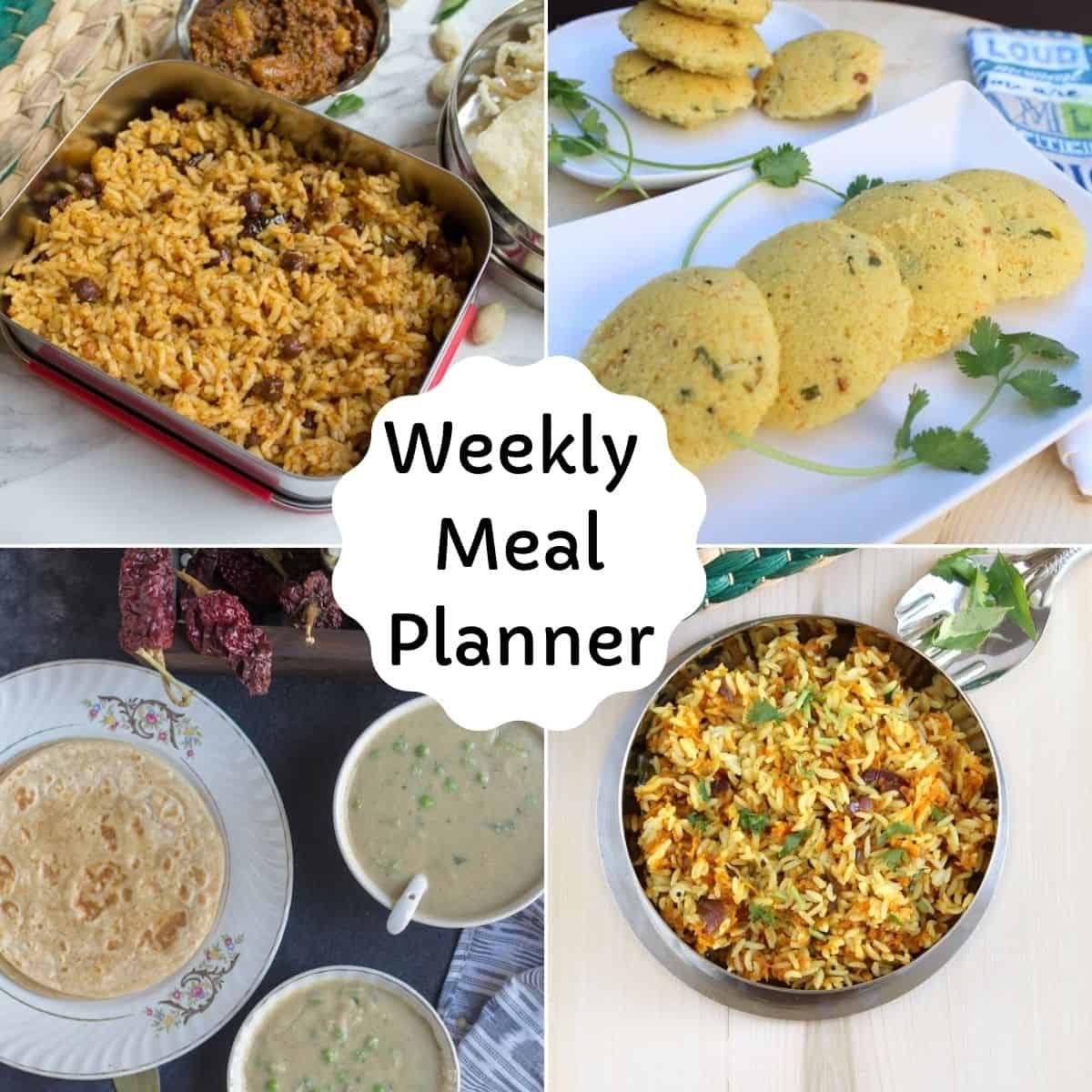 I am back with another meal planner to make cooking fun and easy and helps you stay organized. And this time, it's a typical South Indian meal planner.
For all my new readers, I have been sharing some meal planners for the past two years. I have shared over 23 meal planners, and you can check them out all under the "meal planner" category. All meal planners are unique, and you can draw some inspiration. 
Simple and easy recipes
It's going to be a slightly hectic week, so I went with simple and easy recipes this time. Also, I am not preparing idli-dosa batter this time and opting for instant ones like wheat flour dosa, rava idli, etc.
Also, I am not using a lot of veggies this week. Some weeks are like this, and I try to compensate the following week or at the weekend.
I have been answering a few frequently asked questions around weekly meal planners for the past few weeks. Check out my previous faqs on these meal planners. (Planner-1, planner-2, planner-3 and planner-4) I will consolidate them all in a single post soon.
One of the common questions that I get often is – how I manage to cook three different meals a day. 
Cooking three different meals
Usually, I keep my breakfast simple; it will be mostly oatmeal, smoothie, porridge, etc. If I make idli or paratha or pongal, I pack the same for lunch as well. And some days, I pack leftovers for lunch. This week I have the kurma and roti for dinner and lunch as well.
Compared to mornings, I spend little extra time in the kitchen during the evenings and do the required meal prep, which helps a lot. 
It looks like three different meals, but I mostly try to repurpose the side dishes and make something simple that pairs well with those side dishes.
That's how I always plan my meals.
I hope this helps. If you have any particular questions, do let me know in the comments.
Without any further ado, here is this week's meal planner.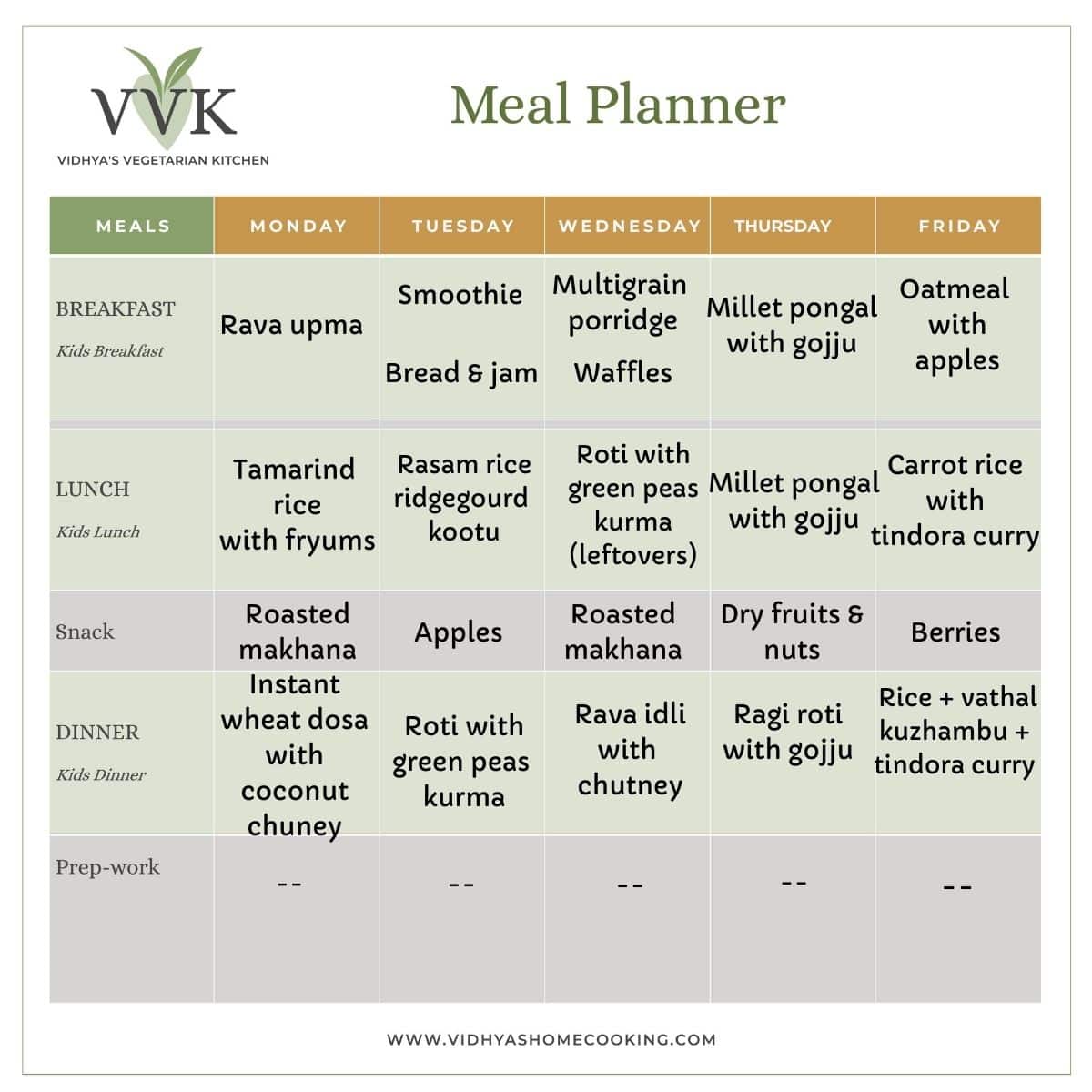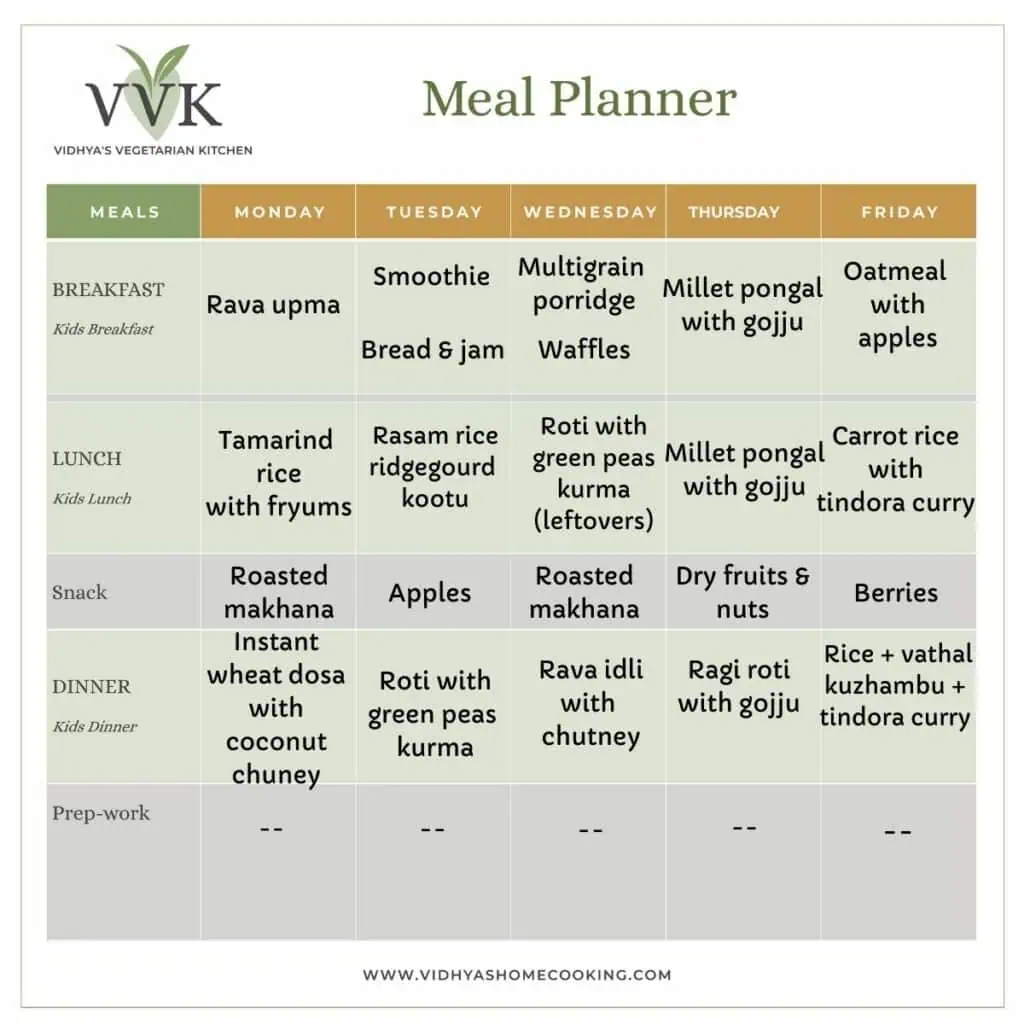 Meal-Prep-
Chop all the required veggies. 
Make the tamarind rice paste. 
Make sure you have yogurt and other condiments required for this week.  
Now here are the details and the recipe links. 
Recipe Links For the South Indian Vegetarian Weekly Meal Planner
Monday Menu
Tuesday Menu
Wednesday Menu
Thursday Menu
Breakfast – Millet pongal with tomato gojju
Lunch – Same as breakfast
Dinner – Ragi roti. I am yet to share this recipe on the blog. I will share it soon.
Friday Menu
I hope this menu planner helps, and you all can draw some inspiration. If you have any questions, please leave a comment below. I will share the daily updates on my Instagram and my FB group. So stay connected!
Stay Safe & Happy Cooking!
Vidhya