A festive-special South Indian vegetarian meal planner with a combination of variety rices and full meals! Yet another Navratri-special no onion, no garlic meal planner.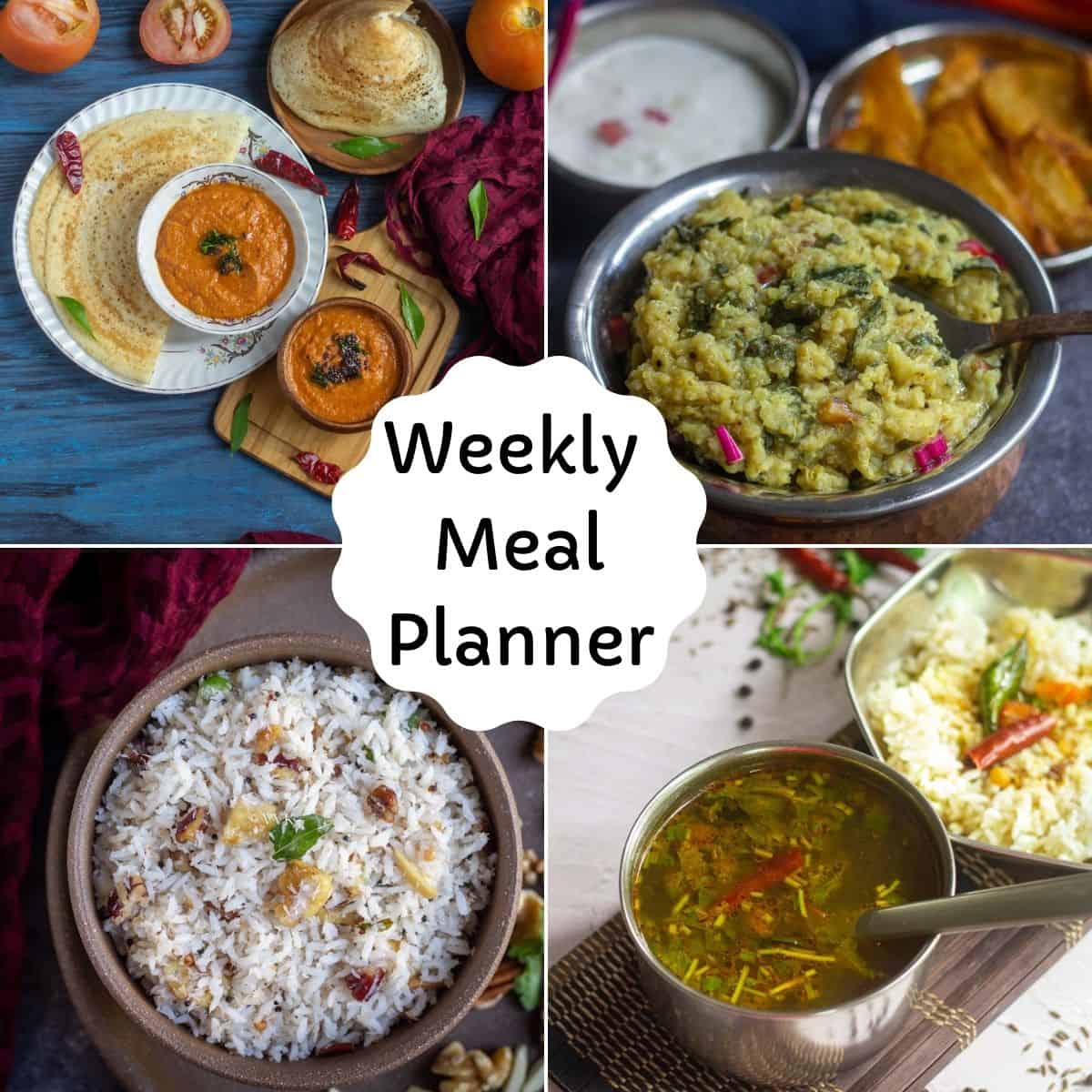 Are you new to meal planning and prepping or looking for new ideas?
Check out all my previous meal planners. I have been sharing some meal planners for the past two years. I have shared over 33+ Indian vegetarian meal planners, and you can check them out all under the "meal planner" category. 
This week's festive-special south Indian vegetarian meal planner and prep work!
As I mentioned in last week's planner, we don't fast during Navratri. We feast during Navratri, especially on the day of Navami and Dasami. Also, we don't have any grain restrictions and this week's meal planner is a typical south Indian vegetarian meal planner except that Alfredo pasta. :-) 
Idli batter: This time, I am making my regular idli-dosa batter and using it for Tuesday breakfast and dinner, and I will be making uthappam with the leftover batter on Friday. 
Soaking the beans: You can either soak them in advance during the weekend and refrigerate or soak them the previous night. I plan to soak all the beans the previous night.
Chopping: Chop the required vegetables, especially cabbage and okra. That saves a lot of time. 
Sprouting the beans: If you plan to make a sundal with sprouted beans, soak and let them sprout accordingly. 
Full Meals & Variety Rice
This Monday is a holiday for the kiddo, so I have opted for brunch, so I skipped the breakfast. It's full meals on Monday, Thursday and Friday and the dinner is the same as lunch. This week's menu is high on carbs. Yes, it's a festive week, and we do feast. I firmly believe in portion control and exercise. Please switch the grains as per your diet preference. We usually switch between white, brown rice, and quinoa.
If the veggies get over by lunch, I opt for raita like cucumber raita or tomato raita for the side.
Without any further ado, here is this week's meal planner. Please check the recipe links below. Follow me on my Instagram to see how I pack the lunch for kiddo every day, new recipes, and everyday meals.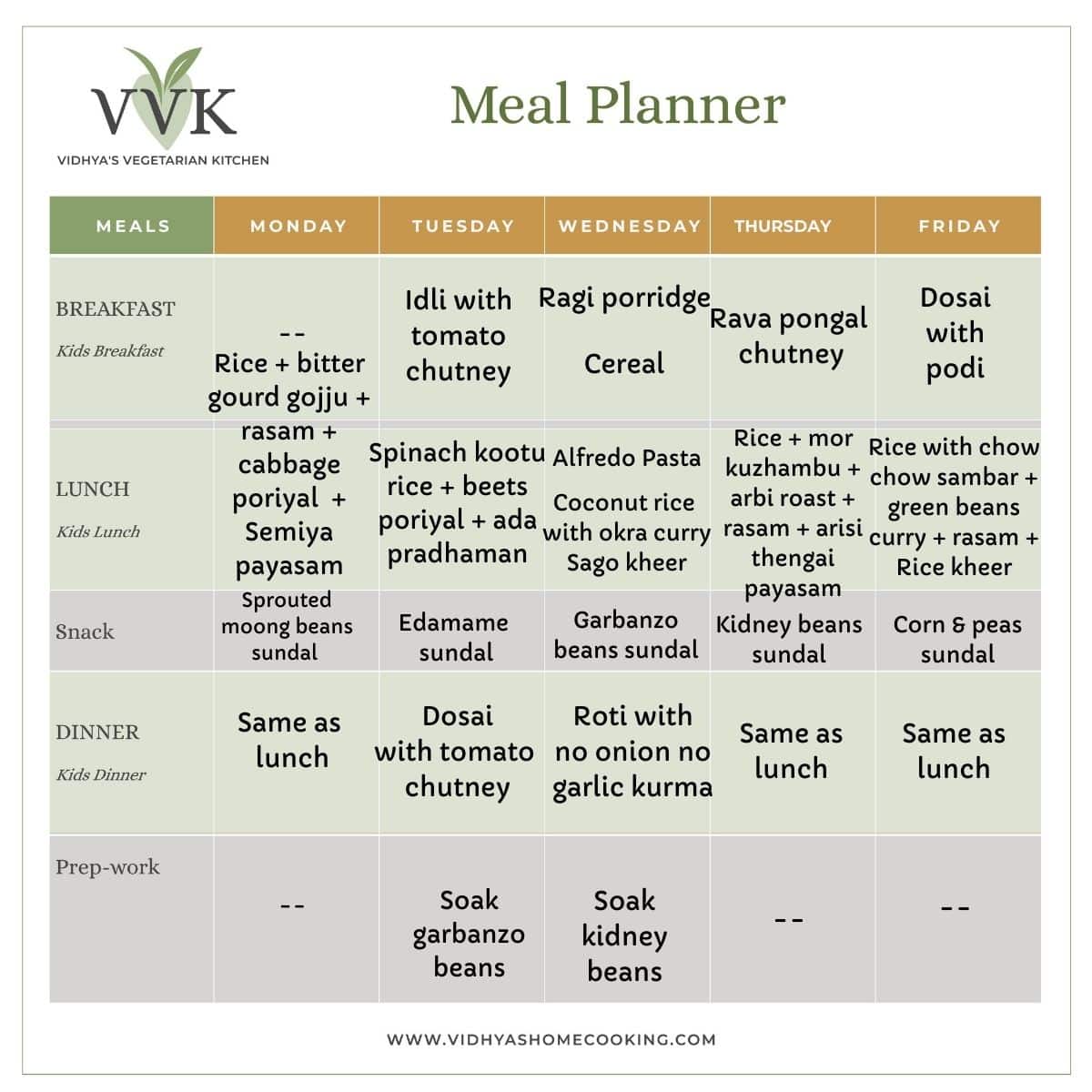 Note: I couldn't squeeze all the recipe names and kiddo's lunch options in the meal planner. So please check the details below. 
Monday Menu
Tuesday Menu
Breakfast – Idli with tomato chutney
Lunch – Spinach rice and beets poriyal
Sundal and Kheer –  Edamame sundal and ada pradhaman. (Both recipes are not on the blog. I will share it soon)
Dinner – Dosa with tomato chutney
Wednesday Menu
Thursday Menu
Breakfast – Rava pongal and chutney (I will share rava pongal recipe soon)
Lunch – Rava pongal and chutney for the kiddo and rice with mor kuzhambu, arbi roast, rasam for us. (Kiddo will have this for dinner)
Sundal and Kheer – Arisi thengai payasam and kidney beans sundal.
Dinner – Same as lunch
Friday Menu
I hope this menu planner helps, and you all can draw some inspiration. If you have any questions, please leave a comment below. I will share the daily updates on my Instagram and my FB group. So stay connected!
Stay Safe & Happy Cooking!
Vidhya