I know it's not easy to get back to routine after the holiday season. But do we have an option? Here is my super easy meal planner that keeps you going during the busy week. And guess what, you can do most of the dishes in Instant Pot and with just one stove-top. Here comes my simple and easy weekly meal planner with a lot of Instant Pot recipe options/one-pot meals.
Kitchen Remodeling-
I am posting a meal planner after a four-week break. I took a small break because we are remodeling our kitchen and living room. As much as it's exciting, it is tiring and a lot of work. I am planning to start a new series on my home renovation, so please stay tuned.
It took me some time to set up my makeover kitchen. Till then, I ordered school lunch for the kiddo and relied on simple one-pot meals made in Instant Pot.
My Current Makeover Kitchen:
It looks like; I will be getting my kitchen only in February, so till then, I have to manage with my single induction stove and two Instant Pots (3 quarts and 6 quarts).
With the makeover kitchen setup, it is hard for me to whip up elaborate meals. For the past few weeks, I have been doing one-pot meals only, and I shared quite a few on my Instagram. If you are interested, you can check them out below.
I am going to rely on one-pot meals and leftovers for the coming weeks also. With that in mind, I have created my meal planner. So here it is, weekly meal planner with Instant Pot recipes.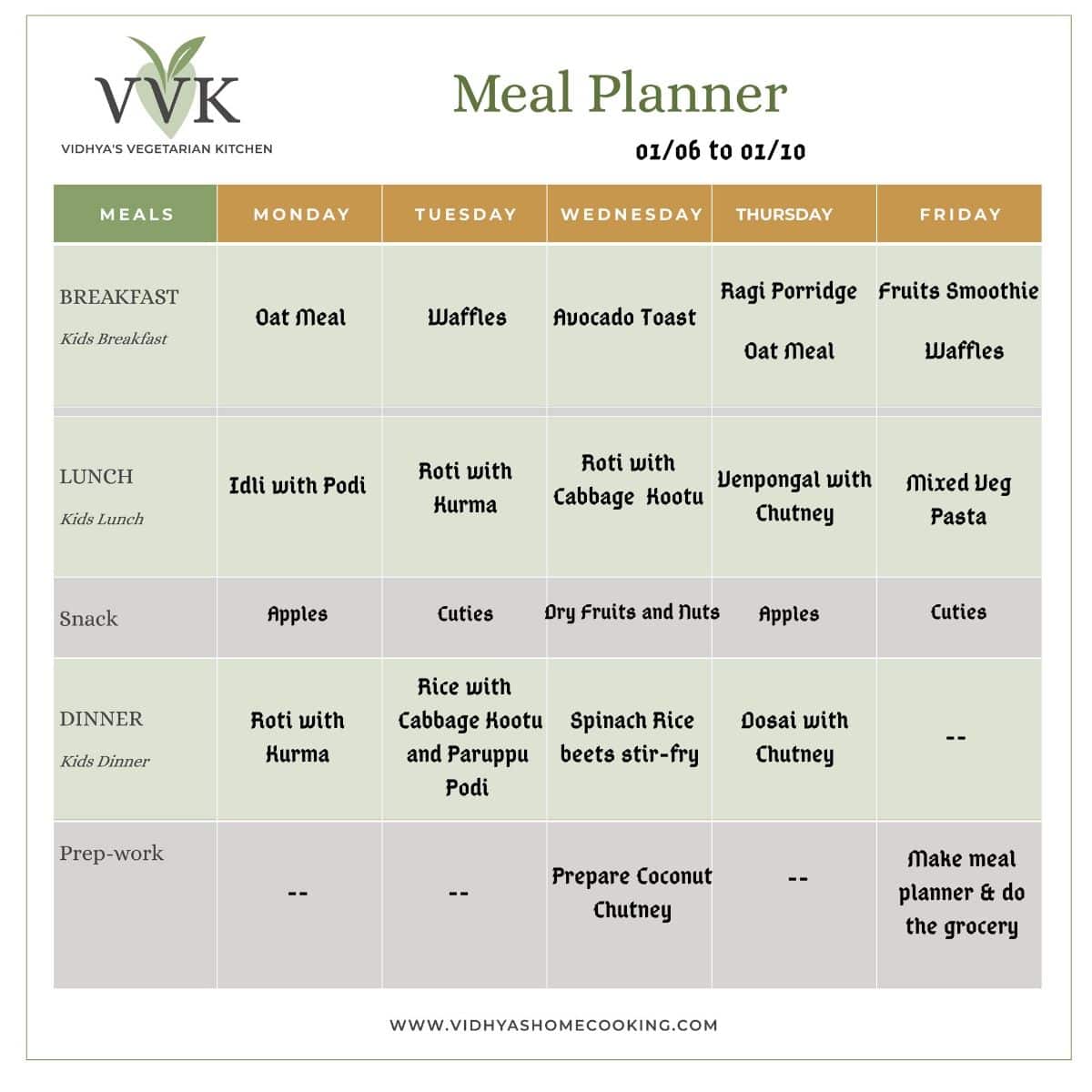 Weekly Meal Prepping:
As always, I am planning to make a big batch of idli dosa batter.

As you can see from the planner, I don't have many veggies on the menu. I have some vegetables for kurma, stirfry, and kootu. But still chopping those well ahead will help a lot.

I am outsourcing rotis these days from a home-based caterer. I hope I can set up my rotimatic soon.
Meal Planning in Detail:
Monday:
I am starting with the simple oatmeal for breakfast.

For lunch, it is the idli with podi. This time I made the batter with Brown Rice.

And for dinner, it is roti with Instant Pot Kurma.
Tuesday:
For breakfast, I am going with store-bought waffles.

And for lunch, it is the leftovers – roti, and kurma again.

For dinner, I am opting for some Instant Pot cabbage kootu without any fresh ground masala. I am planning to serve it along with paruppu podi (toor dal rice spice mix) and rice.
Wednesday:
For breakfast, it is the avocado toast. I chop the avocado and top it on a toast and sprinkle some chili flakes and salt. For kiddo, I add some cheese.

For lunch, it is roti with leftover cabbage kootu.

Dinner is a one-pot spinach kootu rice or spinach rice with beet stirfry. Both made on Instant Pot. You can steam the beets in Instant Pot like how I did for my beets salad. Then chop it and just add the tempering and coconut, if using.
Thursday:
As always, I am keeping my Thursday onion and garlic free. So starting the day with ragi porridge for ourselves and oatmeal for the kiddo.

Most of my Thursdays are incomplete without ven pongal or the savory pongal. And for lunch, it is the spicy pongal with coconut chutney. As you can, I am planning to prepare it the day before and carry it forward till dinner.

For dinner, it is the dosai. I don't make a separate batter for dosai. It's the same idli batter, but I add little bit water to get that pouring consistency.
Friday:
For breakfast, I am opting for smoothie and waffles again.

For lunch, it is the mixed veg pasta with store-bought tomato sauce.
I hope this menu planner helps, and you all can draw some inspiration. If you have any questions, please leave a comment below. I will share the daily updates on my Instagram and my FB group. So stay connected!
PS – I started posting about my kitchen remodeling. You can read how it all started and things to consider before remodeling on the blog.