It's that time of the week where I share my family-friendly meal planner. I know our weekends are busier than weekdays. Trust me, setting aside some time and planning the week's menu helps a lot. Check out how it helps, and also this week's menu.

Before getting into this week's meal planner details, here are my previous meal planners.
Weekly Meal Planner 3 | How it Went?
As we had a lot of fresh fruits after the festival, instead of dry fruits and nuts, I packed us the fresh fruits for lunch. Other than that, I did not deviate from the planner. I followed it meticulously.
Advantages of meal planning:
I already mentioned two significant benefits of meal planning on my second meal planner post.
When you have a proper plan, and when you know what to cook, your stress gets reduced. Agree?
When you stick to the meal planner, you spend less on restaurants. You don't have to rely on frozen food or packaged food too. Homemade food is always healthier than store-bought food. That's the goal of my family-family meal planners.
Now comes the next big question, how to stick to the meal planner.
How to stick to the meal planner:
I have to say that initially, it will be difficult. As they say, practice makes it perfect. Check your week's schedule, and make your meal planner. Also, start with simple and easy recipes.
Try to follow the meal plan atleast for three days initially then increase it to 4 days and later the entire week. Sometimes you can switch the recipes between the days depending upon your time limitations. Even if you stick 80%to the plan, it helps a lot.
My Cookbook | The Essential South Indian Cookbook
I am so excited to share that my new book, The Essential South Indian Cookbook, is coming out this October 2019! This book contains 75 South Indian recipes, including meat and seafood recipes. Thanks to Kat Green for taking care of the meat and seafood-based recipes. The recipes in this book will definitely let you explore the culture and the regional cuisines of South India. Right from idli, sambar, puttu, pesarattu, ragi mudde, vegetable curries, and gravies, I have it all. Let's not forget the meat and seafood dishes as well and oh yeah the desserts too. :-)
Preorder your copy today! Click here to preorder.
Now to this week's meal planner for the week of September 9th to 13th.
Disclaimer: This meal planner is specially designed based on my family likings. I have a 10-year old son, and he can handle spicy food. He cannot reheat his food, so I try to avoid certain foods that need to be heated. I pack the lunch in stainless steel containers, mostly Lunch Bots, and keep in an insulated lunch bag. It keeps the food warm. Last but not least, I do pack leftovers.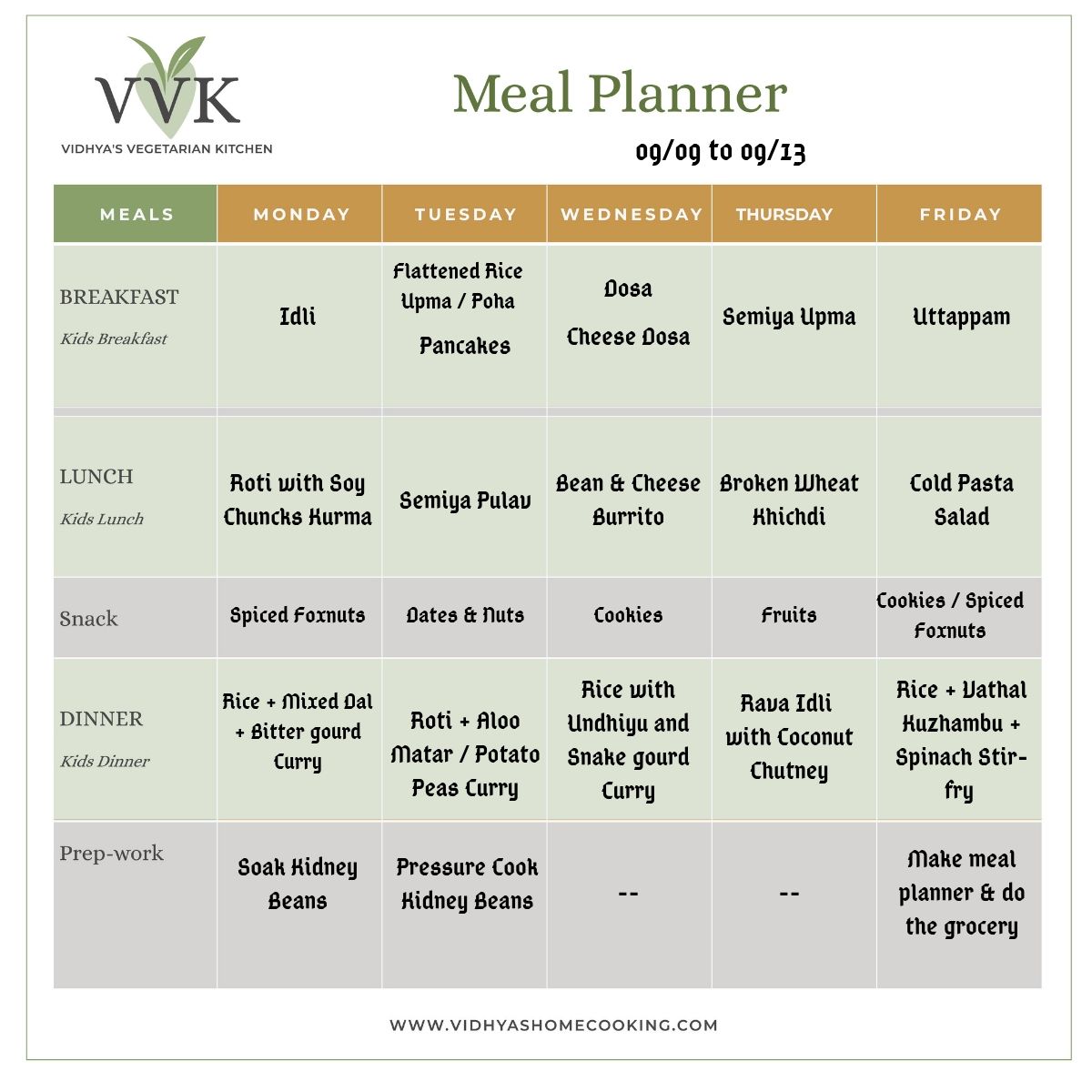 Before getting into day-by-day details, I will share about the prep-work that I do over the weekend, specifically for this menu.
Chop all the vegetables, except spinach.

Prepare the idli/dosa batter.

Prepare the spiced foxnuts or the roasted makhana and store in an air-tight container.
PS: This time I am planning to go with store-bought cookies. But you can make them over the weekend at home as well.
Everyday Menu Details:
Monday: I am starting the Monday with the comfort food idli. I am planning to pair with milagai podi, and for lunch, it is the soy chunks kurma. It is more like green peas kurma, but instead of green peas, I am going with soy chunks. For dinner, I am planning to make trevti dal in the Instant Pot and bitter gourd curry.
Tuesday: Kiddo doesn't prefer poha so planning to make pancakes for him. Also, last week bought pancake and waffle mix. I have to use it up. :-) For lunch, it is the mild semiya biryani or the pulao. It's been ages since I made that. Kiddo recently asked for it so adding it to this week's menu. For dinner, it is the simple roti with aloo matar. I don't have the aloo matar recipe on my blog, but I will share it soon.
Wednesday: Idli always has to be followed by dosa, right? So I am kicking off the Wednesday with dosa and cheese dosa. Also, for lunch, it is the bean and cheese burrito. I fill the burrito with some lettuce mix, beans, sour cream, shredded cheese for the kiddo and I add some oven-roasted veggies like onion, capsicum, and mushrooms for us. I know, it's not yet winter, but I love undhiyu. The frozen pack comes in handy, and that's what I am planning to use. Check out the undhiyu and the snake gourd recipe on my blog.
Thursday: This Thursday I am planning to skip both rice and roti but I still loaded it with other carbs. :-) You can find the recipes for Thursday menu below.
Friday: I make sufficient batter over the weekend so that we can rely on the idli-dosa batter for atleast three meals. Uttappam tastes great when we make it with fermented and sour batter. I add some onions and make it thick in kadai. (Yes, you heard it right, on kadai. Mom calls this as vanali dosai) Again, this recipe is not on my blog. I will add it soon. For lunch, keeping it simple with cold pasta salad and for dinner, it's the comforting vathal kuzhambu and spinach stir-fry. I try to make spinach weekly once and these days it happens to be on Fridays. :-)
I hope this menu planner helps and you all can draw some inspiration. If you have any questions, please leave a comment below. I will share the daily updates on my Instagram and my FB group. So stay connected!