Here comes the idli dosa podi recipe. Milhai Podi or Idli dosa chutney Powder or Idly Dosa Podi is an absolute life saver. Thanks to whoever came up with this recipe and idea. During the days when we cannot prepare chutney or sambar, this would be the best bet for idli and dosa. In our household, along with chutney and sambar, we need this podi too. :-) I always stock it up in my pantry as it has longer shelf life.
Here is the simple recipe,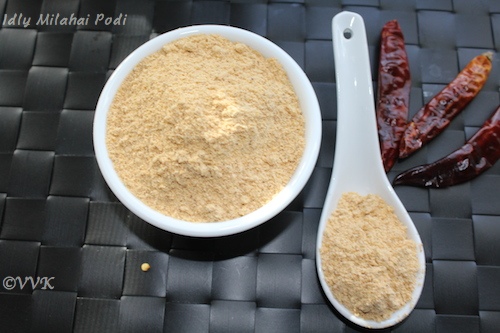 Ingredients:
½ cup – Channa dal (kadalai paruppu)
½ cup – Urad dal (Ulutham paruppu)
1 tbsp – sesame seeds(white/black) (Ellu) (Optional)
Dried Red chillies – 10 (as per your spice level)
Salt – 1tbsp (as per taste)
Hing – 2 tsps
Steps:
Dry roast the dals separately without adding any oil.
Dry roast the red chillies along with salt and hing.
If using sesame seeds, dry roast it slightly towards the end.
Let the roasted items cool down and grind them without adding water. Idli milahai podi is ready.
Store it in an air tight container.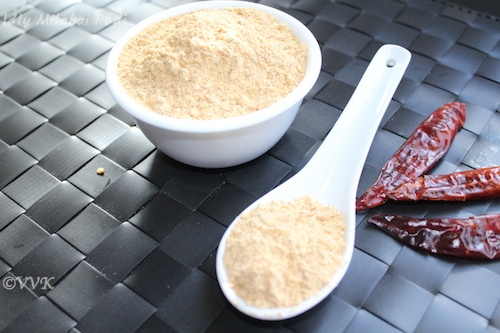 Notes:
Sesame Seeds are optional. You can use either black or white but white is preferable.
Add sesame seeds towards the end and when they start to splutter, turn the heat off.
You can add oil while roasting but that reduces the shelf life.