Getting back to routine after a long weekend is difficult but spend some time and make a meal planner. I can assure you that weekly cooking will be a breeze. Now let me share this upcoming week's meal planner.
If you are new to my space, starting this academic year, I started sharing weekly meal planners. You can check my previous planners below:
Meal Planner 2 | How it Went?
As I scheduled my OTF (Orange Theory Fitness) class that Monday morning that too at the last moment, I had to change my breakfast plans. I ended up making oatmeal on Monday and semiya upma on Tuesday. Also, for Friday dinner, I ended up making sambar instead of rasam as we had guests at home. Rest all I followed to T.
My Cookbook | The Essential South Indian Cookbook
I am so excited to share that my new book, The Essential South Indian Cookbook, is coming out this October 2019! This book contains 75 South Indian recipes, including meat and seafood recipes. Thanks to Kat Green for taking care of the meat and seafood-based recipes. The recipes in this book will definitely let you explore the culture and the regional cuisines of South India. Right from idli, sambar, puttu, pesarattu, ragi mudde, vegetable curries, and gravies, I have it all. Let's not forget the meat and seafood dishes as well and oh yeah the desserts too. :-)
Preorder your copy today! Click here to preorder.
PS: As tomorrow is off (Vinayaka Chaturthi for us as well), I didn't add Monday's menu.
Now to this week's meal planner for the week of September 3rd to 6th.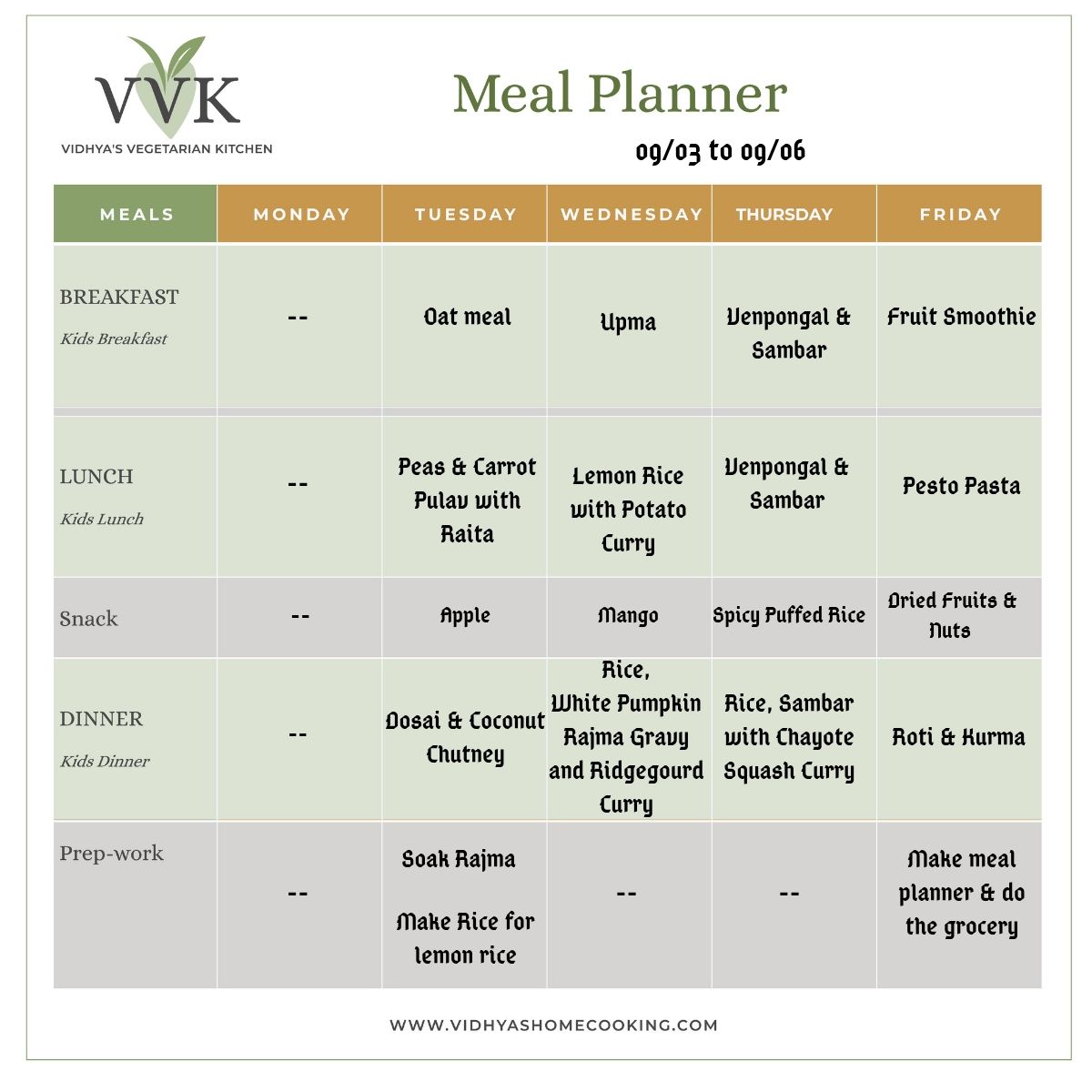 Disclaimer: This menu planner is specially designed based on my family likings. I have a 10-year old son, and he can handle spicy food. He cannot reheat his food, so I try to avoid certain foods that need to be heated. I pack the lunch in stainless steel containers, mostly Lunch Bots, and keep in an insulated lunch bag. It keeps the food warm. Last but not least, I do pack leftovers.
Before getting into day-by-day details, I will share about the prep-work that I do over the weekend, specifically for this menu.
Chop all the vegetables.

Prepare the dosa batter. During the festival time, we make raw rice dosa batter. And that's what I am going to use it for Tuesday dinner.
Everyday Menu Details:
Tuesday: I am keeping it simple for Tuesday with pulav for lunch and dosai and chutney for dinner.
Wednesday: It's quite easy to make lemon rice when you have your rice ready. Hence I have "Make rice for lemon rice" in the previous day prep-work. Also, I am planning to roast some potatoes in the air-fryer. I will share the recipe soon. For dinner, it's white pumpkin kuzhambu with rajma for some protein and ridgegourd stir-fry/poriyal.
Thursday: Yet another venpongal/savory rice and lentils day with sambar as the side. I am planning to carry-forward that sambar for dinner as well. I usually make chayote squash kootu/gravy but planning to make it like stir-fry/poriyal this time.
Friday: You can cook the pasta the day before as well and mix it with pesto in the morning. But as our breakfast is just smoothie, I am planning to cook the pasta in the morning. As kiddo likes smoothie, I am planning to serve him the same.
As you can see, I am keeping this week's menu simple. It's always difficult after the long weekend. :-)
I hope this menu planner helps and you all can draw some inspiration. If you have any questions, please leave a comment below. I will share the daily updates on my Instagram and my FB group. So stay connected!