Make the veggies delicious and exciting with this simple veggie-loaded weekly meal planner. As always, I have breakfast, lunch, and dinner options! Check out what I have on my menu for this week.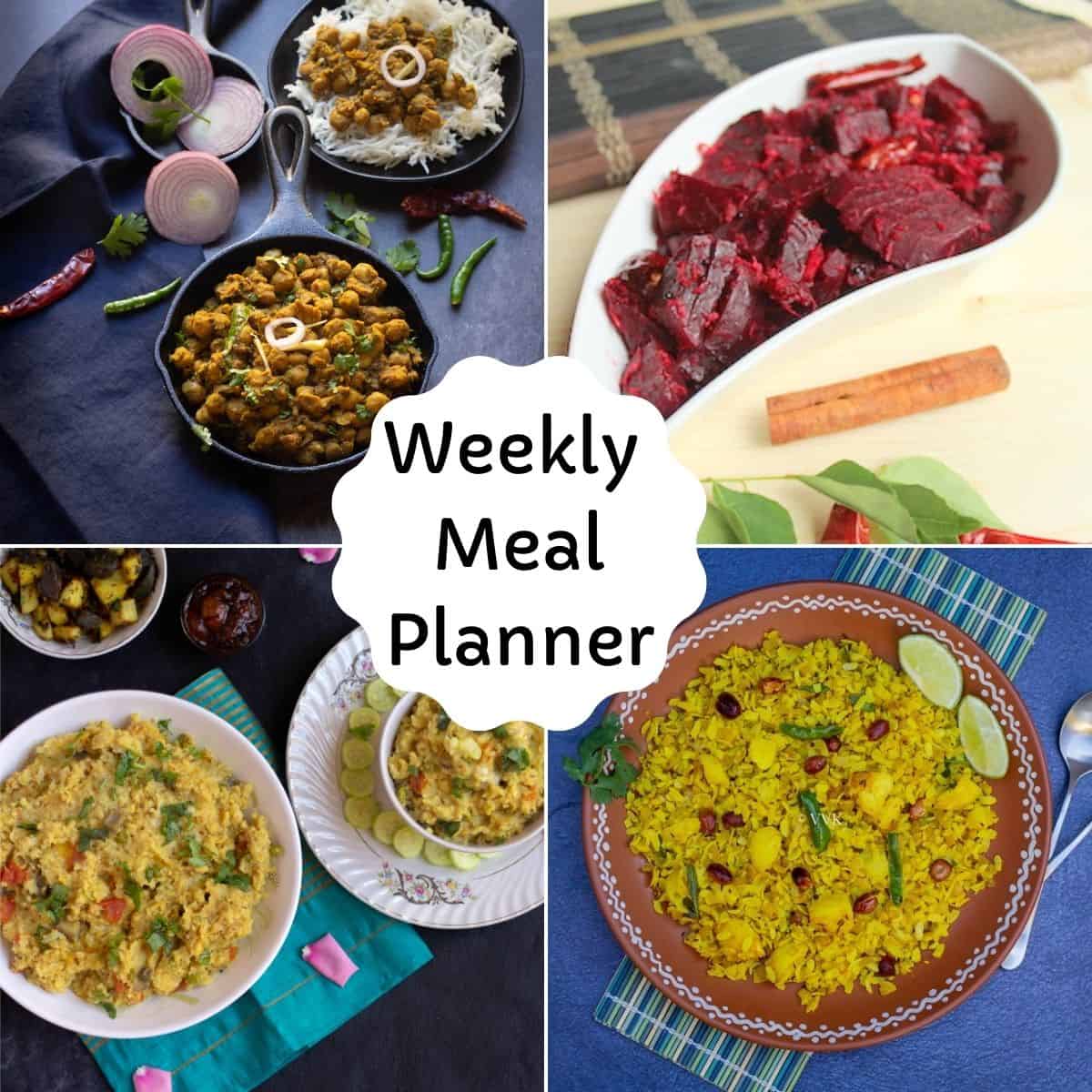 PS – Substitute the rice with grains of your choice.
It's that time of the week where I sit and plan my meals. And I am back with a new meal planner, this time with a lot of veggie options.
For all my new readers, I have been sharing some meal planners for the past two years. I have shared over 25 meal planners, and you can check them out all under the "meal planner" category. All meal planners and unique, and you can draw some inspiration. 
Veggie-loaded weekly meal planner
Last week, I couldn't incorporate many veggies, and I went with all easy-to-make and straightforward recipes. So this week, I decided to incorporate more veggies in exciting ways. 
Usually, I steam or bake brussels sprouts, but I plan to make rice with it more like my zucchini rice. Instead of zucchini, I am using Brussels sprouts. Also, instead of chow chow/chayote squash kootu, I decided to make chutney this time. I have recipes like veg stew, poha, khichdi, where I can add more veggies.
I got some fresh peas, planning to add them in stew, poha, and paratha as well. You can also add it with cabbage stir-fry.
I have been answering a few frequently asked questions around weekly meal planners for the past few weeks. Check out my previous faqs on these meal planners.
The other common question that I get is – how I pick the recipes and rotate them.
Picking Recipes for a Week of Meal Planning
How do I get inspiration for my recipes, I ask my family, especially my son. My meal planners are usually designed based on my family's likings. I have a 12-year old son, and he can handle spicy food. Except for pasta and wraps, I don't cook separately for him. 
I love leftover makeovers, and I always pick dishes that I can serve with two different meals.
For instance, this week, I have sambar for Monday night, and I am serving with idli and using the leftovers to serve with dosa. Same with veggie stew, I can pair it with roti as well as idiyappam.
Then, of course, depending upon our schedule, I pick the dishes. When my schedule is tight, then I opt for easy one-pot meals or semi-homemade dishes. 
I make sure I have the idli-dosa batter, and you can make zillion recipes with the batter. Apart from idli and dosa, I use the same batter to make uthappam, paniyaram, etc. 
You might see some of our family favorites come in rotation on my meal planners. I hope this helps. If you have any particular questions, do let me know in the comments. 
Without any further ado, here is this week's meal planner.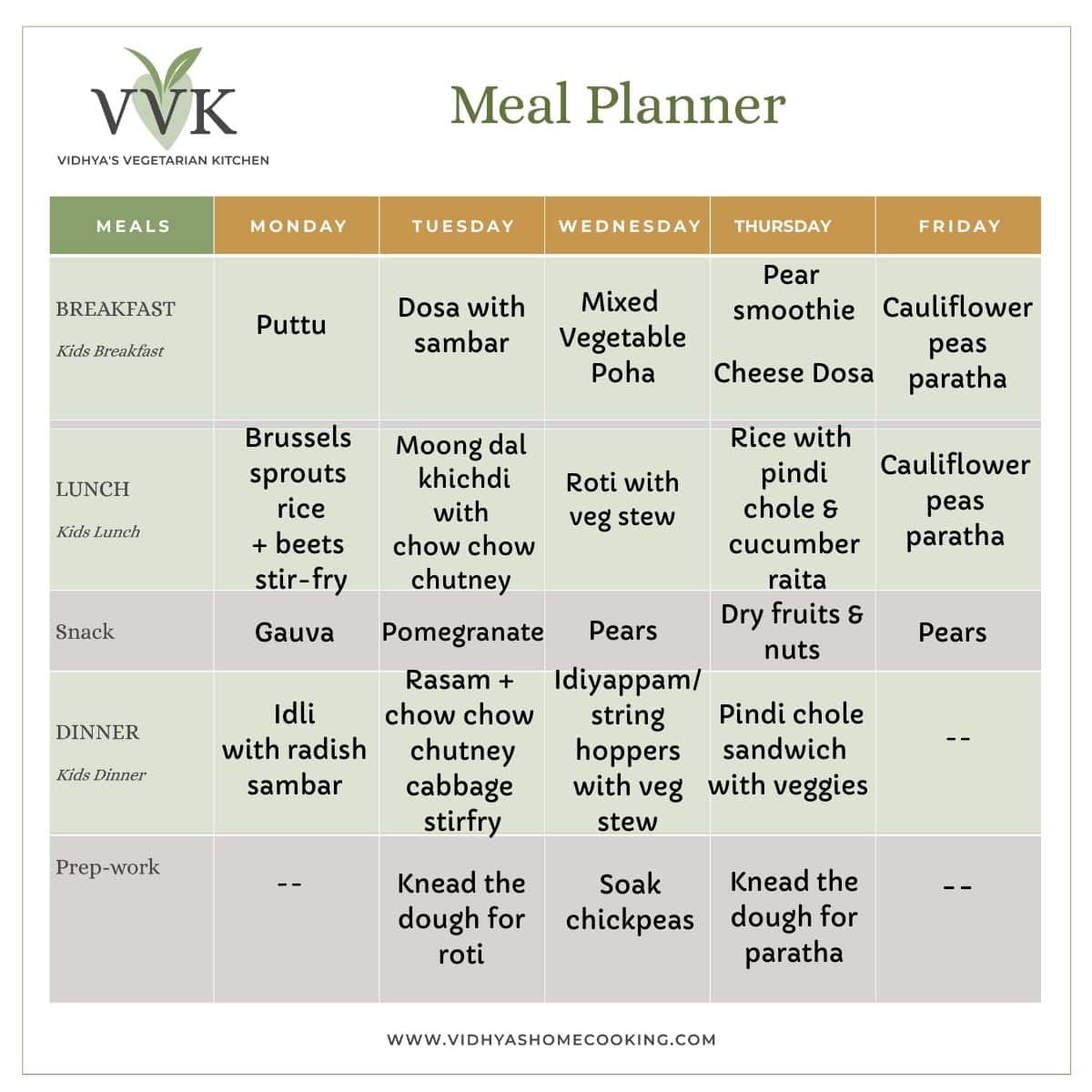 Meal-Prep-
Chop all the required veggies.
Prepare the idli-dosa batter.
Make sure you have yogurt and other condiments required for this week.
You can soak the lentils and sprout them during the weekend or soak them the day before.
I always knead the dough the previous day. But you can knead in bulk and refrigerate.
Cook the lentils and freeze them
Now here are the details and the recipe links. 
Recipe Links For the South Indian Vegetarian Weekly Meal Planner
Monday Menu
Breakfast – Puttu (I have ragi and quinoa puttu recipe on my blog. But I am planning to make with store-bought puttu flour this time.
Lunch – Brussels sprouts rice (I am planning to make it similar to my zucchini rice) with beets stir-fry
Dinner – Idli with sambar
Tuesday Menu
Wednesday Menu
Breakfast – Poha
Lunch – Roti with veg stew
Dinner – Idiyappam with veg stew
Thursday Menu
Breakfast – Pear smoothie for us, and I am planning to make some cheese dosa for the kiddo
Lunch – Pindi chole with rice and cucumber raita
Dinner – I am planning to make a simple sandwich with leftover pindi chole.
Friday Menu
Breakfast – Cauliflower and peas paratha. I don't have this recipe on my blog. I will share it soon.
Lunch – Cauliflower and peas paratha.
I hope this menu planner helps, and you all can draw some inspiration. If you have any questions, please leave a comment below. I will share the daily updates on my Instagram and my FB group. So stay connected!
Stay Safe & Happy Cooking!
Vidhya