A not-so-elaborate yet so delicious and easy Konkani Vegetarian Thali that satiates not only your taste buds but also your mind and body. This protein-rich thali is sure a party and crowd pleaser. Check out the post for individual dishes and the details.
This week's blogging marathon theme is "Thali." – By now you would have guessed why kept posting those back to back Konkani delicacies. I am yet to post one more recipe which I will be posting in the coming weeks.
It is no wonder for a food lover like me to explore and try new cuisines. Konkani cuisine was on my list for quite some time and this time I got a chance to try few dishes, and I fell in love with the recipes and their simplicity. No, I am not exaggerating. :-)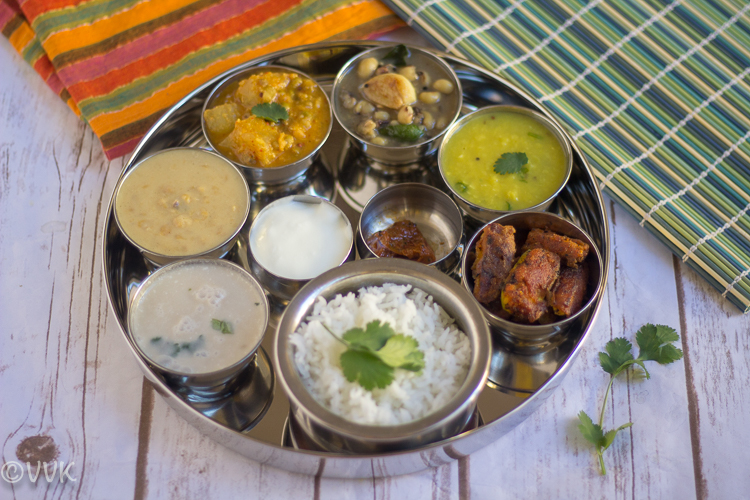 If you notice, I did not use any onion for this thali. I used garlic, but if you skip those, this could be a perfect festive special no-onion no-garlic thali too. Aayis Recipes and Gayathri Pai's Food Bytes are the two significant blogs that I referred to for most of the recipes.
I won't call this as a detailed and elaborate thali, but an essential thali that covers the famous Konkani dishes. So here is what I have,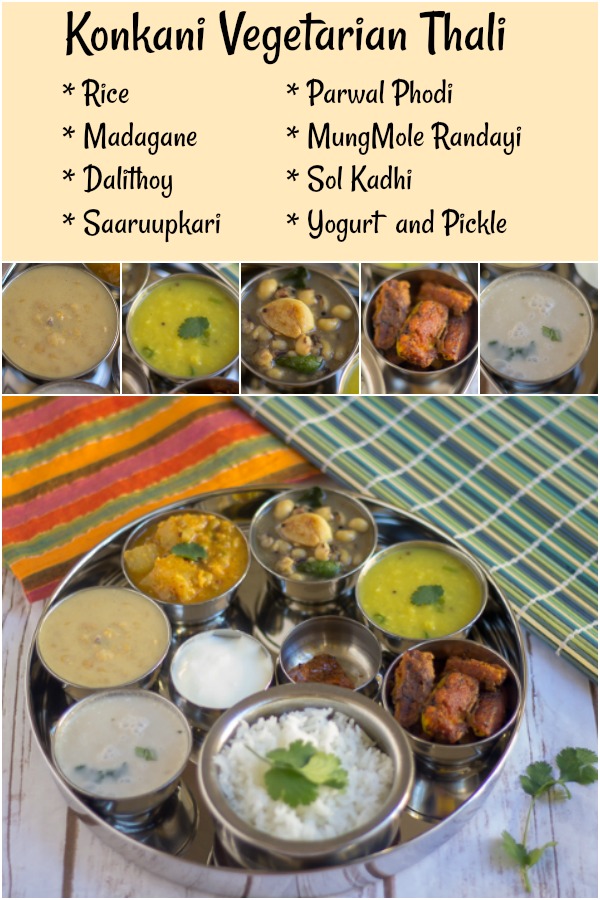 Madagane | Channa Dal Kheer: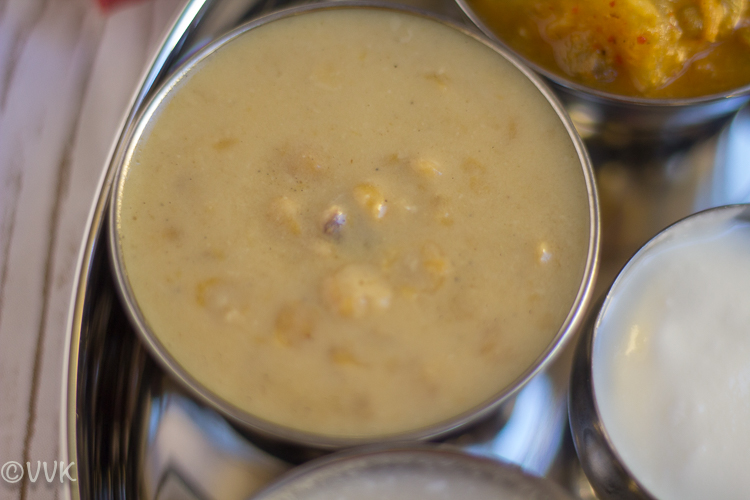 Madagane or Madagne is a rich Konkani special kheer prepared with channa dal and coconut milk. I posted the recipe today and you can get the recipe here.
Dalithoy: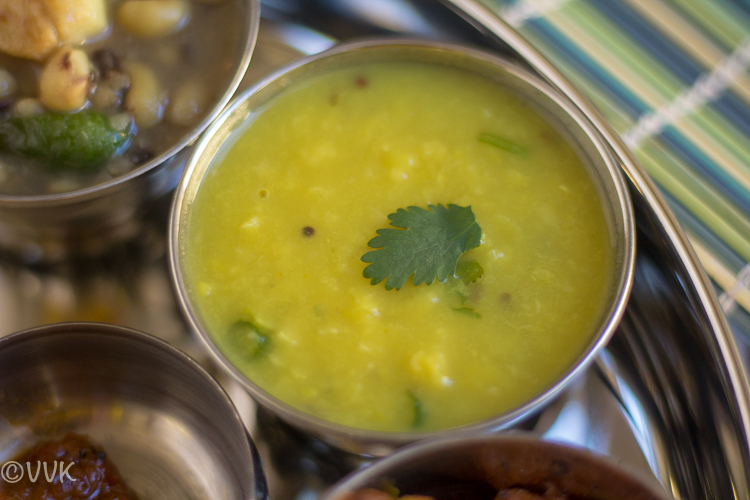 A Vegan Konkani style dal recipe prepared with split pigeon pea/toor dal with the hint of ginger.  You can get the recipe here.
Alasande Saaru Upkari: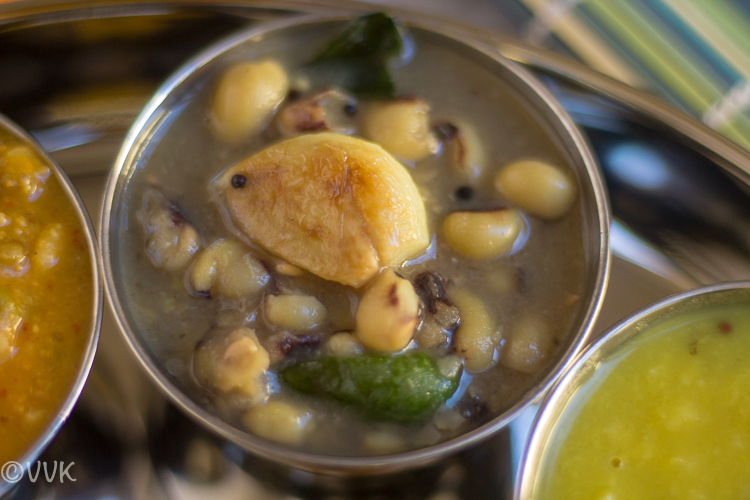 A simple Konkani style curry prepared with black-eyed peas and flavored with garlic tempering. You can find the recipe here.
Mung Mole Randayi: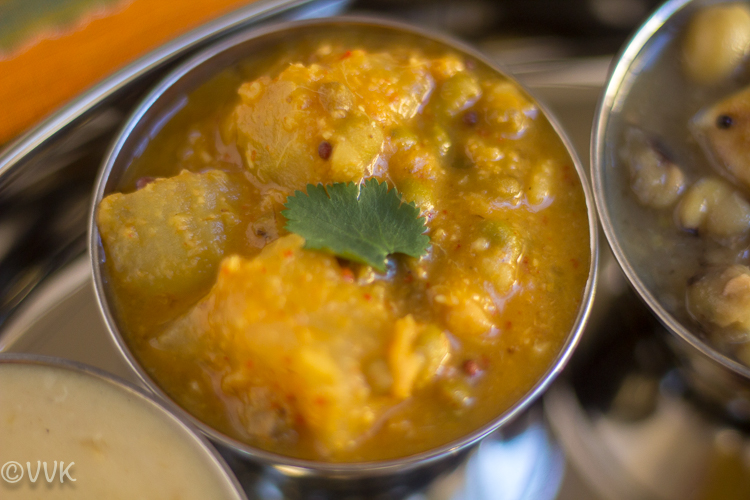 This is the recipe that I am yet to post. It is prepared with green turnip and sprouted moong beans. It is more like sambar but of course with its own flavor. Stay tuned for the recipe. (Update – Recipe posted and here is the link – Muga Mole Randayi)
Parwal Podi: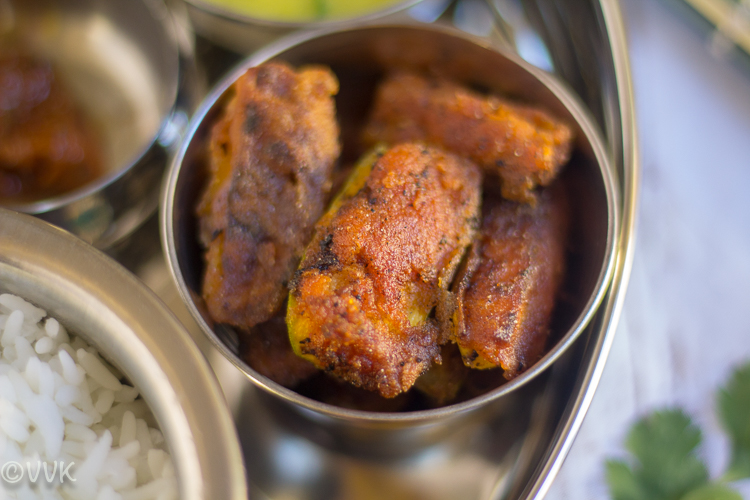 These are seasoned shallow fried Pointed Gourd fritters which go well with dalithoy or saarupkari.  You can find the recipe here.
Sol Kadhi: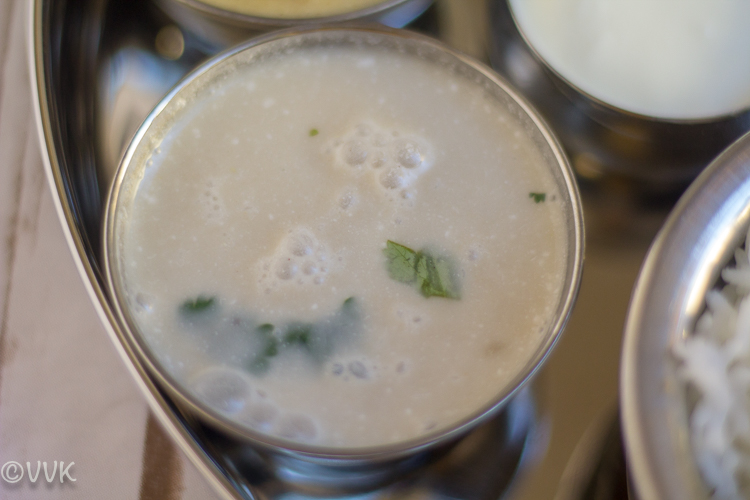 Sol Kadhi – A soothing and refreshing Konkani delicacy prepared with kokum and coconut milk. This anti-oxidant rich recipe is an excellent coolant and good for the digestive system. This recipe can be served as an after-meal beverage and also as a side for rice. You can find the recipe here.
Let me not forget to mention the cooked rice which is also known as sheeth, yogurt and lemon pickle that's on the plate. Stay tuned for the next two thali plates. :-)
Sending this to Blogging Marathon #86. Check out the recipes shared by the other bloggers here.