Tag over and now coming to the awards. :-) Again Vasantha from My Sweet Nothings passed on this creative blogger award. I would like to thank her for this award. I really like these awards and tags as it keeps us motivated and help us do much better and also guarantees people do read our blogs and follow. :-) :-)
Thank you Vasantha ka for this award. I don't know if I am that creative but sure will try be more creative in future. The rules are simple and here it is.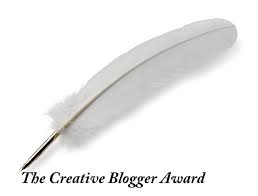 Rules
Thank and post the link of the blog that nominated you  (Done)
Share 5 random facts about yourselves.
Nominate your favorite blogs and notify all.
Random facts about me:
I can read, write and speak English, Hindi and Tamil. Can speak Kannada and Malayalam to an extent. I do understand Telugu very well but never conversed though. :-)
The same goes with programming languages too. I am c# developer but in my Masters degree I had to learn F# and Verilog. My masters project was with android so had to code in Java. Now all set to learn Ruby on Rails and Objective C.  (Let see how it goes)
My new interest is music covers and carnatic fusion. My day starts and ends with this beautiful carnatic fusion song.
I am not a big fan of chocolates.
Started reading Balakumaran's Udaiyar. (Let me see when I am going to complete ;-) )
Now comes the nomination part. I am nominating
All my Blogging Marathon Group Friends.

26 bloggers participate and in the above link you will be seeing their wonderful baking round ups. Amazing cookies, single serving microwave mug cakes, amazing breads, pave and what not. I am really glad to be a part of that group.
I am not yet done with my awards. Two more to come. Stay tuned :-) :-)