Dal Tadka is everyone's favorite comfort food. Being a vegetarian, I always look for including protein in our diet. So these dal tadka's play a major role in bringing the protein to our meal. This is my version of plain toor dal tadka or as we say in tamil Paruppu Kadaiyal. Me and my FIL love this recipe. He can have this for rice, roti and even accompaniment for curd rice. It is simple, healthy and a comforting dish.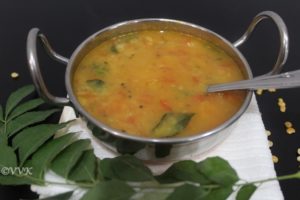 Ingredients:
Toor Dal / Pigeon peas spilt – ½ cup
Turmeric powder – ½ tsp
Salt – as per taste
Green chilly (slit) – 1 or 2
Tomatoes – 2
Corainder leaves – 2 strands
For seasoning:
Oil / Ghee – 1tsp
Mustard seeds – 1tsp
Hing 1/2 tsp
Steps:
Pressure cook toor dhal with the turmeric powder and mash it well.
Heat the kadai and add oil.
Once oil is hot, add mustard seeds and heeng.
As they start to splutter, add green chilly, tomatoes and salt.
Let cook for 4-5 minutes.
Add the mashed Toor dhal and let it cook for 5 more minutes.
Add water if required for thin consistency.
Add the chopped coriander leaves.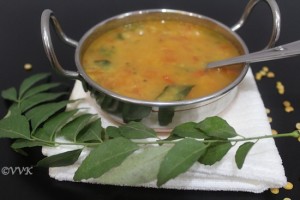 Serve hot with ghee and rice.
1