Wishing you all a happy 2013. Starting this year's first post with a healthy and comforting recipe. This is one of my favorite recipe too. Err I love all rasams so any obviously this is going to be my favorite. Kollu or Horse gram dhal is one of the widely used grams in my native place. This humble legume is the staple food for horses and cattle errr that's why its called horse gram lentil. It is called Kollu in Tamil, Ulavalu in Telugu and Kulthi in Hindi. It has lot of anti-oxidant properties and also good for diabetic patients. You can read about it here in wiki.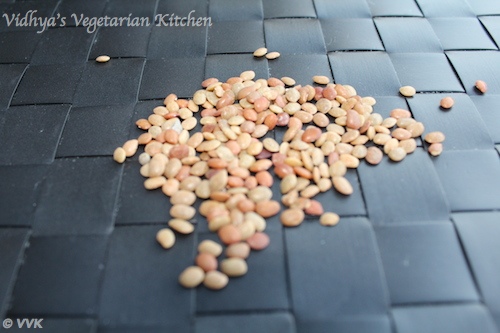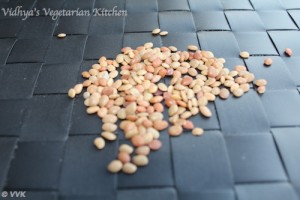 I usually whenever I prepare this rasam, I soak more dhal and use some for rasam and the remaining for kollu Sundal.
This rasam is very simple. Same recipe as parrupu rasam. Instead of toor dhal, we will be using the water used for boiling horse gram and a little quantity of boiled horse gram.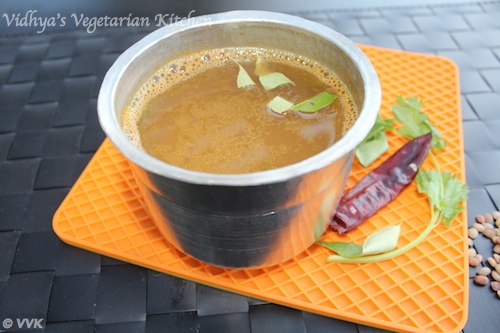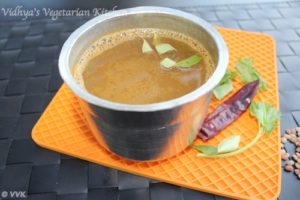 Ingredients:
Rasam podi – 1 tbsp
Tomato – 1 (chopped)
Curry Leaves – 1 strand
Cilantro finely chopped – 3 tbsps
Tamarind – 1 small gooseberry size (if using paste, 2 tsps)
Salt as per taste
Horse gram dhal – ¼ cup
Turmeric powder – ½ tsp
Water 4 ½ cups
Jaggery – small piece (Optional)
For seasoning:
Oil or Ghee – 1 tsp
Mustard Seeds – 1 tsp
Cumin Seeds – 2 tsps
Hing – ½ tsp
Steps:
Dry roast the horse gram dhal without oil and pressure cook by adding 2-3 cups of water.
Drain the water from the cooked dhal. We will be using this water for rasam. Take 2 tbsps of boiled kollu and the remaining can be used for making sundal.
Roughly grind the boiled dhal. Its hard to mash it so I usually grind them.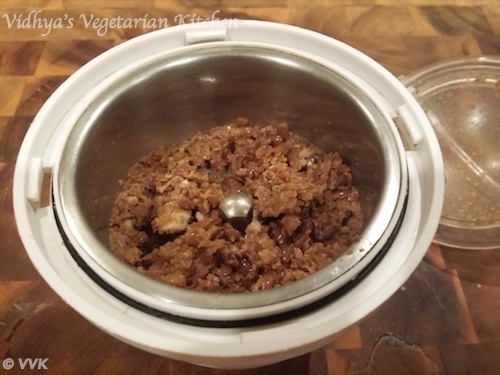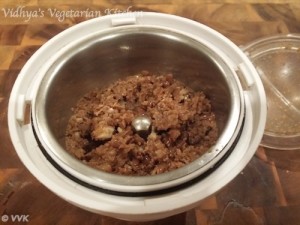 Soak the tamarind in water ( 1 cup) and extract the juice, if you are using paste mix it in 1 cup water (During weekdays i prefer tamarind paste)
Take the vessel, in which you are going to make the rasam.
Add the tamarind water, rasam podi, salt, chopped tomatoes, grinded dhal and mix it well.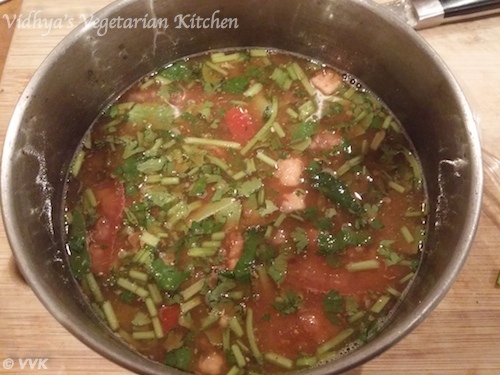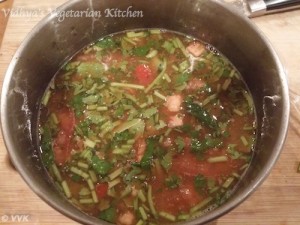 Now keep it in the stove and simmer it in medium flame.
Add the curry leaves and the coriander leaves.
When it begins to boil and add the dhal water and 2 (if required) cups more water and the jaggery.
Let it simmer till it creates froth on top. In the separate kadai or seasoning vessel or tadka pan heat oil or ghee. Add mustard seeds, hing and jeera seeds. Once the start splutter add this to the rasam.
Hot kollu rasam is ready.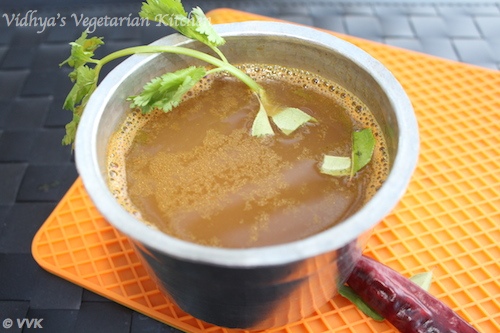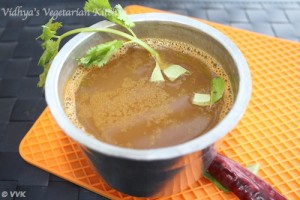 Notes:
You can also add couple of crushed garlic cloves.
You can add kollu water and grinded kollu to jeera milagu rasam also.