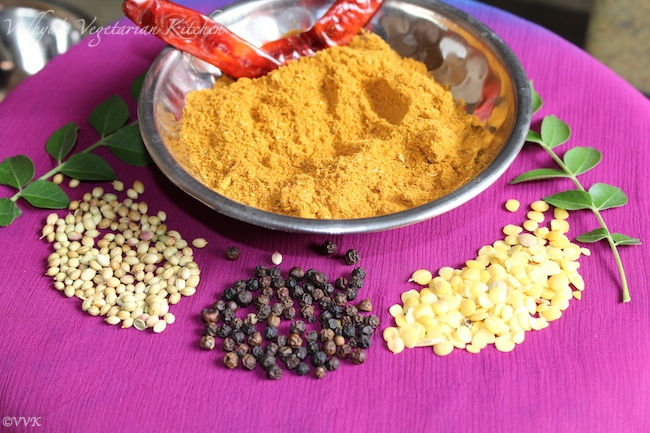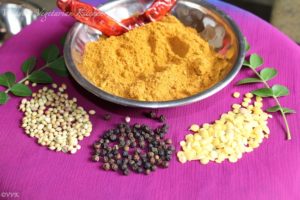 Rasam is one among the staple food of Tamil Nadu and my mom prepares it almost every day. It is also the most comforting food. There are different varieties of Rasam. Parappu Rasam, Mysore Rasam, Kollu Rasam, Jeera Milagu Rasam and so on. Each and every family will have their own rasam powder recipe which forms the base for the rasam. I got this recipe from my mom. To be precise she makes it every time and I get this from India.
The main difference between rasam powder and sambhar powder is the texture and color. Sambhar powder is very fine and slightly dark or more orangish than rasam powder.
Ingredients:
Dhaniya seeds – 3 cup
Dry red chillies – 20 to 25
Toor dhal – 1 cup
Black Pepper – 1 ¼ cups
Jeera – 1 cup
Curry leaves – 5-6 strands
Turmeric Powder – ¼ cup
Steps:
(Now-a-days the flour mills are not accepting virali manjal as it gets struck in the machine. So I am using turmeric powder and I mix it as the last ingredient)
Steps:
Sun dry all the ingredients for at least 2 days. If its peak summer 1 day should be sufficient. Basically you should be able to crush the red chillies and dhaniya with the hand. Thats the right stage and an indicator that the ingredients are ready for dry grinding.
We usually give these ingredients in the flour mill and get it grinded into fine powder. If you don't have flour mill nearby dry grind in the mixie and make sure you mix well after grinding all the ingredients.
And that's it. Rasam powder is ready and store this in an air tight container.