Doughnuts / Donuts are one of the simple breakfasts that you can find in all the breakfast joints. There are countless donut varieties with yummylicious toppings. But instead of fried donuts how to baked donuts without any yeast and eggs? Sounds great huh? I can assure you that it tastes great too. Today I am sharing two types of baked donuts – One with butter cinnamon sugar topping and the other one with maple syrup topping.
In simple words, donuts are flour based desserts that are deep fried. They are ring shaped with or without holes and mostly cover with toppings. According to the wiki, Doughnuts have a disputed history. One theory suggests they were invented in North America by Dutch settlers, and in the 19th century, doughnuts were sometimes referred to as one kind of oliekoek (a Dutch word meaning "oil cake"), a "sweetened cake fried in fat. I am not sure why I picked recipes that have these disputed origins. J In the same wiki article, I read that Spanish doughnuts are called as "rosquilla" which is fried or baked in an oven. That's when I decided to go with Baked Doughnuts and to put this under the country "Spain." The rosquilla or the Spanish doughnuts have simple sugar cinnamon coating with citrus flavor. As I kiddo doesn't prefer the citrus flavor, I skipped that and went with plain doughnuts with sugar and cinnamon filling.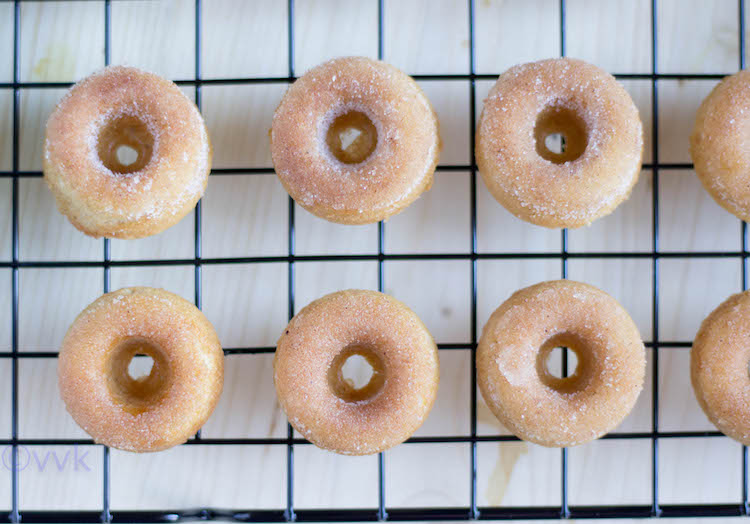 There were tons of recipes to follow from but when I found Ina Garten's I didn't search any further. :-) I followed her recipe but replaced eggs with egg replacer and also adjusted the measurements. The mini doughnut pan that I bought for preparing some Easter based chocolate recipes last year came in handy. You can use mini doughnut pan or regular doughnut pan for this recipe.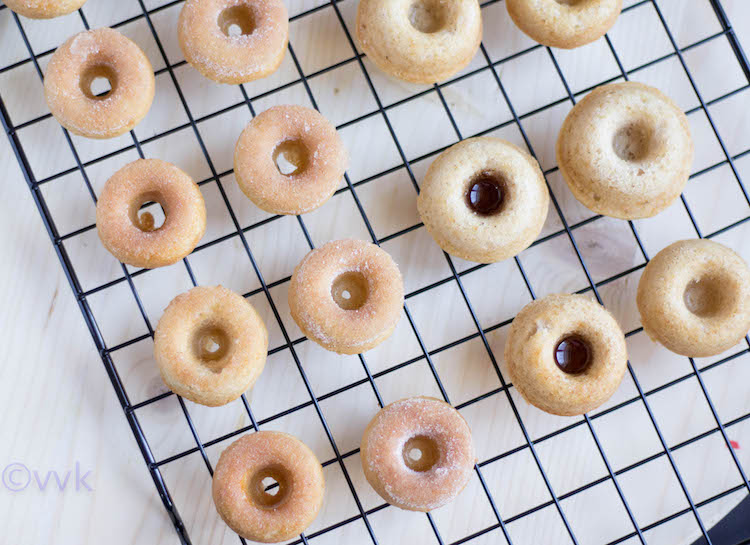 I did not plan to make two varieties of donuts. Kiddo who was helping me with the video shoot asked me to fill the donut holes completely and see what shape we get. After the first batch, I thought of giving it a try. And we got these cute little donuts with one side covered and another side with a tiny hole, perfect to fill it with liquid toppings. I, being the maple syrup lover filled it up with maple syrup and gobbled a few right away. ;-) Kiddo tried with jam. (I know it's a different combo). I am glad we had a couple after baking because M took these mini doughnuts to work and came back with an empty container. :-)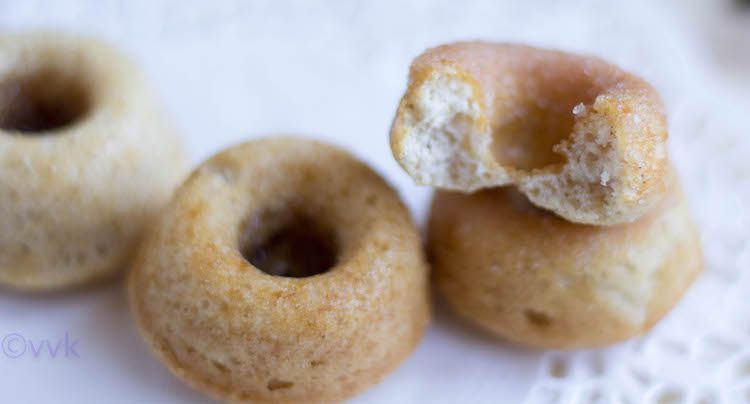 Before getting into the recipe, here is the recap.
Recap before the recipe:
And finally here is the donut making video. Thanks to Vaandu for helping me with the shoot. :-) Check out the printable recipe below.
Ingredients:
For the Donuts:
All-purpose flour – 1 cup
Sugar – 3/4 cup
Baking Powder – 1 tsp
Cinnamon Powder – 1/2 tsp
Grated / Ground Nutmeg – 1/4 tsp
Salt – 1/4 tsp
Egg Replacement Powder – 1 tbsp
Water – 3 tbsp
Milk – 1/2 cup
Melted Butter – 1 tbsp
Vanilla Extract – 1 tsp
For the Toppings:
Maple Syrup – as required
Butter – 2 to 3 tbsps
Sugar – 1/4 cup
Cinnamon Powder – 1/4 tsp
Other Equipment – Mini Doughnut Pan
Prep – Work:
Mix 1/4 cup of sugar with 1/4 tsp of cinnamon and set aside for the topping.
Mix 1 tbsp of egg replacement powder with 3 tbsps of water and stir well and make sure there aren't any lumps.
Steps:
In a mixing bowl, sieve the dry ingredients (APF, sugar, baking powder, salt, cinnamon powder).
If using ground nutmeg, add it directly, if not grate about ¼ tsp.
Mix the dry ingredients nicely and set aside.
Now in a separate bowl, combine the wet ingredients. (Milk, vanilla extract, egg replacer mix)
Combine the wet and dry ingredients together and mix them well. Using a whisk bring them all together and make sure there aren't any lumps.
Grease the pan with flour based cooking spray.
Then spoon the batter into the baking pans, filling each one a little more than half full.
Preheat the oven to 350 deg F.
Bake for 17 minutes at 350 deg F, until a toothpick, comes out clean.
Allow to cool for 5 minutes, and then tap the doughnuts out onto a sheet pan.
For the second batch, I filled the holes more than three quarters full and baked for the same time.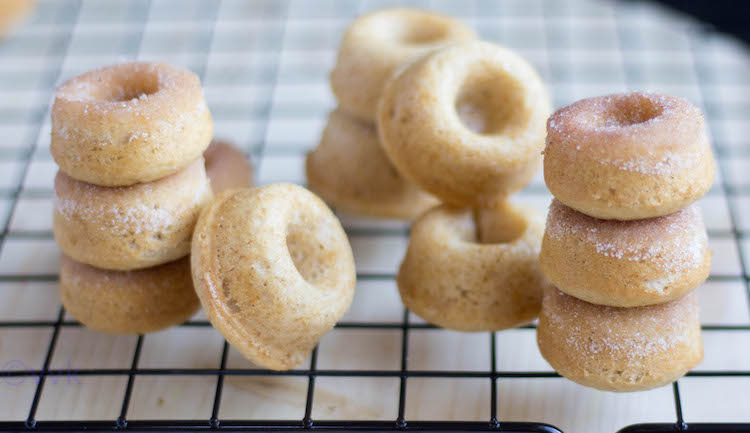 Toppings:
Melt the butter and set aside in a small bowl.
Combine the sugar and cinnamon in a small bowl.
Dip each doughnut first in the butter and then in the cinnamon sugar, either on one side or both sides
For the other one, just fill the holes with maple syrup.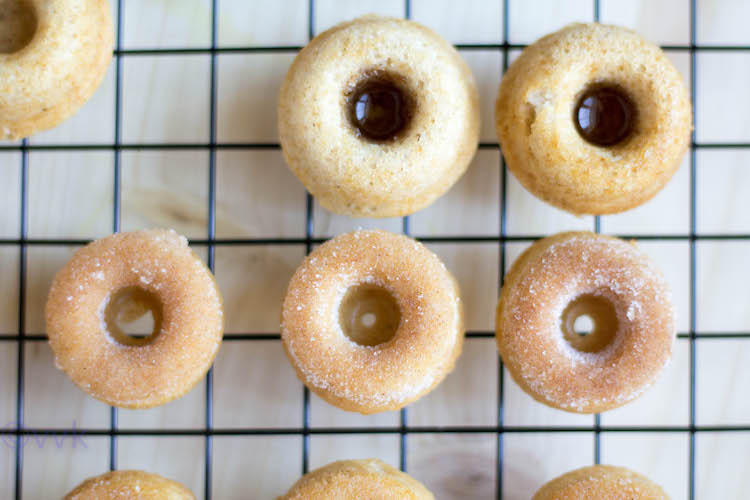 That's it. Yummy donuts are ready.
Notes:
You can add two tsps. Orange zest or lemon zest for the citrus flavor.
The original recipe calls for one egg for this measurement. If you are using egg replacer, you can follow the instructions that are provided on the cover. As I didn't want to change the donut flavor, I went with egg replacer powder. But you can use flax meal as replacer too.
Mix and match the toppings as per your preference.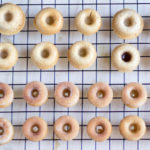 Keyword:
Donuts, Eggless Baked Mini Donuts
Check out the Blogging Marathon page for the other Blogging Marathoners doing BM# 75
Loading InLinkz ...
1