By now you would have guessed the thali post for today. Yes, it is the mini Maharashtrian Thali today with dal, curry, rice and roti. Again, I would not claim this as a traditional and authentic Maharashtrian Thali, but my humble attempt to mimic a similar one. This is yet another no onion no garlic thali making it perfect a Thursday or any other auspicious day.
How I Prepared: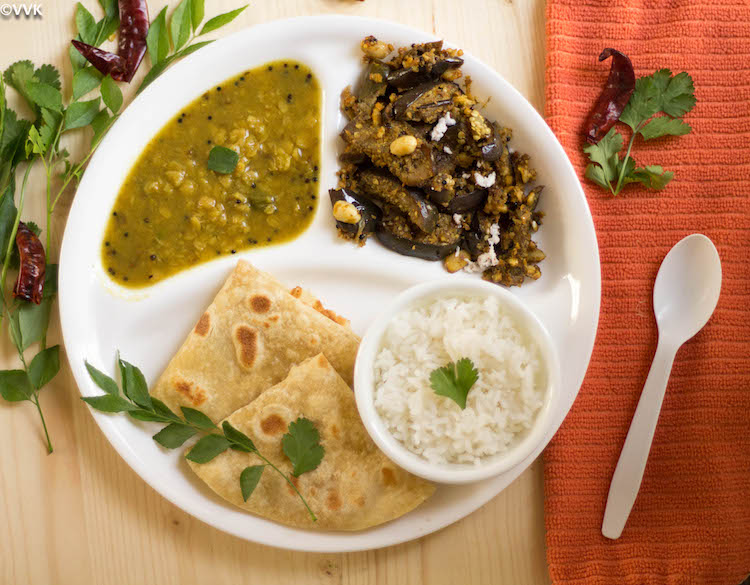 The highlight or the key ingredient of this Thali is the Maharashtrian special Goda Masala. Both for my dal and bhaji, I used the goda masala. I use my store bought Goda masala. This summer will try to post the homemade version of the same too. Now coming back to the preparation, I prepared my dal in the Instant pot and rice in my rice cooker. When the dal and rice are getting cooked, I prepared the curry. Needless to say how easy is to chop the brinjals? I either chop the veggies over the weekend, if I am unprepared ; I always opt for veggies that can be chopped easily or frozen ones. Brinjals are life savior in that way. Easy to chop and prepare too. :-) Before getting into the platter, I would like to thank all my readers. I know I have bombarded you all with back to back recipes, precisely 6 recipes + 3 thali ideas, 9 posts in 6 days. It just happened that way. :-)
Back to the mini thali, on my plate I have,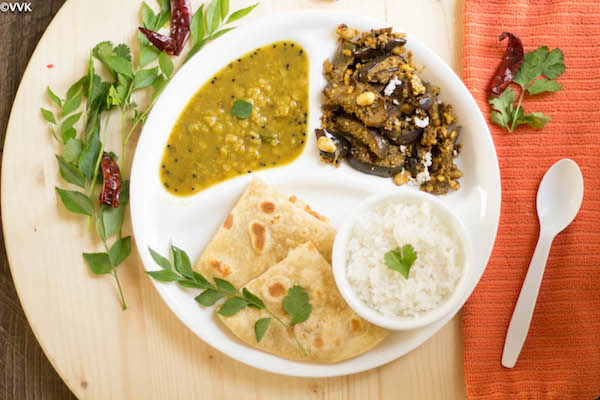 Ain't that a filling and scrumptious meal?