Thali means plate/tray in Hindi and in the food dictionary it is the food platter with a variety of dishes. Each and every state in Indian has their own thali and if we look further, each and every family has their own Thali. This year I decided to share the day-to-day thali ideas with rice and roti, tiffin thali and also elaborate festive ones not only from our family but from other cuisines too.
As I missed the Thali theme last year, I thought of starting it on my own this year. IMO, whatever you prepare, each and every day is a thali. Be it humble idli with chutney and podi or just yogurt rice with pickle it's a unique combo of its own and it's a unique thali on its own. So this year along with instant pot recipes and my gardening series, I am planning to start this new Thali series. Wish me luck folks. :-)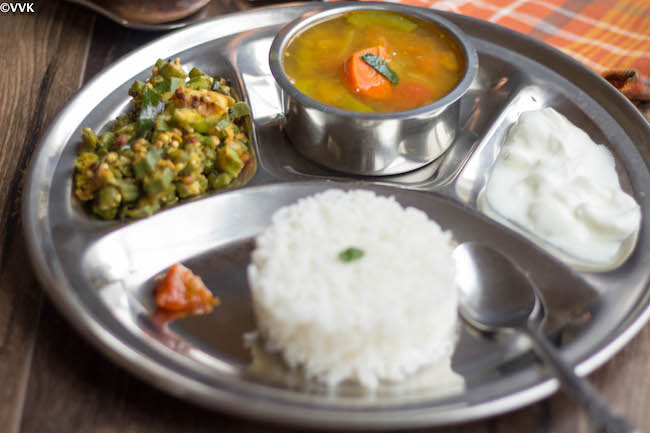 Today my first Thali is a simple meal idea from Tamil Nadu err I can generalize as South India Thali. This thali includes sambar, rice, Poriyal or dry curry, yogurt and pickle. That's it. It is a simple yet delicious and filling thali and these dishes in this thali are easy to prepare too.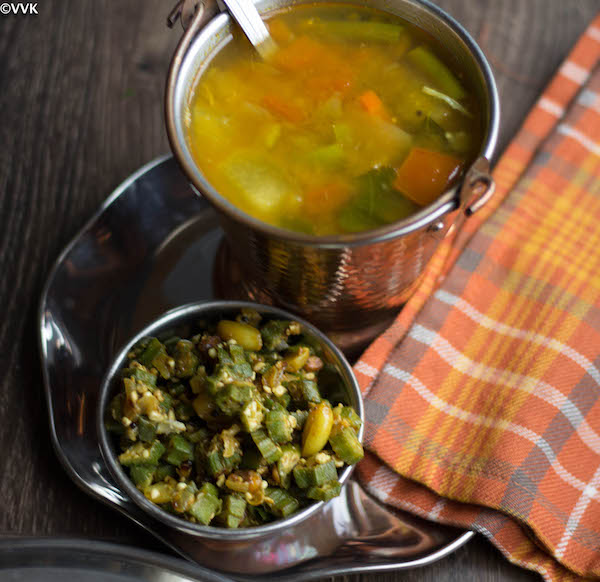 On my plate, I have
Rice
Pickle (store bought)
Yogurt.
How I prepared:
I prepared this menu on a Friday evening so I took comparatively longer time than the other two thalis, which are coming in the next two days. Once you have all the veggies chopped, you can prepare this meal in less than 45 minutes. Instant pot helped a lot in this preparation. I set the sambar in the IP and in parallel, I prepared the okra curry on the stove top and rice in my rice cooker. :-) Be it for weekday or weekend, here is the yummy and filling thali, perfect for lunch or dinner.