Following the Tamil Nadu mini thali, here is the simple Bengali mini thali with a dal, dry curry, roti, and rice. I am not going to say this as traditional Bengali Thali but with two main recipes from Bengal cuisine, I thought of calling it as mini Bengali Thali. :-) For folks who want to avoid rice for dinner, this is a perfect bet. You can skip a cup of rice and add more rotis too. This platter of dal, curry, and roti makes a filling and satiating meal. And oh yeah, this is a no onion and no garlic platter. (Onions are just for the deco, ;-) ;-) )
How I Prepared: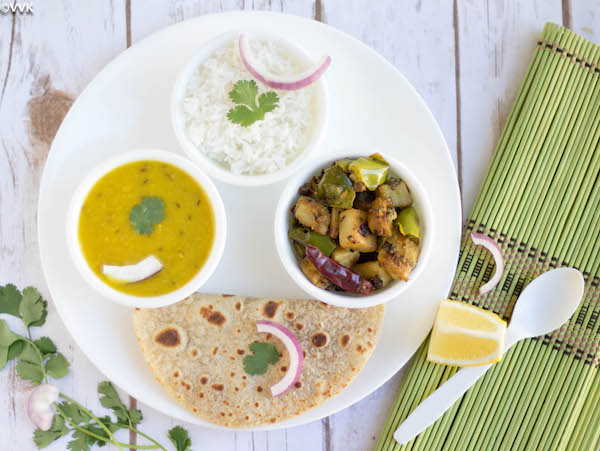 As usual, Instant pot helped me to prepare the dal. I posted a video recipe of the cholar dal preparation earlier this Sunday. After turning on my IP and rice cooker, I started to prepare the curry. Potatoes and capsicums are easy to chop and the curry preparation is not time-consuming either. So this is a perfect combination on a busy weekday. If you like to go with either one (dal or curry), all you need is 30 minutes of your time. I am not including the roti preparation time here. I prepare the dough in bulk during the weekday and just roll only required roti. (Of course, I get help from M)
On my plate I have,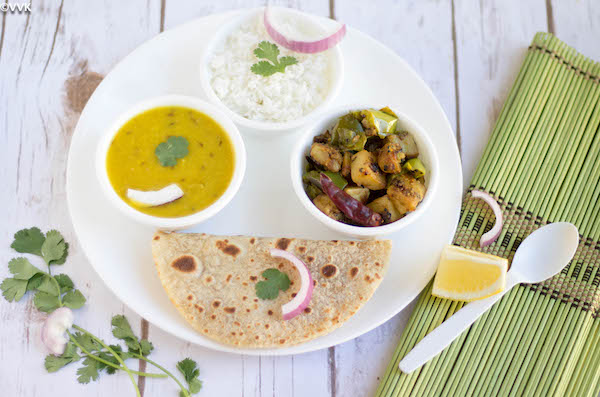 Pickle and yogurt are not in this picture but yogurt topped up with chat masala goes well in this Thali.