Finally here is the much-awaited post – the Andhra or Telangana Thali Spread – a scrumptious and filling thali spread from the Southern States of India, Andhra and Telangana.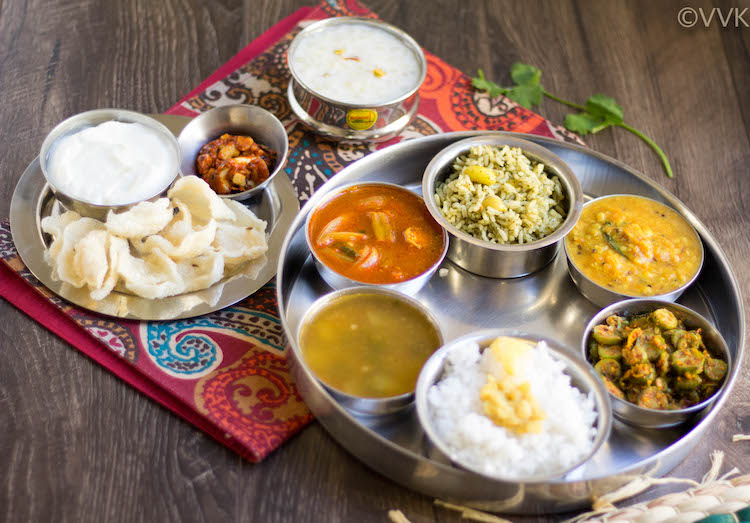 Telangana Thali Spread
I know I kept mentioning about the Thali spread for the past two weeks but had to wait until now. I know, I can't claim this spread an authentic festive spread or traditional spread because I missed some of the recipes like Kandi Podi / Paruppu Podi, Garelu / Vada, and Koora / lentil curry. But I still managed to create a not-so-elaborative spread. With Ugadi coming up in few days, I am super elated to share this.
Even though I knew that Feb and March are going to be hectic, the moment I saw, the theme "Thali" I immediately picked without any second thought. As usual cooking these yummy recipes was not a problem, clicking and editing and drafting took its own time. ;-) I was super optimistic, and I was planning not use any of my recipes from the archives for Thali theme. But when I decided the menu and checked the posting schedule, I realized it would be difficult. So for this spread, I prepared all the recipes and posted them ahead, but for other two spreads, I picked a couple of recipes from my archive.
As I mentioned in the Pulihora post, I would like to thank Valli for helping me with the menu and for sharing a couple of her recipes. Also, I would like to thank my friends S and SL for sharing their family recipes too. :-) Now to the Thali spread, I prepared this thali with onion and garlic, but this can be prepared as no-onion and no-garlic thali too.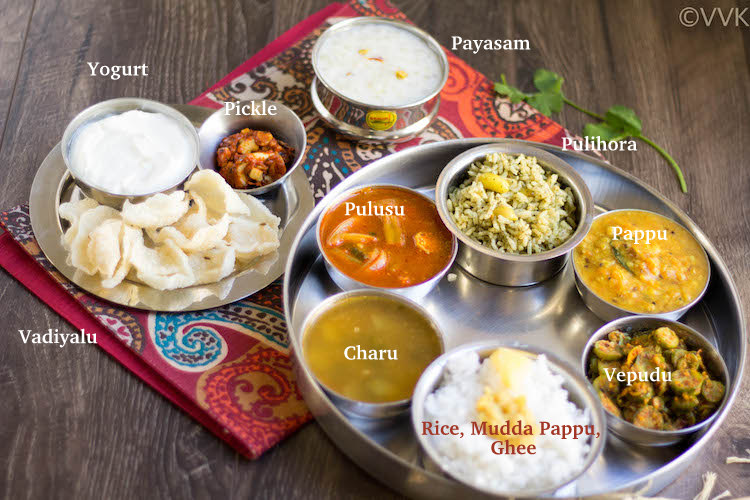 Here is what I have in my Telangana Thali Spread. Please click the links below, to get the recipe for each dish:
Plain Rice, Mudde Pappu (Plain toor dal), Ghee
Vadiyalu (As I ran out of my homemade stock, I went with store bought fryums. But you can find the Sago vadiyali here. This summer has to stock it up again.)
Yogurt
How I planned and prepared this Telangana Thali Spread
I made the cashew garlic pickle well ahead. Just the day before making this thali, I chopped my ivy gourd, cleaned the curry leaves and grated the coconut and refrigerated them. As you can see, two of the recipes were prepared in Instant Pot. I prepared pappu first and then the chaaru. So when IP was doing its job, I parallelly made other recipes on the stove top. I started off with Vepudu curry powder and pulihora mix as it involves grinding. Rest was all putting it together.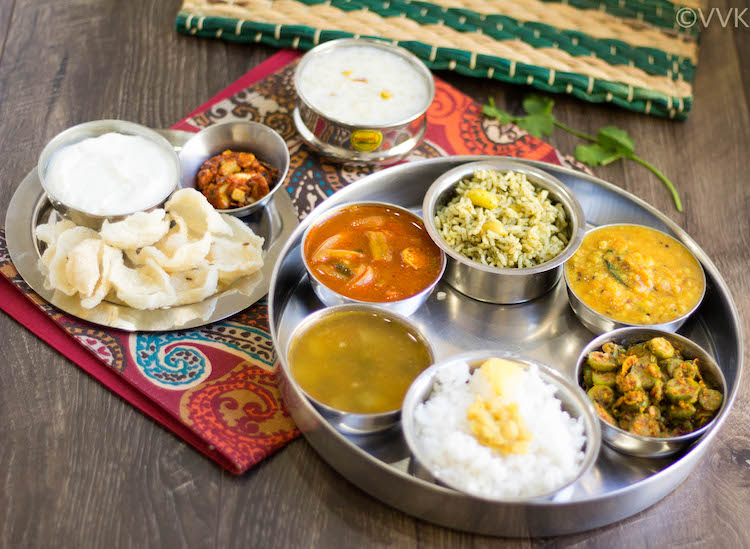 Stay tuned for another spread, and that's coming tomorrow.
Enjoying Telangana Thali Spread? You will love these, too:
Submitting this post for the BM 74. Check out the other participant's recipe here.