As you all know from my previous posts, I am from Periyakulam, which was part of Madurai district till 1996 and then it became a part of Theni district. So being from Madurai side, how can I not talk about Chithirai Thiruvizha?? (This years its on May 13th and 14th)
Madurai Chithirai Thiruvizha (Festival) is one of the major festivals celebrated throughout the district of Madurai and nearby towns. The two major events are Meenakshi Tirukalyanam and Kallazhagar (Lord Vishnu) crossing River Vaigai. According to the legend, Lord Shiva (Sundareshwarar) comes to Madurai to marry goddess Meenakshi (Goddess Parvathi). Kallazhagar who resides in Alazhar Kovil (20 kms from Madurai), is the brother of goddess Meenakshi and He is also invited for the wedding. But He misses the wedding. While crossing the river Vaigai, He comes to know that the wedding has already ended; He gets angry and goes to Mandapam (small building) where he displays all his 10 incarnations and returns back to Azhagar hills. So He never enters Madurai.
Chithirai Thiruvizha is celebrated in Periyakulam also. The Tirukalyanam will take place in Meenakshi Sundareshwarar temple, Periyakulam and Kallazhagar from Varadharaja Perumal temple will enter Varaga River. (It's one of the tributary of Vaigai). Kallazhagar will be dressed in Green silk and He will be mounted to golden horse and possession will be moving fast so as to indicate his anger. For about 17 years, I have enjoyed this festival in PKM (Periyakulam). In our family, we do the mundan and ear piercing ceremony for kids during this time. Mine too happened in PKM during Chithirai Festival.
For Meenakshi Kalyanam, the prasadam(Food offered to God) will be mixed rice. But for Kallazhagar crossing vaigai, the usual prasadam will be Curd/Yogurt rice and Sukku vellam (Dried ginger with jaggery). I don't know why they make sukku vellam for prasadam.
I like sukku vellam very much as I use it in tea, coffee and also sukku vellam mixed in water is a great home remedy for stomach problems and aids in digestion. So here is the recipe for Sukku Vellam. Its very easy to make.
The ratio of sukku to jaggery is 1:3.
Ingredients:
Sukku (dried ginger root) – 2 inch piece (dry grind it to make powder or if you are using store bought powder use 1 tbsp of it)
Powdered Jaggerry – 3 tbsps
Elaichi – 2
Steps:
Dry grind all the above ingredients into fine powder. And that's it. Sukku vellam is ready.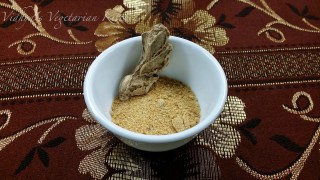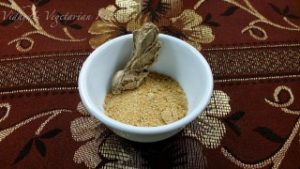 I know curd rice is easy to make, but still I have posted it here with some tips.