A lunch menu with assorted kozhukattai, and you might have guessed it by now! Yes, it's a Vinayaka Chaturthi special lunch menu, and that's what I am sharing today.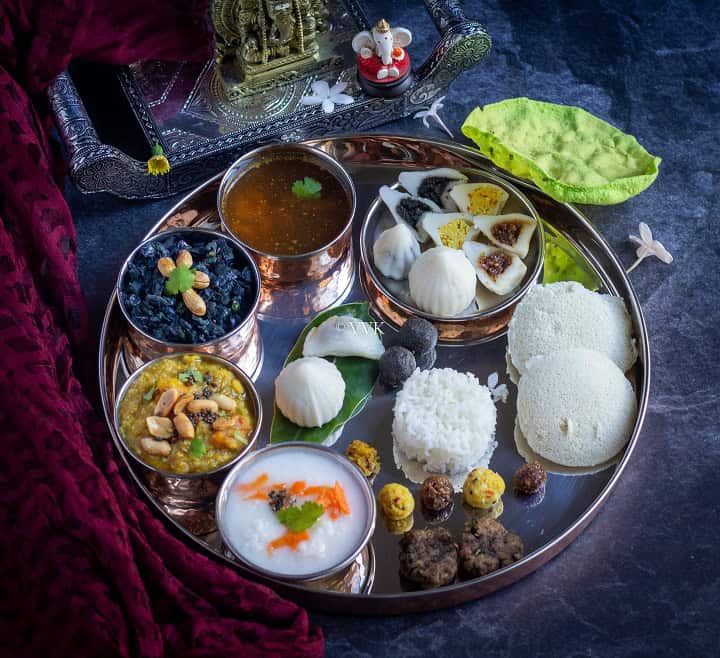 If it was Gowri habba festive spread yesterday, then it has to be Ganesha spread today! That's how it is in our household. I still remember my grand father's annual ceremony/thithi also comes around this Gowri-Ganesha time. 
And my mom won't miss any festivals or rituals and follows everything duly and prepares excellent meals effortlessly. My mom is my cooking guru, and I aspire to be my mom. But I have a long way to go. :-)
Anyways, coming back to the thali. I keep my Vinayaka Chaturthi spread simple as I spend more time making atleast 3 to 4 varieties of kozhukattai.
I skip kheer and also make one-pot bisibelebath or sambar sadam and yogurt rice always. Sometimes instead of dry curry or poriyal, I end up making sundal and pair it with rice. For this thali, I made a dry poriyal, so I skipped the sundal. I reduce the main course dishes and focus on the kozhukattai.
You can also make the kozhukattai filling the day before, which helps in the festive day morning. As I mentioned in my other festive thali post, you can make these thalis as elaborate as you want. It ultimately depends upon your time and situation.
Vinayaka Chaturthi Thali-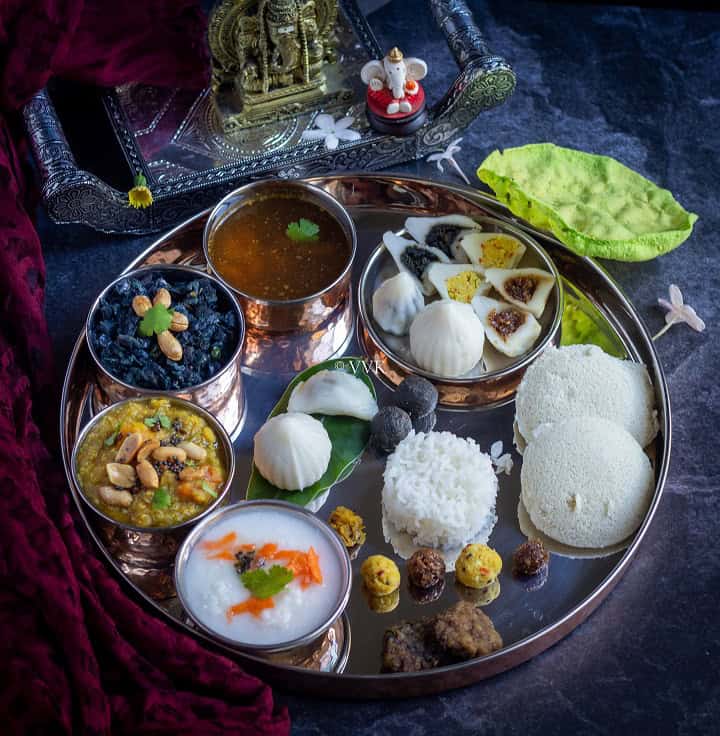 Now coming back to this plate, I have bisibelebath, but I used quinoa instead of rice. And I paired it with purple cabbage poriyal. Also, I made some rasam and white rice. Rasam is part and parcel of our festive thali, and I usually love to drink rasam, especially after a heavy meal. So I try not to skip it.
Along with kozhukattai, as always, I have some chigali, tambittu, and raw rice idli. I made aval vadai, but as I fried it after frying the green appalam, the oil had many residues and got stuck in the vadai. Hence the color.
I will be sharing the aval vadai recipe soon. Except for that and raw rice idli, you can find all the other links below.
PS: Follow me on Instagram or join my Facebook Group for more gardening and recipe updates. If you try these Vinayaka Chaturthi recipes, please don't forget to comment and rate this recipe. If you have any questions, please leave a comment, and I will get to it asap. Make sure to follow me on my Pinterest for more healthy and delicious ideas!
Check out the Blogging Marathon page for the other Blogging Marathoners doing BM#116
You are invited to the Inlinkz link party!Click here to enter