Everyday cooking is easy when you have a meal plan, and that's what I have been doing for the past few months – preparing a weekly meal plan over the weekend for the hectic week. Read further to explore this week's simple vegetarian meal planner.
Before getting into this week's menu, I wanted to share if I followed my planner to T last week. :-) I couldn't follow my plan last week, especially on Wednesday and Thursday.
Office lunches and kiddo's pasta requests made me change the lunch menu on Wednesday, but I did not waste any vegetables. I ended up making them for dinner. For Wednesday dinner, I ended up making ridgegourd kootu and cabbage curry. I saved the long beans for the weekend.
As I ran out of wheat flour, I ended up serving bottle gourd dal with rice. Also, I woke up late and I couldn't make the black chickpeas sundal and brinjal curry for lunch and snack. But I made them for dinner, though. Thankfully I had sufficient foxnuts, fresh fruits, so I packed them for our snacks. I came back to track on Friday though. :-) Some weeks are like this. I am glad that I didn't waste any vegetables. That's my goal.
PS: Follow me on Instagram to see my everyday meals and how I cook :-)
My Cookbook | The Essential South Indian Cookbook
I am so excited to share that my new book, The Essential South Indian Cookbook, is coming out this October 2019! This book contains 75 South Indian recipes, including meat and seafood recipes. Thanks to Kat Green for taking care of the meat and seafood-based recipes. The recipes in this book will definitely let you explore the culture and the regional cuisines of South India. Right from idli, sambar, puttu, pesarattu, ragi mudde, vegetable curries, and gravies, I have it all. Let's not forget the meat and seafood dishes as well and oh yeah the desserts too. :-)
Preorder your copy today! Click here to preorder.
With a get-together at home and with Navratri, the next three weeks are going to be a bit crazy. With that in mind, I have made this meal plan.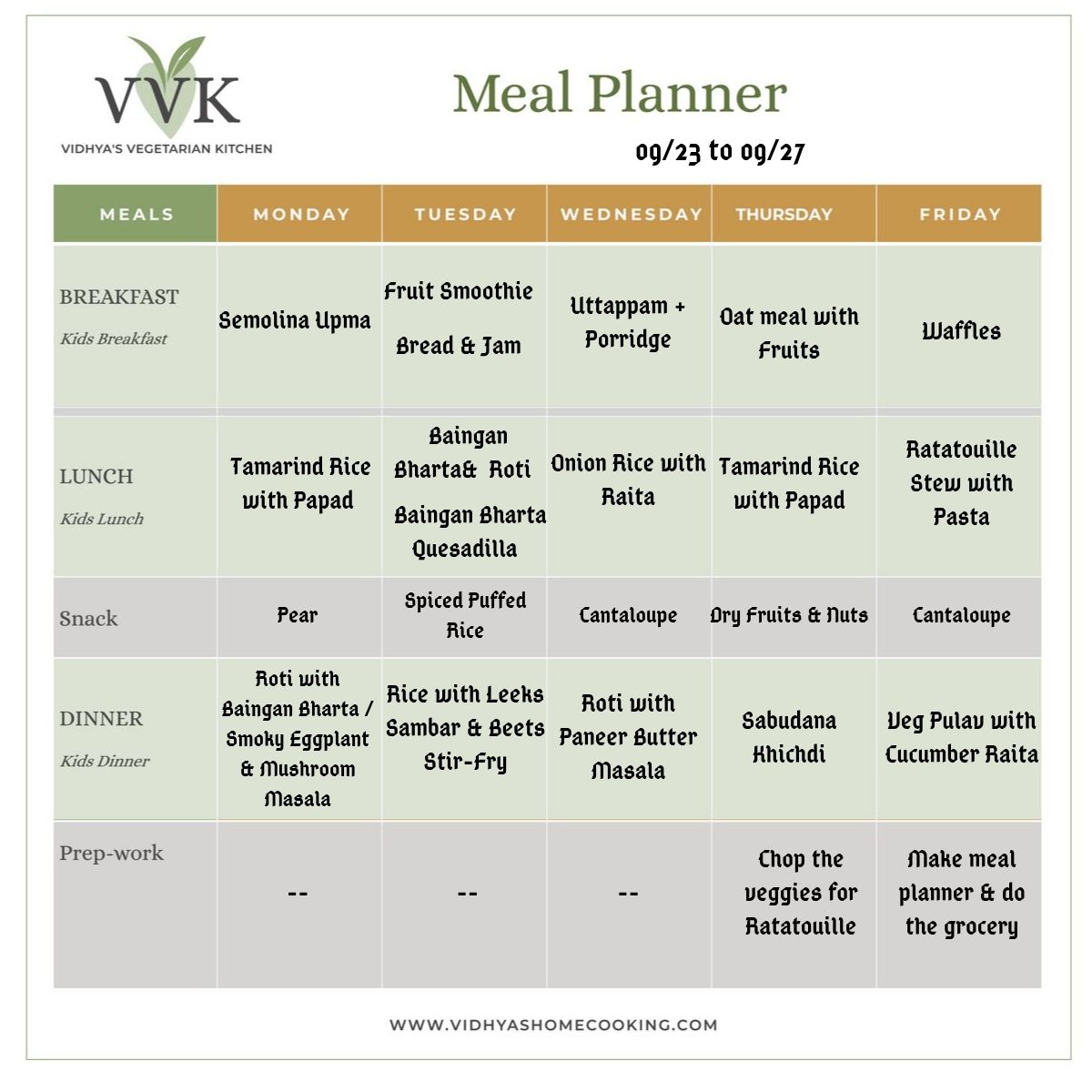 Prep-Work for this week menu:
Everyday Menu Details:
Here are the recipe links for everyday menu details.
Monday: Find the recipes below.
Tuesday: For Tuesday, I am planning to use the leftover baingan bharta and planning to make a quesadilla with the same for the kiddo. I have tried this before. I hope he still likes it. Find the recipes for Tuesday below.
Wednesday: Keeping it simple for Wednesday and here are the recipes.
Thursday: As always my Thursday cooking is always without onion and garlic. Again, I am using my pulikaichal for making the tamarind rice. I know I am repeating the same dish but this week pretty hectic. So I don't have an option. :-) For dinner, it's the delicious sabudana khichdi.
Friday: We love Ratatouille and I have the Instant Pot version in my cookbook as well. But I learned a new recipe from our music teacher with cheese and pasta added. I am planning to try that. After a few trials, I will post it on my blog for sure.
I hope this menu planner helps and you all can draw some inspiration. If you have any questions, please leave a comment below. I will share the daily updates on my Instagram and my FB group. So stay connected!