A week-long Indian vegetarian meal planner with breakfast, lunch, and dinner options! Plan, prep and make healthy meals for your loved ones!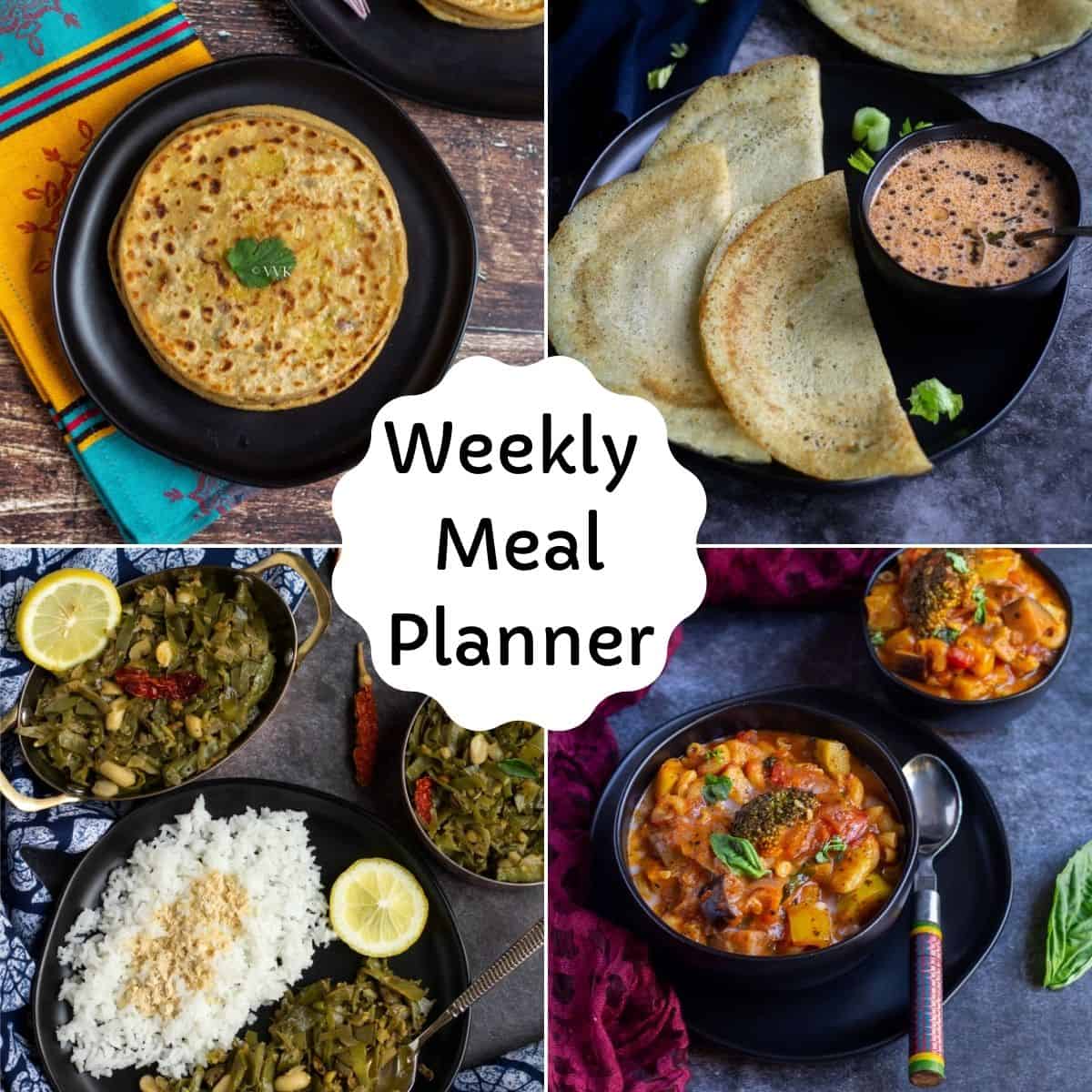 Are you new to meal planning and prepping or looking for new ideas?
I have been sharing 5-day weekly meal planners for the past two years, and I have over 42+ Indian vegetarian meal planners on my blog. You can check them out all under the "meal planner" category. Please share your thoughts and feedback in the comment section.
In my previous meal planners, I had shared why to plan meals and the advantages of the same. This week, let me share if I follow my meal plan to T. :-)
Sticking to the meal plan 
If there is one question that I get repeatedly asked on my social media platforms, do I follow my meal plan to T? The answer is yes and no. I do follow 90% of it. Sometimes, I switch/swap the meals based on my schedule; for example, I swap Wednesday and Thursday meals.
I understand not all days go as planned. Some days work gets hectic, or something unplanned might come up; if we have our meals planned and prepped, we can whip up something quickly instead of ordering a take-out.
PS – You can do the prep work over the weekend or batch cook every alternative day. It all depends upon your work schedule. Opt for the one that works the best for you. I plan my meals depending upon my work week and kiddo's classes. 
Are my meal planners challenging to follow?
My meal plans are predominantly Indian vegetarian with a mix of south Indian and north Indian recipes. (Ok, more South Indian recipes, and that's what our staple is).
I choose recipes that I can make in less than 1 hour. As I have mentioned before, I use leftovers and rely a lot on one-pot recipes. And I don't cook fresh meals from scratch always. 
I hope you all can draw some inspiration and plan and prep your staple food.
The sambar, spinach kootu for Monday are the leftovers from today, Sunday. Tuesday, I have paruppu podi (which I stock up a lot) and broad beans curry. I have to make only the curry and rice for lunch. All my lunches and dinners recipes are easy to make; make sure you chop all the veggies well-ahead.
Prep-work
Prepare the dosa batter day before, or you can choose no-ferment or instant dosa to make in the morning.
Chop the required vegetables.
Knead the roti dough in bulk and knead the day before.
Chop the fruits and pack them in containers. Cleaning and chopping fruits like melons, pineapple, and pomegranate help a lot.
Note – Use the grain of your choice. Instead of rice, you can use millets, quinoa, or brown rice. Also, you can make multigrain roti or quinoa, or ragi roti too.
Without any further ado, here is this week's meal planner. Please check the recipe links below.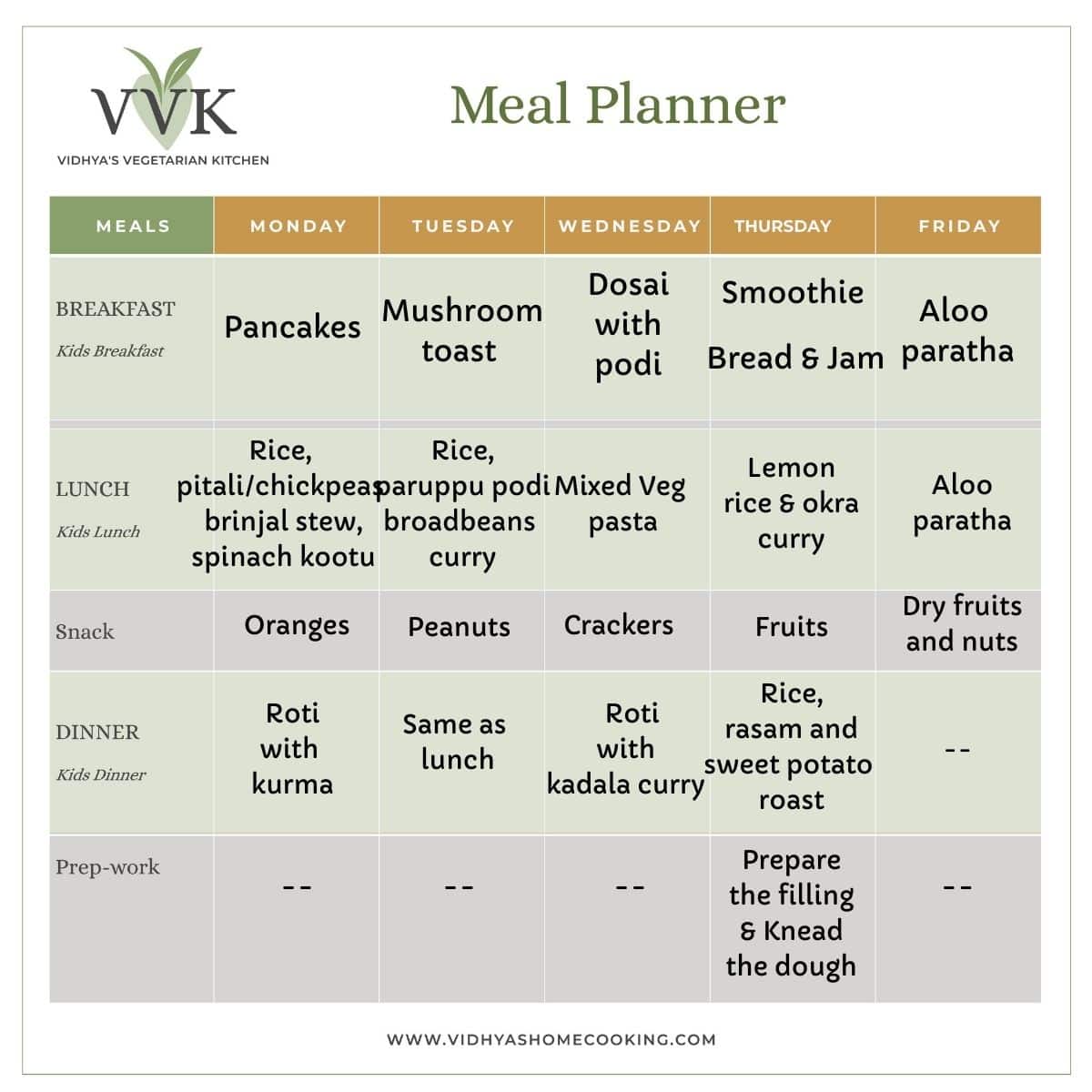 Monday Menu
Tuesday Menu
Breakfast – Mushroom toast (I am yet to share this recipe) 
Lunch – Rice with paruppu podi and broad beans curry
Dinner – Millet kanji. (I am yet to share this recipe) 
Wednesday Menu
Breakfast – Dosai with podi
Lunch – Mixed veg pasta 
Dinner – Roti with kadala curry
Thursday Menu
Breakfast – Bread and jam for kiddo and smoothie for us. 
Lunch – Lemon rice with okra curry 
Dinner – Rice, rasam, and sweet potato roast.
Friday Menu
I hope this menu planner helps, and you all can draw some inspiration. If you have any questions, please leave a comment below. I will share the daily updates on my Instagram and my FB group. So stay connected!
Stay Safe & Happy Cooking!
Vidhya