I love rasam and so does Vaandu. We both can live only with rasam rice. Its the most comforting meal for us. All I need is rasam rice with some pickle or thokku or with sutta appalam – a heavenly meal. The only problem with rasam is the time for cooking the toor dhal. But you can always opt for Jeera – Milagu (Cumin-Pepper) Rasam. But again for that you need to grind the masala. There are days when I don't want to spend too much time in my kitchen. I want to get everything done in 30 minutes and relax. So here is my goto rasam and this is called Goddu Rasam or as we say in kannada goddu Saaru.
Plan you meal:
This rasam doesn't need any toor dhal but if you want you can add it for tadka though. That gives an unique flavor. What I usually do is, before preparing this rasam, I just keep the rice in the rice cooker. Within 20 minutes this rasam will be done and just before serving I roast the appalam in microwave. Yup.. Appalam roasted  in microwave. It consumes less oil and can be prepared in 10 minutes and tastes like fried appalam. (Will post the recipe soon, errrr.. missed to take pictures) A complete meal within 30 minutes is ready.
Here are my other rasam recipes.
So what we need for this goddu rasam,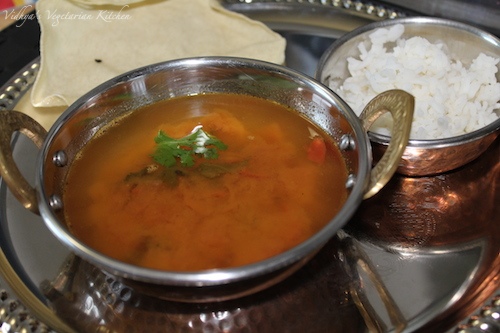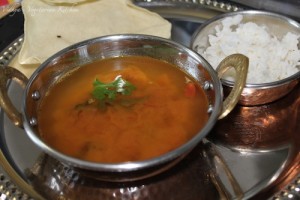 Ingredients:
Rasam podi –  1 tbsp
Tomato  – 1 (chopped)
Curry Leaves – 1 strand
Cilantro – finely chopped 3 tbsps
Tamarind – 1 small gooseberry size (if using paste, dilute 2 tsps in 1 cup of water)
Salt 1.5 tsp or as per taste
Turmeric powder – 1/2 tsp
Water 4 1/2 cups
Jaggery – small piece
For seasoning:
Oil/Ghee – 1tsp
Mustard seeds – 1tsp
Jeera – 2 tsps
Hing – 1/2 tsp
Red Chilly – 1
Steps:
Soak the tamarind in water ( 1 cup) and extract the juice, if you are using paste mix it in 1 cup water (During weekdays I prefer tamarind paste)
Take the vessel, in which you are going to make the rasam.
Add the tamarind water, rasam podi, salt, chopped tomatoes and mix it well with hand. Mash the tomatoes as much as you can. If you chunky tomatoes, skip this step.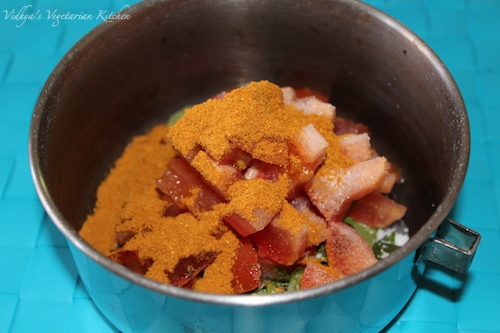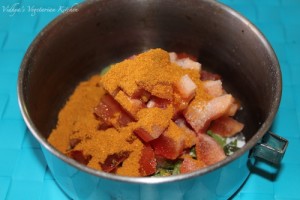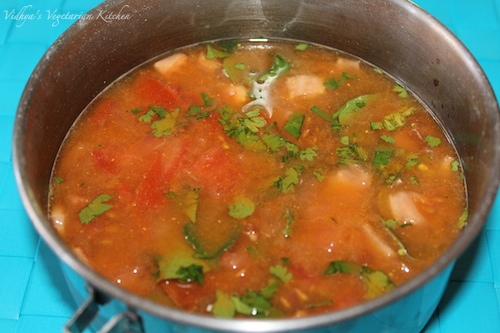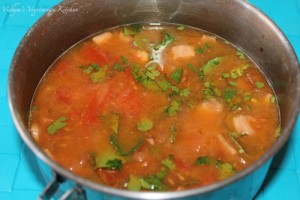 Now keep it in the stove and simmer it in medium flame.
Add the curry leaves and the coriander leaves.
When it begins to boil, add 3 cups of water and the jaggery.
Let it simmer till it creates froth on top.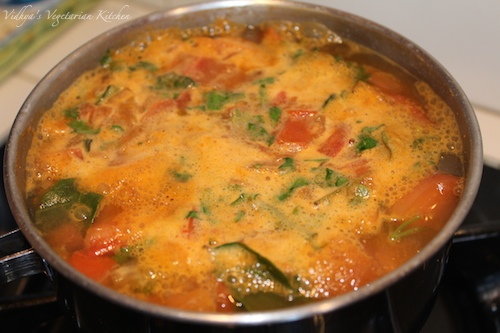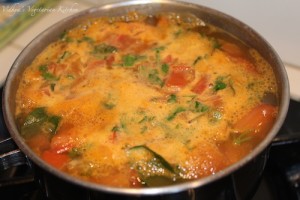 In the separate kadai or seasoning ladle heat oil or ghee. Add mustard seeds, hing, red chilly and jeera. Once they start to splutter add this to the rasam.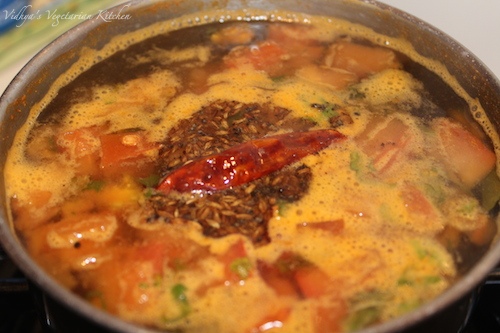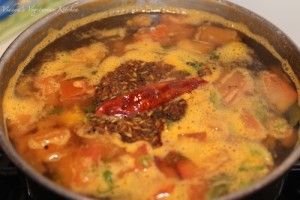 Hot rasam is ready.
Variations:
You can add toor dhal to the tadka.
You can also add crushed garlic to this rasam.