Chettinadu Vegetable Biryani is a delicious biriyani recipe, prepared with unique spices of chettinadu and with seeraga samba rice. This is a vegetarian version of the Chettinad Biryani. Of all the Tamil Nadu cuisines, my favorite is the Chettinadu cuisine. I don't know if it's the spices or the simple yet delicious recipes that makes me to say so. But yes it's my favorite. The paniyaarams and chutneys and biryanis are very yummy – I can keep talking about them.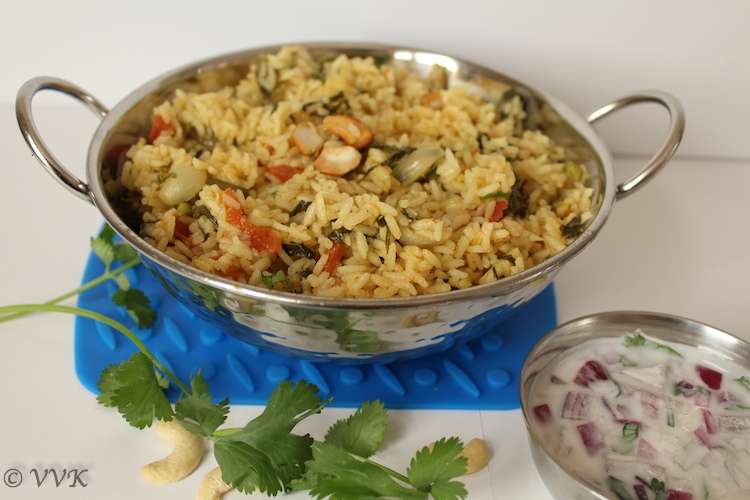 I wanted to try couple of chettinadu recipes and I asked one of our friend who was coming from India to get me all the Chettinadu spices. (Maradi Moggu and Kalpaasi) And when I saw this month's ICC recipe, I was very happy because it was Chettinadu Biryani. But then I didn't get the spices from my friend at the right time, so I had to order it online and emailed Valli that I will post the recipe, with a couple of days delay. But to my bad, the delivery of the spices got delayed and with next week travel plans, I don't want to postpone it any further.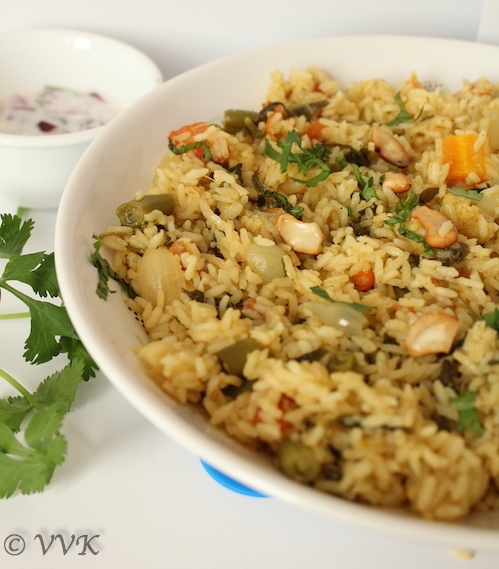 Update: When I posted this initially, I went without marathi moggu, but here is the updated recipe with marathi moggu and new pics. I have included the collage of the initial pictures.
So why so much fuss about the chettinadu spices? These spices are the identification of that cuisine and these spices differentiate them from the other cuisines. The three main ones are,
Marathi Moggu / Indian Capers / Kapok Buds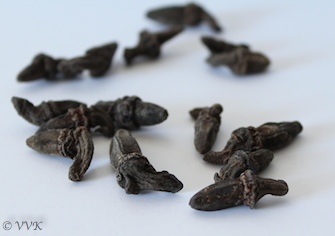 Marathi Moggu is a unique bud used in this recipe. It is the unopened flower bud of the Red Silk Cotton Tree. It is also used in Bisi Bele bhat. It is used in both Karanataka and Andhra rice recipes. Moggu in kannada means bud.
Kalpaasi / Black Stone Flower / Dagad Phool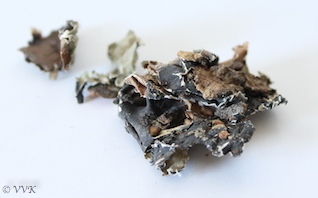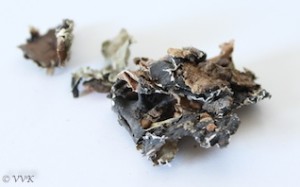 Yet another unique ingredient used here. This is also one of the key ingredient in the Maharashtrian Goda Masala. This dried flower adds more fragrance to the recipe.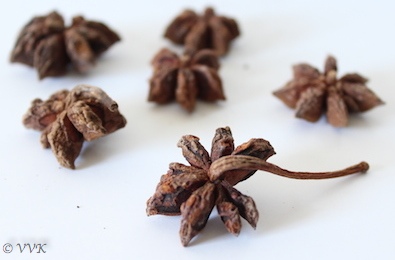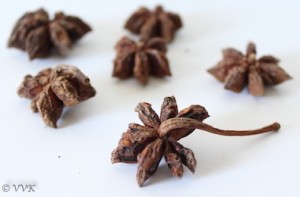 As per wiki, Star Anise is a spice commonly called star anise, star anise seed,Chinese star anise or badiam that closely resembles anise in flavor is obtained from the star-shaped pericarp of the fruit of the evergreen tree Illicium velum. It has a licorice flavor.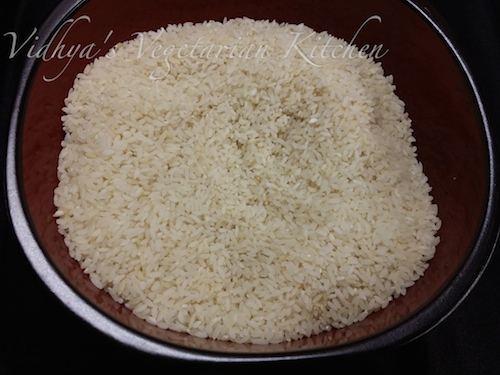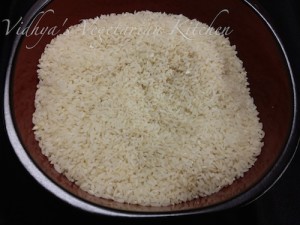 For chettinadu biryani we use Seeraga Samba Rice which is flavorful small ovular grain rice not the basmati rice. The live strong website has an article about this rice. It has unique taste and when cooked it is not as fluffy as basmati.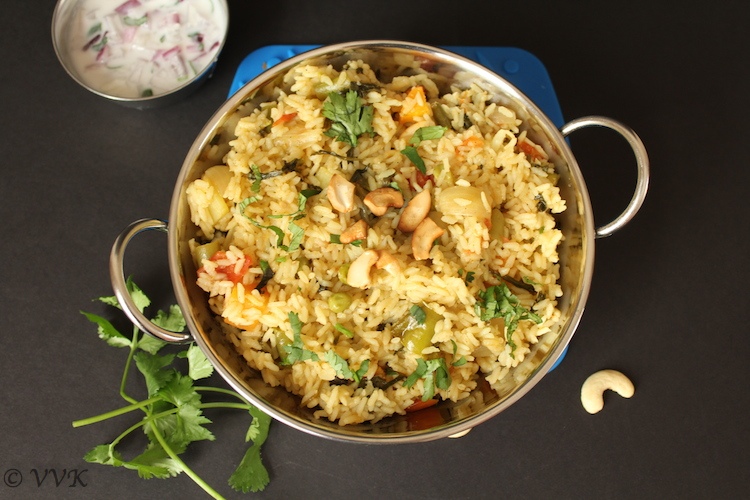 You can read about this challenge here. Basically you will be given with the recipe and its source and you need to try to post it on 15th of the month. So the base recipe source is here. I did reduced the amount of red chilly powder and ginger garlic paste.The time consuming part is peeling and chopping shallots and pudina/Mint. But each and every ingredient here plays a major role in the flavor and go for shallots :-)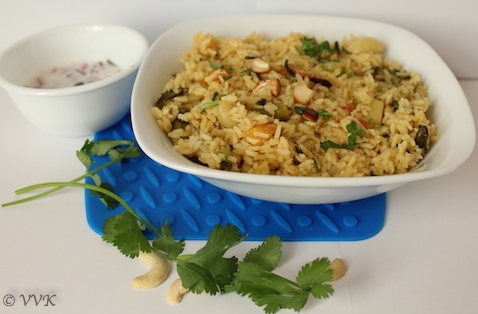 So here is the recipe,
Ingredients: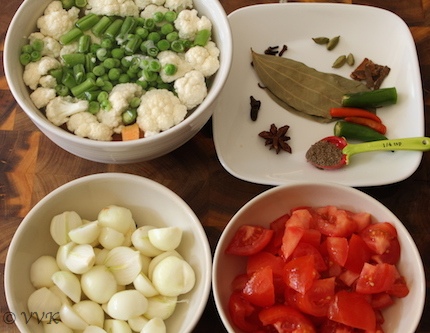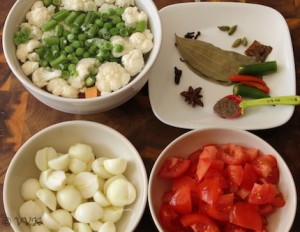 Mixed Vegetables- 2 cups (I used beans, carrot, peas, potatoes and cauliflower)
Seeraga Samba Rice- 3 cups
Small onions / shallots- 15-17 nos
Tomatoes large- 2 nos
Green chillies- 4 nos
Ginger and Garlic paste 2 tbsp
Red chilli powder 1 tsp
Coriander powder 1 tbsp
Turmeric powder 1/4 tsp
Pudina / Mint leaves- 1 bunch
Cilantro leaves- 1/4 bunch
Cashew Nuts- 20 nos
Ghee- 2 tbsp
Salt to taste (approx 1.25 tbsps)
Water- 4 and 1/2 cups
Masala tempering
Bay leaves 2 nos
Cinnamon stick 1″ pieces 2 nos
cardamom 4 nos
cloves 6 nos
Marati moggu- 1 no
Kalpaasi powder / Dagad Phool powder – 1/4 tsp
Star anise 1 no
oil 1/4 cup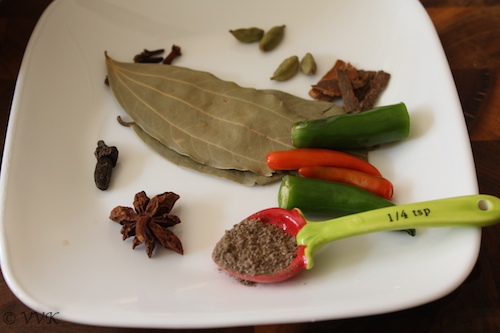 Method:
Wash the rice and soak it in 4 cups of water for 30 mts. Meanwhile you can do the prep work.
Peel the onions and chop them and also the vegetables and tomatoes.
Break the green chillies into two and keep aside.
Clean the Mint and cilantro leaves and chop them.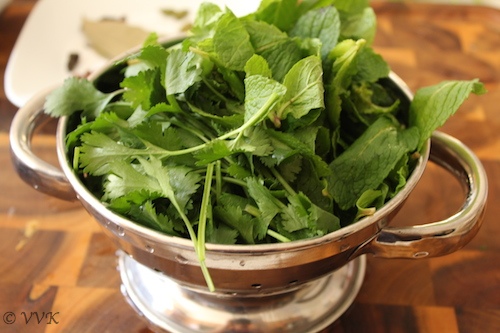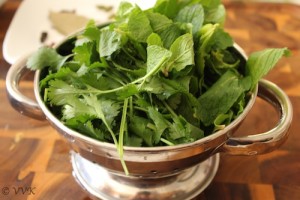 Heat the pressure cooker or pan and add oil.
Add the whole spices given under tempering except for the dagad phool powder and sauté for a minute.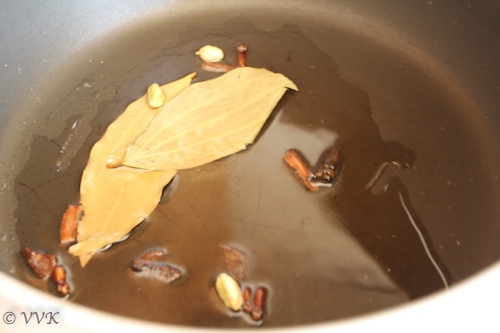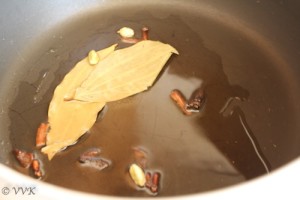 Add onions and green chillies to the pan, saute until onion turns translucent.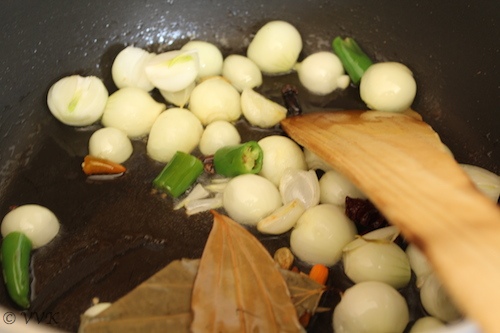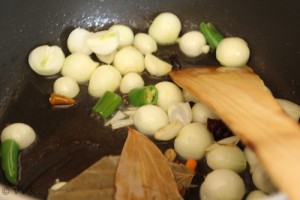 Add the ginger and garlic paste and saute until raw smell of ginger and garlic leaves.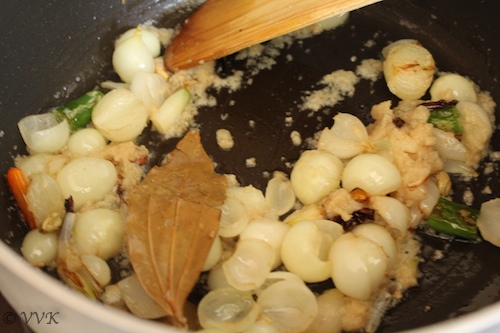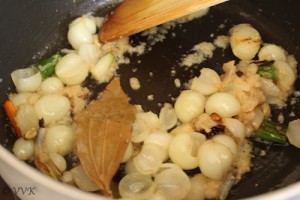 Add chopped Mint and Cilantro (reserve some to garnish) to the pan and saute for 1 minute.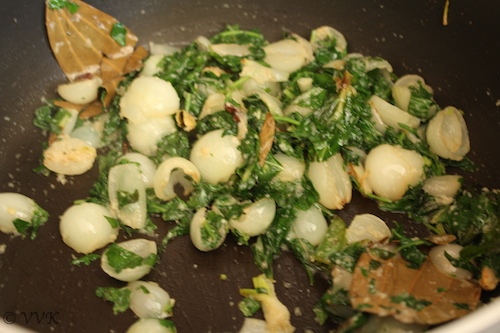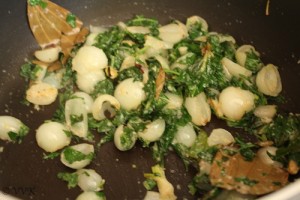 Add the mixed vegetables to the cooker and cook for 3 minutes.
At this stage add chopped tomatoes, red chilli powder, turmeric powder, coriander powder to the vegetables and mix well until tomatoes are tender.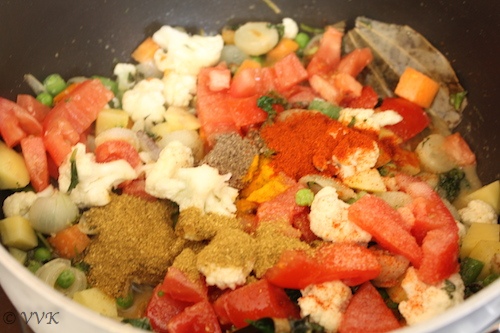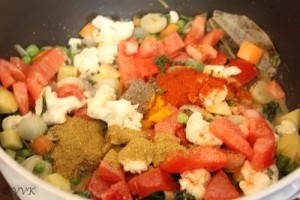 Add a 1/4 cup water to the pan, cover with lid and bring veg mixture to boil.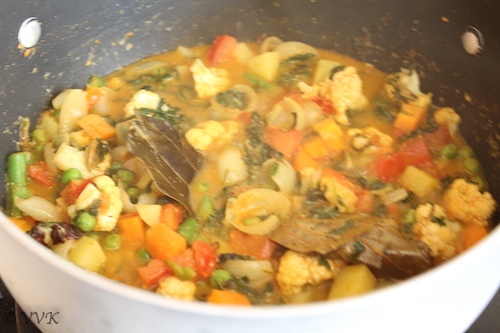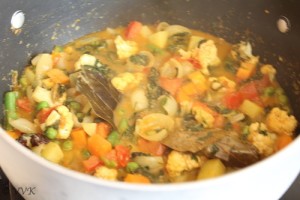 Then add 4 cups of water and bring it to a boil.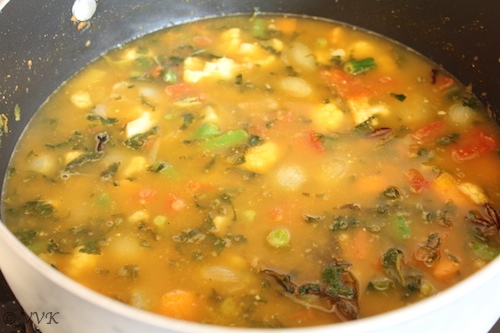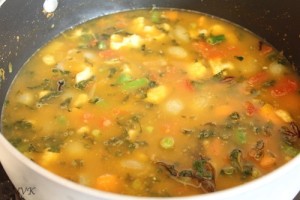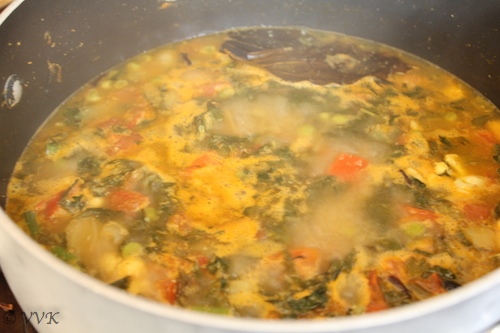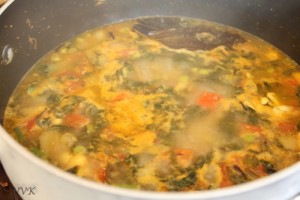 Now add the rice and cook for 5 minutes in high flame.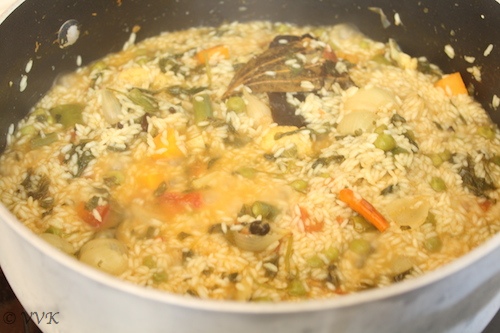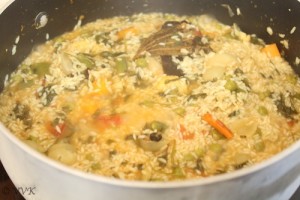 The if required drizzle some more water and cover and cook for 12 minutes.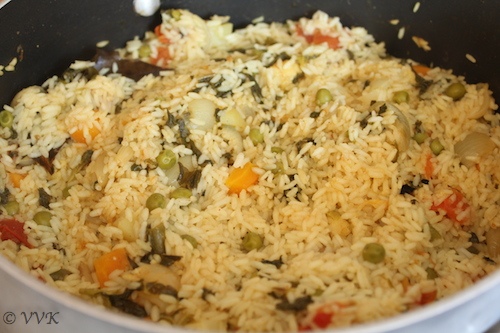 Then turn of the heat and let it sit for 10 minutes.
Fry the cashew nuts in 1 tbsp of ghee until golden brown and add it to the biriyani.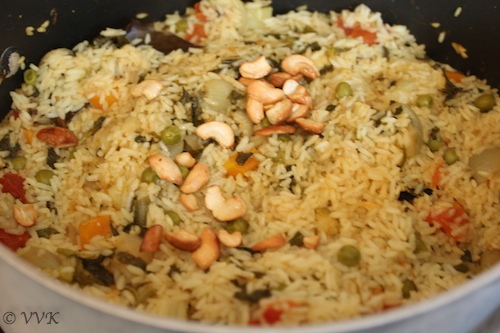 Pressure Cooker Method:
After adding the veggies and 1/4 cup of water bring it to a boil.
Then add the rice and 4 cups of water.
Pressure cook for 3 whistles.
Once rice is cooked and the pressure is off, add fried cashew nuts along with ghee and add remaining pudina coriander leaves and mix well.
Serve hot chettinad vegetable biryani with onion raita.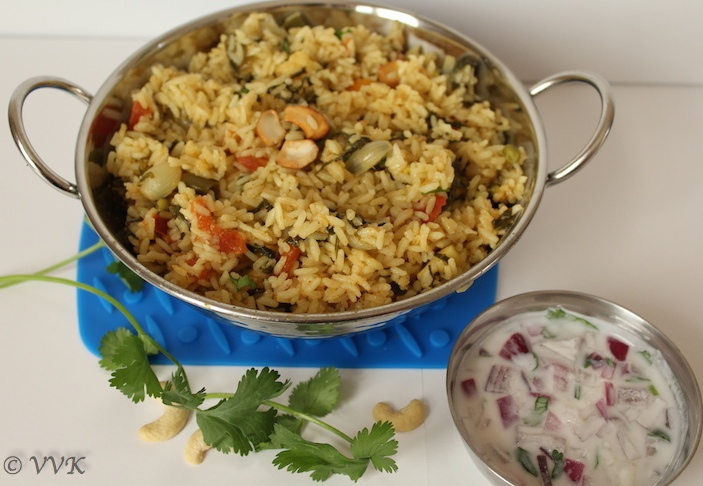 Verdict:
My hubby, kiddo and my BFF N got to taste this time and they all liked it, including kiddo. He called biryani as brown mum mum. He was saying brown mum mum yum yum :-)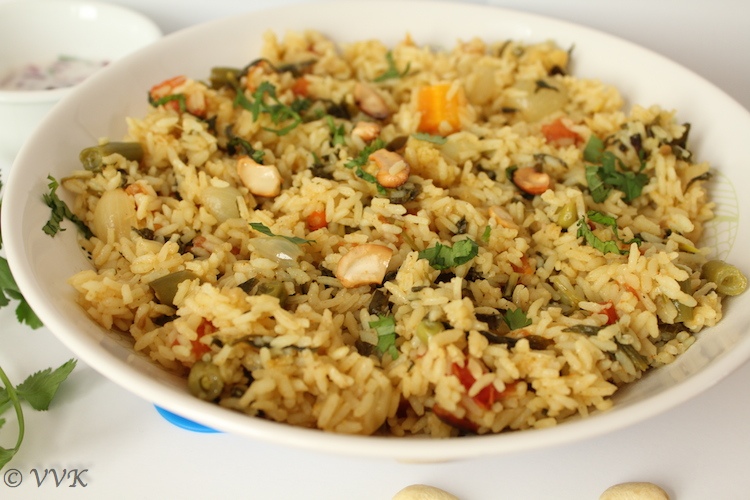 Thanks to ICC for getting me back to my favorite cuisine.