After trying out the dhal with slow cooker, I thought why not try our Tamil Nadu delicacies? So the next recipe is the day -today sambhar or as we say kuzhambu.Kuzhambu or sambhar is one among best rice accompaniment. I usually make any one type of kuzhambu most of the days . Be it vathal kuzhambu or mandi or this kind of sambhar without coconut they go well with rice. The traditional araichuvitta sambhar is reserved for weekend. :-) During weekdays I usually try pressure cooker sambhar. I thought why not try the same with slow cooker. In my pressure cooker sambhar recipe I used masoor dhal as it cooks comparatively faster and also its light. But for this slow cooker sambhar I went with toor dhal itself. For sambhar I use only one veggie, either with or without onion so you get the taste of that veggie completely in the sambhar.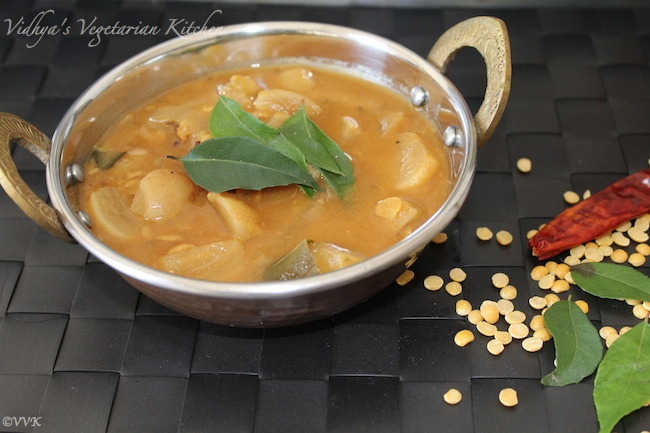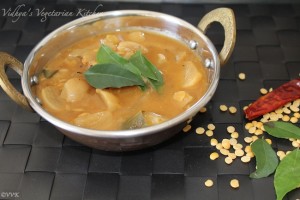 Here is the red radish sambhar.
Ingredients: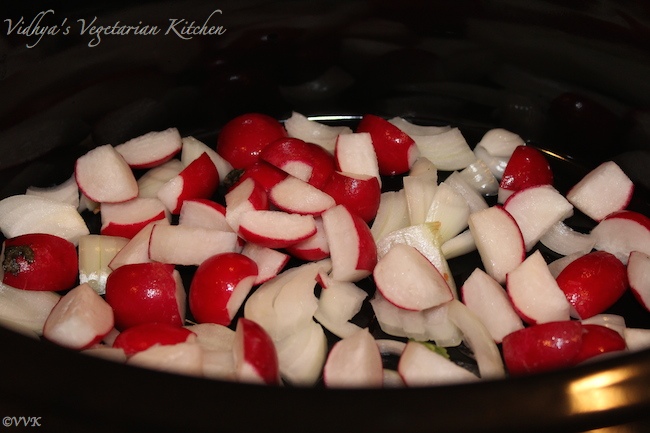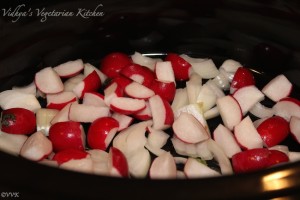 Toor dhal – 1 cup
Half of medium onion chopped
Red Radish – 1 bunch chopped in to halves.
Tamarind paste – 1 tsp or 1 cup of juice extracted from small gooseberry sized tamarind
Cilantro chopped – 1 tbsp
Curry leaves – 1 strand
Jaggery – 1 tsp
Sambhar powder – 1 tbsp (heaped)
Turmeric powder – ½ tsp
Salt – 1.5 tsp (as per taste)
Water – 3 cups + 3 tbsps (if required)
Rice flour – 2 tsps (optional)
For tempering,
Oil – 1 tbsp
Hing – 1 tsp
Mustard seeds – 1 tsp
Methi seeds – 2 tsps
Steps:
Wash the toor dhal and chop the veggies.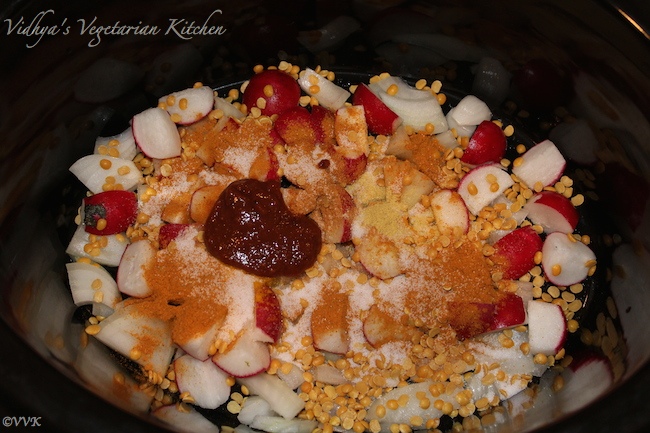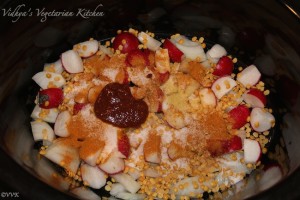 Now add the radish, onion, washed toor dhal, sambhar powder, turmeric powder, tamarind paste,salt, jaggery, cilantro, curry leaves along with 3 cups of water.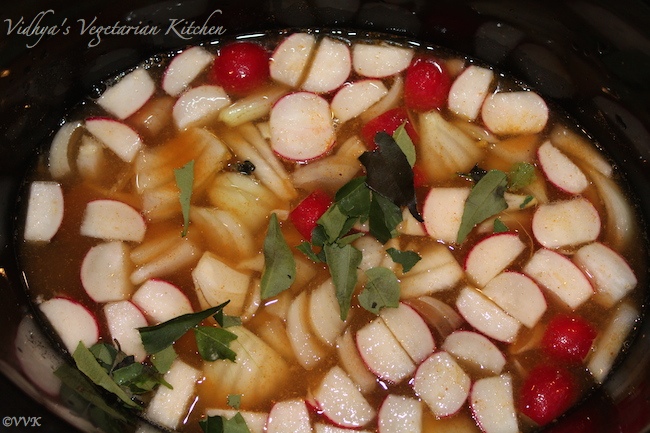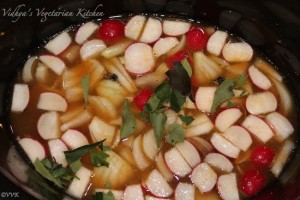 Set it in low mode for 7 hours. (5 hrs should be enough if in high mode). I tried in low mode.
Remove the pot from the cooker and mix well.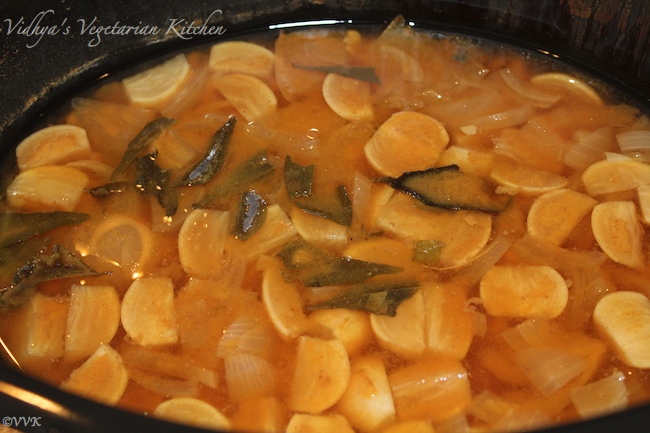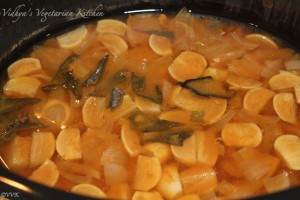 Heat the kadai or pan and add oil.
Once the oil is hot, add mustard seeds, hing and methi seeds.
As they start to splutter add the cooked sambhar mix.
(Reheating the cooked sambhar mix is for thickening it.)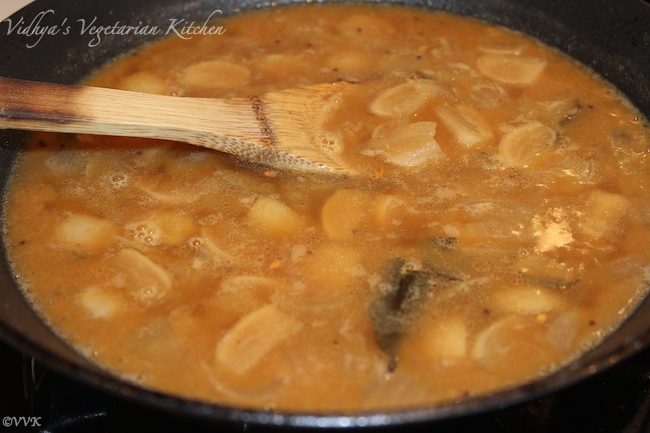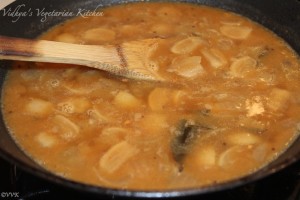 If you feel it's too thick, add water to required consistency and let it boil for a 5 minutes. If it's too thin, add 2 tsps of rice flour in 3tbsps cup of water and add it and let it boil so that sambhar becomes thick.
That's it. Yummy sambhar is ready. On a busy weekday set this up in the morning or in the previous night. Once its cooked all you need is 5 minutes for the tadka and mixing it up. Loving this slow cooker.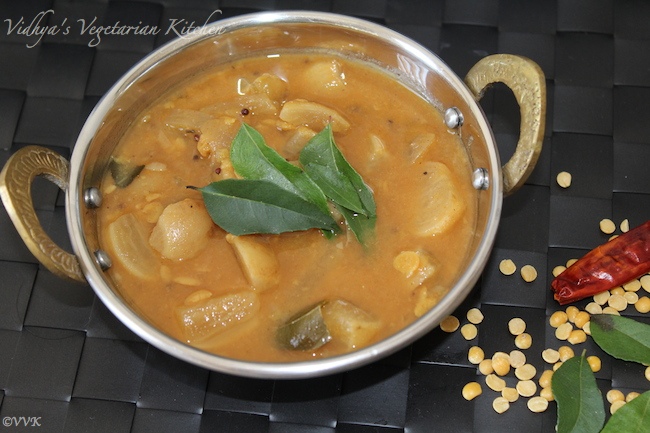 More South Indian recipes to come.. :-)