I am trying out different recipes with millets or siru thaniyangal (as we say in Tamil) these days and today it is all about the pearl millet or Bajra or Kambu (கம்பு). India is the largest producer of pearl millet and Rajasthan is the highest producing state. So this shouldn't be hard to find in India right?
Here is the nutrition information: (Source Wiki)
| | | | | | |
| --- | --- | --- | --- | --- | --- |
| Crop / Nutrient | Protein(g) | Fiber(g) | Minerals(g) | Iron(mg) | Calcium(mg) |
| Pearl millet | 10.6 | 1.3 | 2.3 | 16.9 | 38 |
Health Benefits of Pearl Millets:
The niacin in these millets helps to reduce cholesterol and magnesium helps to lowers blood pressure and reduces the risk of heart attacks.
The high fiber content helps in keeping the glucose level normal.
It helps in weight loss and also helps to cure stomach ulcers and gall bladder stones.
Kambu Koozh is a very common breakfast in rural parts of Tamil Nadu especially during summer months. Bajra combined with buttermilk is a very good coolant and keeps your body hydrated in hot summer months.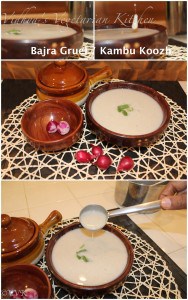 Benefits of Buttermilk:
It's the fermented milk with probiotics which helps to clean the unhealthy bacteria and helps with our digestion. It's also a great coolant. It helps with acidity troubles and it is comparatively light but keeps you filled.
Serving size:
This is a breakfast drink and 1 glass – 8oz will be the perfect serving size. If you are making it in a thin consistency I would suggest 12 oz. but not more than that. This gruel is served along with shallots which are one type of onions as we say small onions. Shallots appear to contain more flavonoids and phenols than other members of the onion genus also they have comparatively more antioxidants.
Here is the simple kambu koozh recipe,
All you need to do mix 1 cup of bajra flour with water and cook it till it thickens. Once it cools down add the buttermilk and mix well. That's it the koozh is ready. – Detailed recipe below. The picture of the thickened gruel before mixing it with buttermilk.
Pearl Millet Gruel / Kambu Koozh
2015-09-22 20:42:32
Serves 2
A delicious summer breakfast drink with bajra flour and buttermilk. #diabestesandfood
Ingredients
Pearl Millet / Bajra / Kambu flour - 1 cup
Buttermilk - 2 cup
Water - 3 cups
Salt - 3/4 tsp (Adjust according to your taste)
A drop of oil
Shallots - 3 to 4 as a side
Instructions
Mix the bajra flour and water in a heavy bottomed vessel or pan.
Add the salt and mix well with hand and make sure there are no lumps in the bajra mixture.
Now in a medium heat start cooking this bajra-water mixture.
Add a drop of oil and keep stirring the mixture till it thickens up. It takes about 15 minutes.
Now turn off the heat and let it cool.
Once it is cooled down add the butter milk and mix well so that the bajra mixture integrates well with the buttermilk.
That's it the gruel is ready. Enjoy with shallots.
Notes
You can add curry leaves/cilantro to this gruel.
Instead of serving the shallots as side, crush the shallots and add them to the gruel itself.
Vidhya's Vegetarian Kitchen https://www.vidhyashomecooking.com/
References:
http://www.foodofy.com/pearl-millet.html
http://www.nutrichoice4u.com/health-benefits-of-bajra-pearl-millet/
http://ourhealthyway.com/health-benefits-of-pearl-millet-bajra/
Sending this entry for Valli's breakfast event.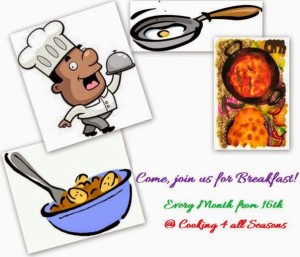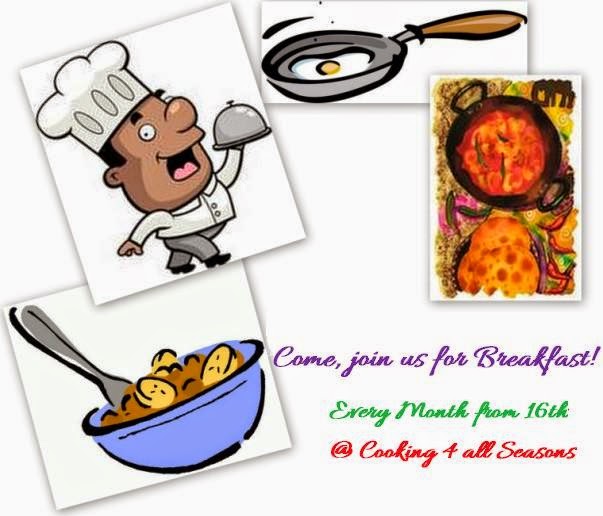 0