I am back with a veggie and plant-protein loaded meal planner with seasonal fruits and vegetables. There is a lot of chopping and soaking involved. So let's get straight to it.
Before getting into this week's meal plan, I want to share if I was able to follow my last week's meal planner to T. Unfortunately, I fell sick, and we ended up making more rasams, and I couldn't stick to meal plan. But I did use all my vegetables, which is a good thing. You see, no wastage, and that's my ultimate goal. :-) Also, I was able to test my new soup recipe. Stay tuned for the recipe; I will post it on my blog soon.
Seasonal Meal Planner:
I am still in the recovering phase, but I decided to pump up our vegetable intake. So this week, you will find more veggies, two per day again, and also recipes with seasonal veggies and fruits like butternut squash, pumpkin, persimmons, and apples.
This week, I am repeating some of the veggies in this week like ivy gourd and cabbage. If you don't like repetition, then you can opt for different vegetables. Even if I buy small cabbage, it comes for atleast two meals. I make curry one time and kootu the next time.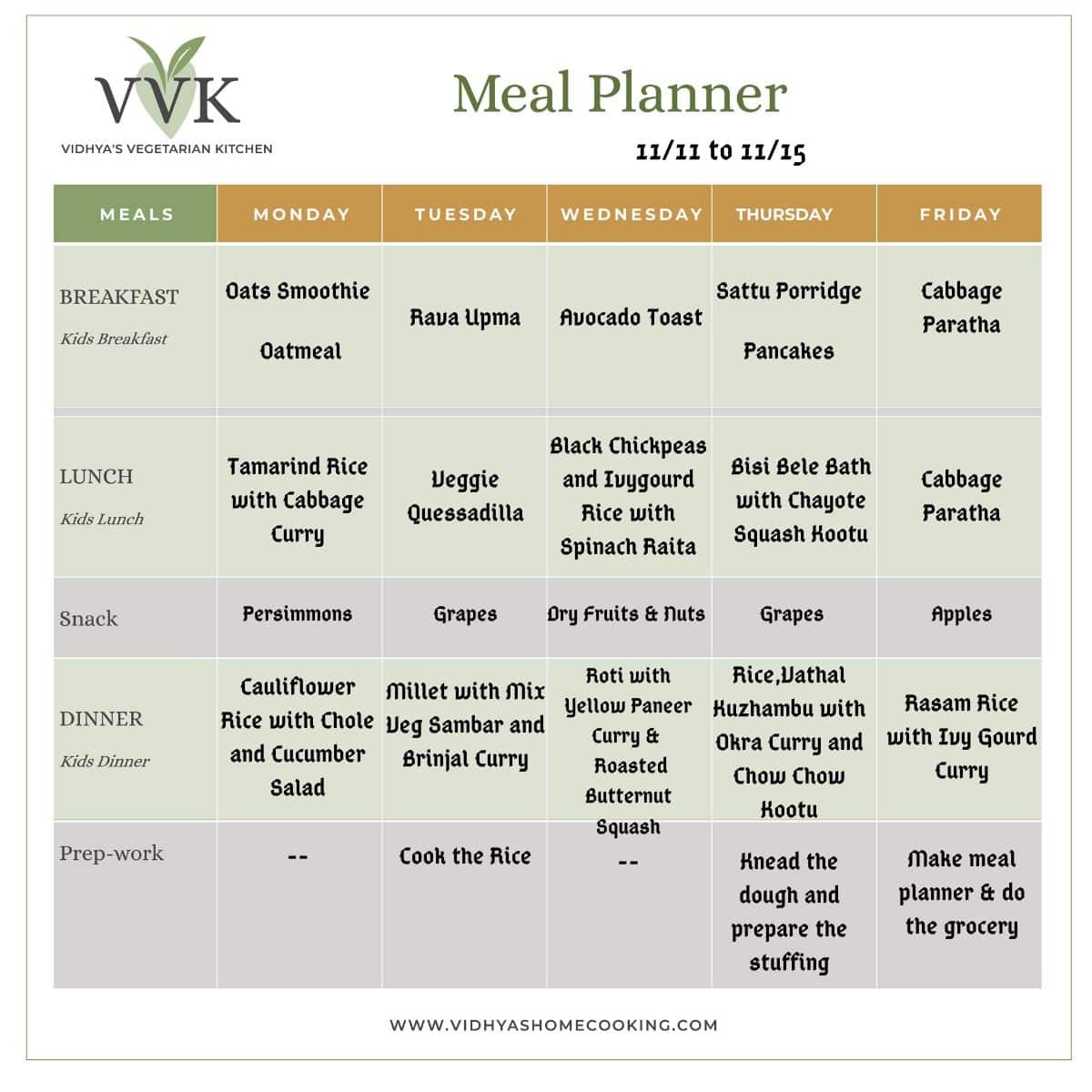 Rice Substitutes: You can swap rice with any plant-based rice, millets, quinoa, brown rice, or any complex carbs of your choice.
Prep-Work:
Menu For This Week:
Monday:
Tuesday:
Wednesday:
Thursday:
Friday:
I hope this menu planner helps, and you all can draw some inspiration. If you have any questions, please leave a comment below. I will share the daily updates on my Instagram and my FB group. So stay connected!