Yes, this week Diabetic friendly theme is outdoor grilling. Summer is here in full fledge and the weather is perfect for BBQs and grilling. As I don't have a grill, thought of baking asparagus. In Calif we get asparagus till May and luckily I found this in the supermarket last week. Asparagus is a perfect veggie for grilling, roasting and of course baking. Asparagus has sufficient source of Vitamin K and Vitamin B and its know for its health benefits. You can read about the benefits of asparagus here. Including balsamic to this recipe give an unique flavor and enhances the taste of asparagus. According to google, "Balsamic has anti-bacterial and anti-viral properties which can make it an effective remedy for treating infections and wounds. Folk healers used balsamic to cure body pain and as energizer." The other benefits are listed here.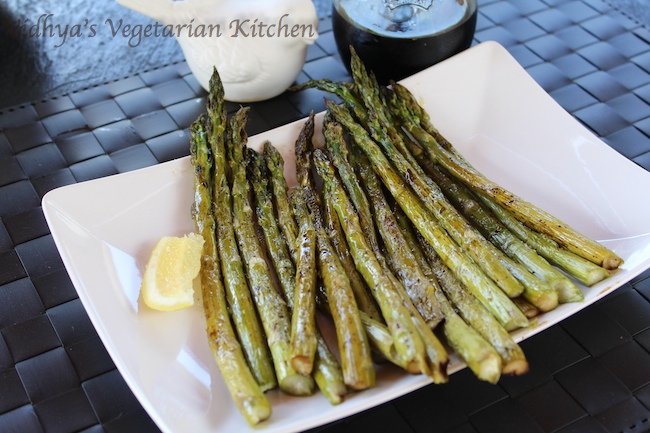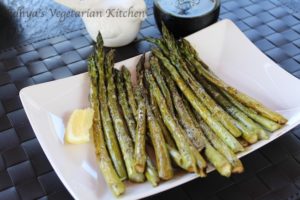 Baked Asparagus with Balsamic Vinegar - DFT
Ingredients:
Asparagus – 1 bunch
Salt – 1 tsp
Grounded black pepper – 2 tsp
Balsamic Vinegar – 2 tsps
Extra virgin olive oil – 1 tbsp (Came across this article about EVOO)
Steps:
Preheat the oven to 400 degree F.
While the oven is preheating, remove the tough ends of the asparagus. (Just bend the asparagus, the tender part will automatically come off. Discard the tough ones)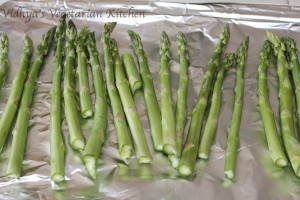 Drizzle the olive oil, salt and pepper and mix well.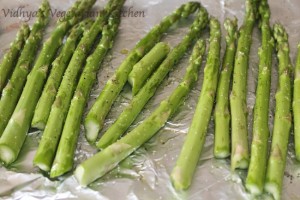 Bake the olive oil coated asparagus for 12 minutes.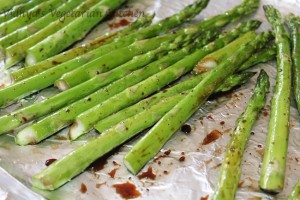 Now take them out and drizzle the balsamic and bake it again for 15 more minutes.
Make sure they are crisp and tender. If required bake them for couple more minutes.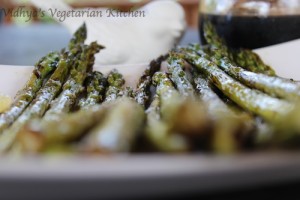 That's it. Yummy baked asparagus is ready. :-)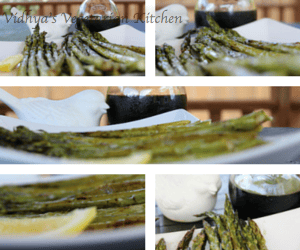 <em>Disclaimer: I am not a nutritionist or dietitian. My knowledge and information is based on my research and reading from different resources. Please consult your doctor or dietitian before making any changes to your diet.</em>