It just feels like I completed the April Mega Marathon and did the roundup. Time just flies, and here I am, again with an intro post about another edition of the Mega Marathon. Every year during April and September, we group of bloggers post recipes daily except Sundays under a pre-decided theme. I have been participating in these mega marathons from 2015, and this is my third year.  As you all know this April, it was all about baking, precisely A-Z baking. This September it is all about Protein Rich dishes.
As usual, I was super excited, and I started making the plan and came up with 26 recipes. Every time after deciding upon the recipes I usually send it to Valli just to make sure if the dishes are following the theme rules. During the past five editions, I stayed to that list 98% of the time. But this time things got completely changed, and I had to re-plan again. As I started to discuss the theme with my family and friends, everyone had their recipe request, and also they provided valuable and unique ideas. I couldn't say no to any of them, and that put me in a fix on how to proceed further.
My Pick:
To put it simply, friends and family wanted me to post, easy to make, day to day protein rich recipes with readily available ingredients. Also with the option making it vegan, no onion no garlic and gluten free. The first element that came into my mind was dals and lentils. I bet every Indian household will carry toor dal, masoor dal, channa dal, green moong dal, garbanzo beans, etc. These are the staple lentils/beans in India, and these are the first go-to options for vegetarians for protein. So I decided to prepare Indian recipes with these legumes. I wanted to add challenge to this theme, and I decided to make bean /lentil based recipes from different states of India, not repeating the same state. This challenge, allowed me to explore the cuisine of the Eastern frontier.
Pulses & Legumes:
Before getting into the detail, let me explain about the term pulse and legume. Pulses.org puts aptly; Pulses are the edible seeds of plants in the legume family. And pulsecanada.com brings in the difference between pulse and legumes. Pulses are part of the legume family, but the term "pulse" refers only to the dried seed. Dried peas, edible beans, lentils, and chickpeas are the most common varieties of pulses. Pulses are very high in protein and fiber and are low in fat. This picture of theirs makes it all clear.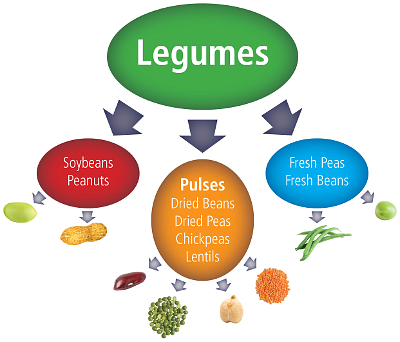 So far the next 26 days, I will be posting a legume (lentils, beans, pulses) based recipes mostly vegan and gluten-free. Some are no onion no garlic too. Oh yeah forgot the main thing. I prepared all these recipes on my Instant Pot. (I have included the traditional stove top method as well). So it's 26 Protein-Rich Instant Pot legume recipes from 26 Indian states.
I do want to make few disclaimers. Mustard oil plays a significant role in East Indian cuisine, but as we are still getting used to that taste, I went with regular sun flower oil. I do not claim these recipes as traditional and authentic recipes. My knowledge and information is based on my research and reading from different resources. I have provided all the references in their corresponding posts. I would like to hear your valuable feedback and comments.
I can't wait to share the recipes now. Stay tuned and let's welcome the September with these protein rich recipes.