Another Sunday and another meal planner! Here is my 5-day meal planner with breakfast, lunch, and dinner options for the upcoming week.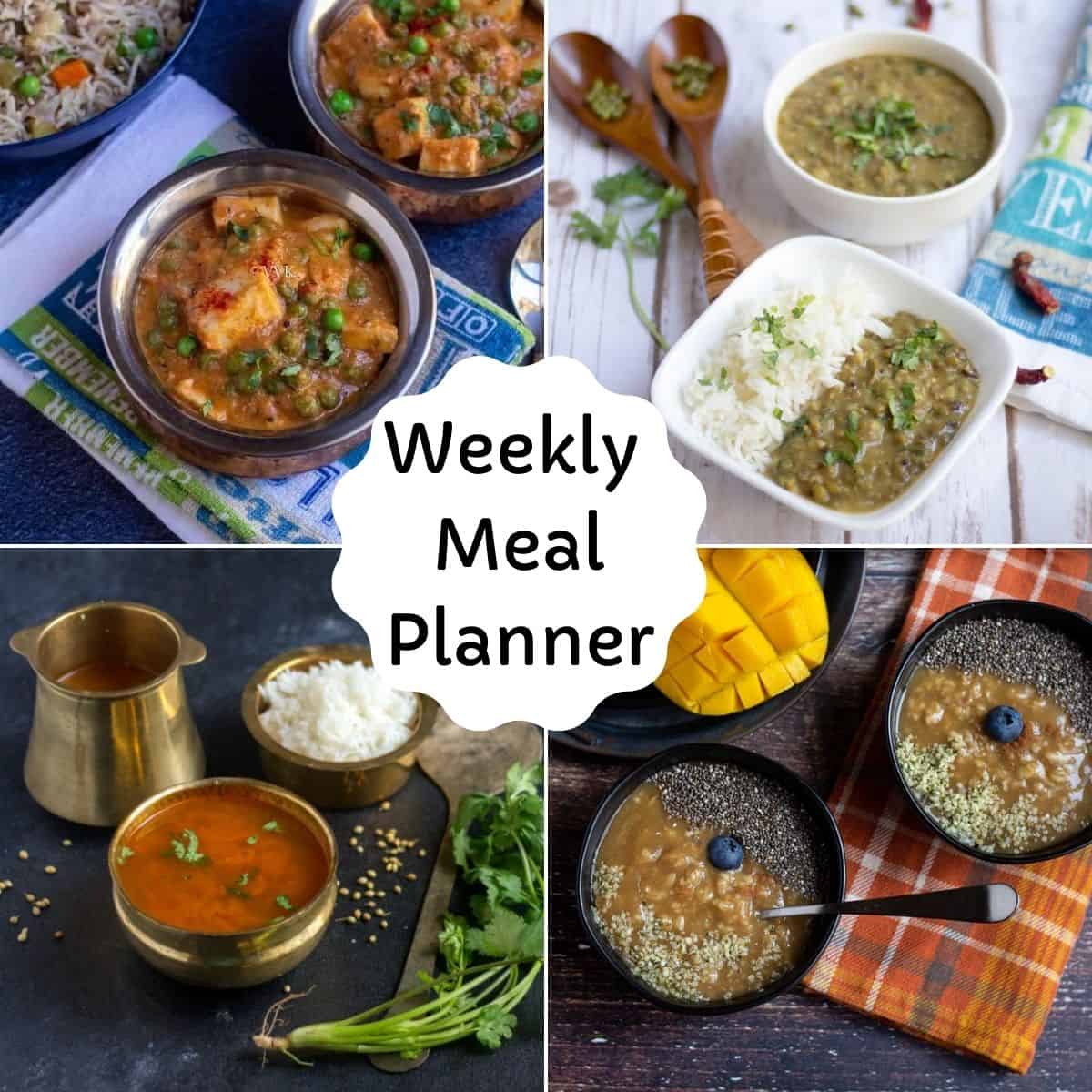 Are you new to meal planning and prepping or looking for new ideas?
I have been sharing 5-day meal planners for the past two years, and I have over 45+ Indian vegetarian meal planners on my blog. You can check them out all under the "meal planner" category. Please share your thoughts and feedback in the comment section. 
In my previous meal planners, I had shared why to plan meals and the advantages of the same and if I follow my meal plan to T. This week, let me share about freezing food.  
Freezing food
Ok, I refrigerate and freeze my food. I don't freeze all but certain dishes. I have already shared how to cook and freeze my lentils; please check it out. Recently I started freezing dishes like dal, masiyal, pav bhaji, and bean-dished, and they freeze well and come in handy on busy days. I refrigerate some curries for up to 3 days, and some stay good for a week because of their nature, like this weeks' marundu kuzhambu, medicinal stew more like milagu kuzhambu.
In this week's menu, you can prepare the marundu kuzhambu, green gram masiyal curry, and aloo baingan well ahead and refrigerate, and that's what I am doing. (PS – I made the veggies too, but that's optional)
Key things to note before refrigerating or freezing food.
Let the dishes cool before refrigerating. Do not reheat the entire food. Take the required amount for that serving, reheat and use it. I don't refrigerate my reheated food. When freezing, freeze the food in small portions, either in silicone containers or reusable zip locks.
If you have any questions about freezing food, do let me know. I can answer accordingly.
PS – You can do the prep work over the weekend or batch cook every alternative day. It all depends upon your work schedule. Opt for the one that works the best for you. I plan my meals depending upon my work week and kiddo's classes.
The 5-day meal planner
I might look like I am cooking three different meals each day, but that's not the case. Let's talk about the individual recipes and planning and prep work.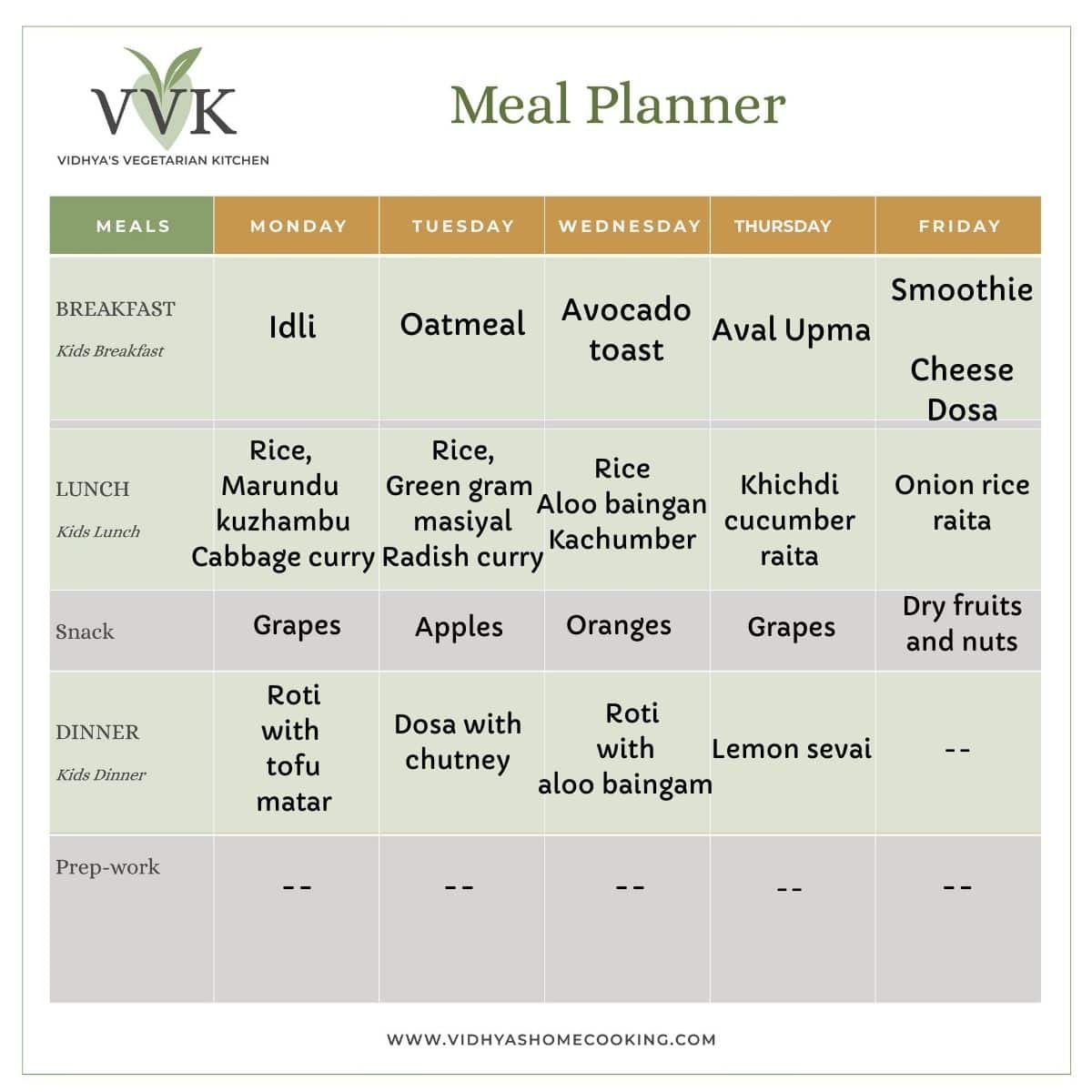 Prep-work
Prepare the dosa batter day before, or you can choose no-ferment or instant dosa to make in the morning.
Chop the required vegetables.
Knead the roti dough in bulk and knead the day before.
Chop the fruits and pack them in containers. Cleaning and chopping fruits like melons, pineapple, and pomegranate help a lot.
Note – Use the grain of your choice. Instead of rice, you can use millets, quinoa, or brown rice. Also, you can make multigrain roti or quinoa, or ragi roti too. 
Without any further ado, here is this week's 5-day meal planner. Please check the recipe links below. 
Monday Menu
It's a long weekend for us, and we have this Monday off. So go with some elaborate recipes. I make marundu/milagu kuzhambu in bulk, and it stays good for up to 10 days. I chop the cabbage during the weekend and steam them in Instant Pot for zero or one minute, release the pressure quickly, and then do the tempering. So the hands-on time is considerably reduced.
Lunch –  Rice marundu kuzhambu (yet to share this recipe on the blog, it's more like milagu kuzhambu but with more spices)
Dinner – Roti with tofu matar. Swap with tofu with paneer or cauliflower, or mushrooms. (PS – This tofu matar is also leftover)
Tuesday Menu
For breakfast, I have oatmeal, but you can opt for overnight oats or smoothies. The green gram masiyal or curry is one of the easiest dishes to make with minimal ingredients. It's a dump-and-go kind Instant Pot recipe. As it freezes well, you can make it ahead too. You can serve with rice along with any salad, raita, or dry curry/poriyal. I am pairing it with radish curry. Make sure to peel and chop the radish ahead, and you can steam it in IP for one for two minutes and do the tempering.
Wednesday Menu
We love our breakfast toast, and avocado toast is one of the easy toast to make, and that's what I have for Wednesday. I love gravy aloo baingan, so that I can pair it with rice and roti. I am yet to share the recipe on my blog, and I will do it soon. The salad here is the Indian-style kachumber.
Breakfast – Avocado toast
Lunch – Rice with aloo baingan and salad.
Dinner – Roti with aloo baingan
Thursday Menu
Most of my Thursday meals are without any onion and garlic and are one-pot meals as I mostly make them from scratch in the mornings. This week I have aval upma and one-pot khichdi with raita. And for dinner, it's lemon sevai, and I use the store-bought instant sevai pack.
Friday Menu
Breakfast – Smoothie for us and cheese dosa for the kiddo.  
Lunch – It's onion rice with onion raita—one of the easiest recipes to make. Leftover rice works well, so I always cook the rice the night before. 
I hope this menu planner helps, and you all can draw some inspiration. If you have any questions, please leave a comment below. I will share the daily updates on my Instagram and my FB group. So stay connected!
Stay Safe & Happy Cooking!
Vidhya