A weekly vegetarian meal plan with a mix of north Indian and south Indian recipes! Plan, prep, make healthy meals, and enjoy!
I have been sharing 5-day weekly meal plans for a couple of years now, and I would love to get your feedback. Let me know if you want me to include a grocery list too.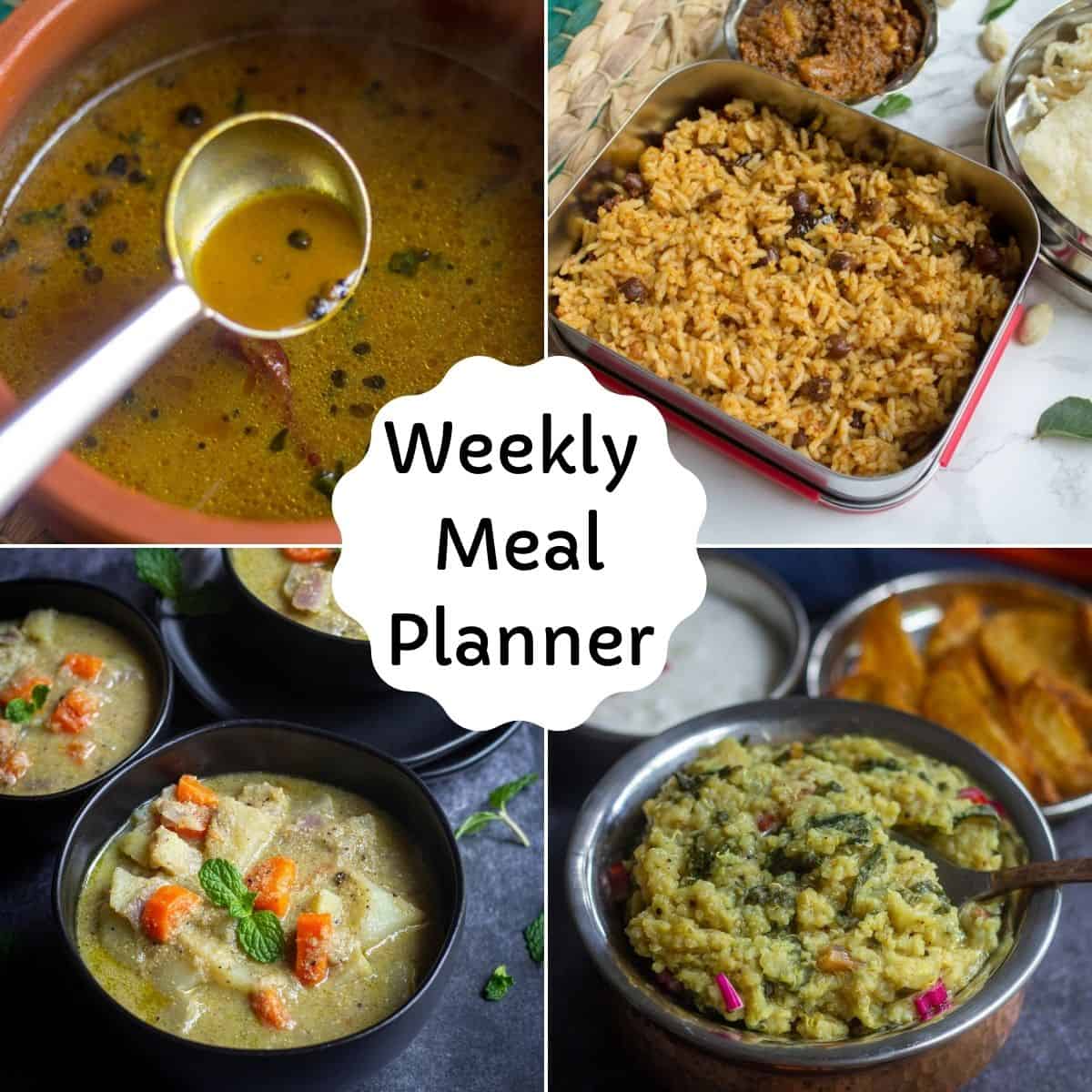 Are you new to meal planning and prepping or looking for new ideas?
Check out all my previous meal planners. I have been sharing some meal planners for the past two years. I have shared over 40+ Indian vegetarian meal planners, and you can check them out all under the "meal planner" category.
Why meal plan?
"What to cook for lunch or dinner?" is the billion-dollar question that we all have in our mind. If we know what we are planning to cook, it reduces our stress, and in my opinion, if I know what I am cooking, half the cooking is complete. :-) 
Once you have a rough meal plan, you can buy your groceries accordingly. No wastage, plus you save a lot of money.
This week's meal plan.
Like every week, I have a mix of south Indian and north Indian recipes, and I have more roti and curry than any other week. Also, I am relying on some leftovers and store-bought croissants for breakfast.
Let's see the prep work required for this particular week.
PS – Follow me on my Instagram to see how I pack the lunch for kiddo every day; new recipes; and everyday meals. 
Prep-work
Recently I started cooking a few dishes, especially Monday and Tuesday ones, and refrigerating them), and trust me, it comes in handy. Dishes like mushroom masala and vathal kuzhambu taste well the next day, which is a win-win situation.
You can do the prep work over the weekend or batch cook every alternative day. It all depends upon your work schedule. Opt for the one that works the best for you. I plan my meals depending upon my work week and kiddo's classes.
Prepare the idli-dosa batter. 
Boil the potatoes and let them cool and refrigerate.
Chop the required vegetables.
Knead the roti dough in bulk and knead the day before. 
Prepare the tamarind rice paste. (Alternatively, you can use the instant one too)
Chop the fruits and pack them in containers. Cleaning and chopping fruits like melons, pineapple, and pomegranate helps a lot.  
Note – Use the grain of your choice. Instead of rice, you can use millets, quinoa, or brown rice. Also, you can make multigrain roti, or quinoa, or ragi roti too. 
Without any further ado, here is this week's vegetarian meal plan. Please check the recipe links below.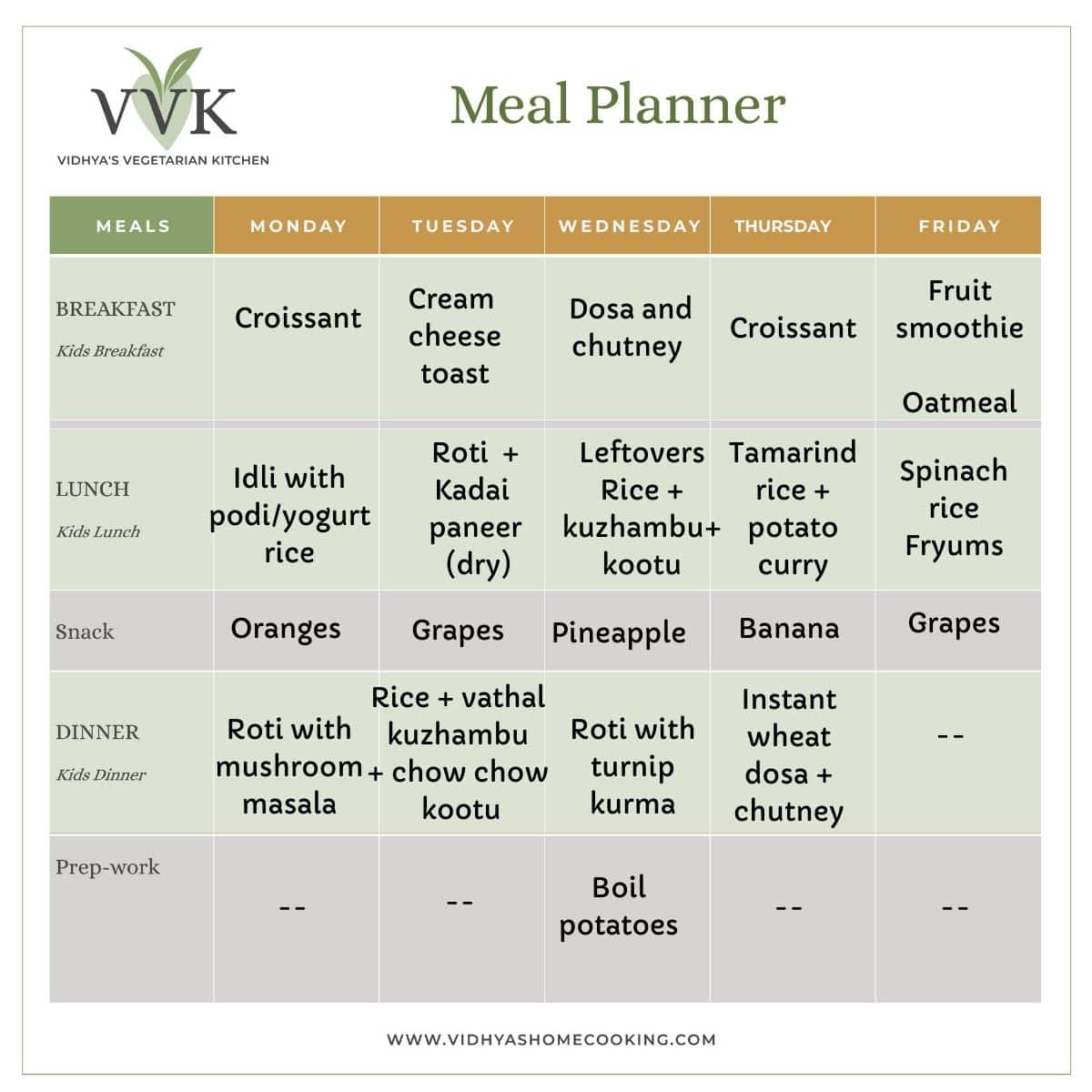 Monday Menu
Breakfast – Croissant (store-bought)
Lunch – Idli with podi. I usually pack spiced buttermilk or yogurt rice along with idli.
Dinner – Rice with mushroom masala.
Tuesday Menu
Breakfast – Cream cheese toast
Lunch – Roti with kadai paneer dry. (I don't have this recipe, I will share it soon)
Dinner – Rice with vathal kuzhambu and chow chow kootu.
Wednesday Menu
Thursday Menu
Friday Menu
I hope this menu planner helps, and you all can draw some inspiration. If you have any questions, please leave a comment below. I will share the daily updates on my Instagram and my FB group. So stay connected!
Stay Safe & Happy Cooking!
Vidhya