Here is the Tri- Color Wheat dosa for this Independence day. I am back with my diabetic friendly recipes after a month. Our 69th Independence Day is right around and "Let us celebrate the Independence of India, with some diabetic friendly recipes, cheering for the colors of the flag!" Wishing you all a happy independence day.
Last year I tried Tricolor variety rice and this year I was contemplating between idly and dosai. Then finally decided dosai and thought of trying it out with wheat flour. You can find the regular wheat dosai or karaicha dosai recipe here. I took that as the base and added the colors with veggie puree.
Rice and wheat both are loaded with carbs but wheat has high protein when compared to rice so it keeps you full. You can read about the comparison between rice and wheat here. As always portion control plays a major role. "Wheat absorbs a wider range of minerals from rich soil than other grains.For this reason and because it nurtures the heart mind, wheat is sometimes considered an ideal food for human growth and development." [1] (Book Reference below)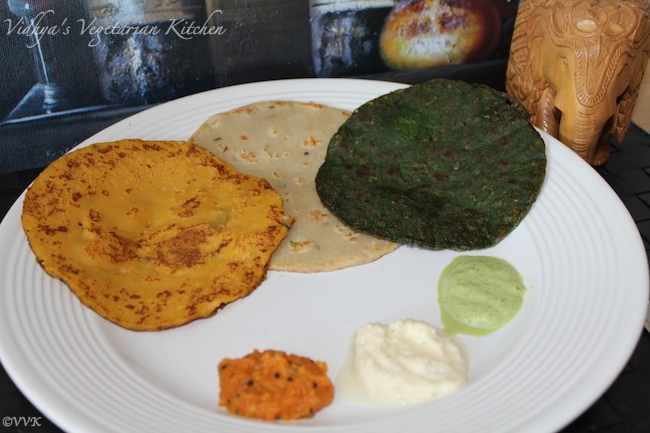 Disclaimer: I am not a nutritionist or dietitian. My knowledge and information is based on my research and reading from different resources. Please consult your doctor or dietitian before making any changes to your diet.
Book References:
[1] Healing with Whole Foods by Paul Pitchford