Happy Independence day to all :-)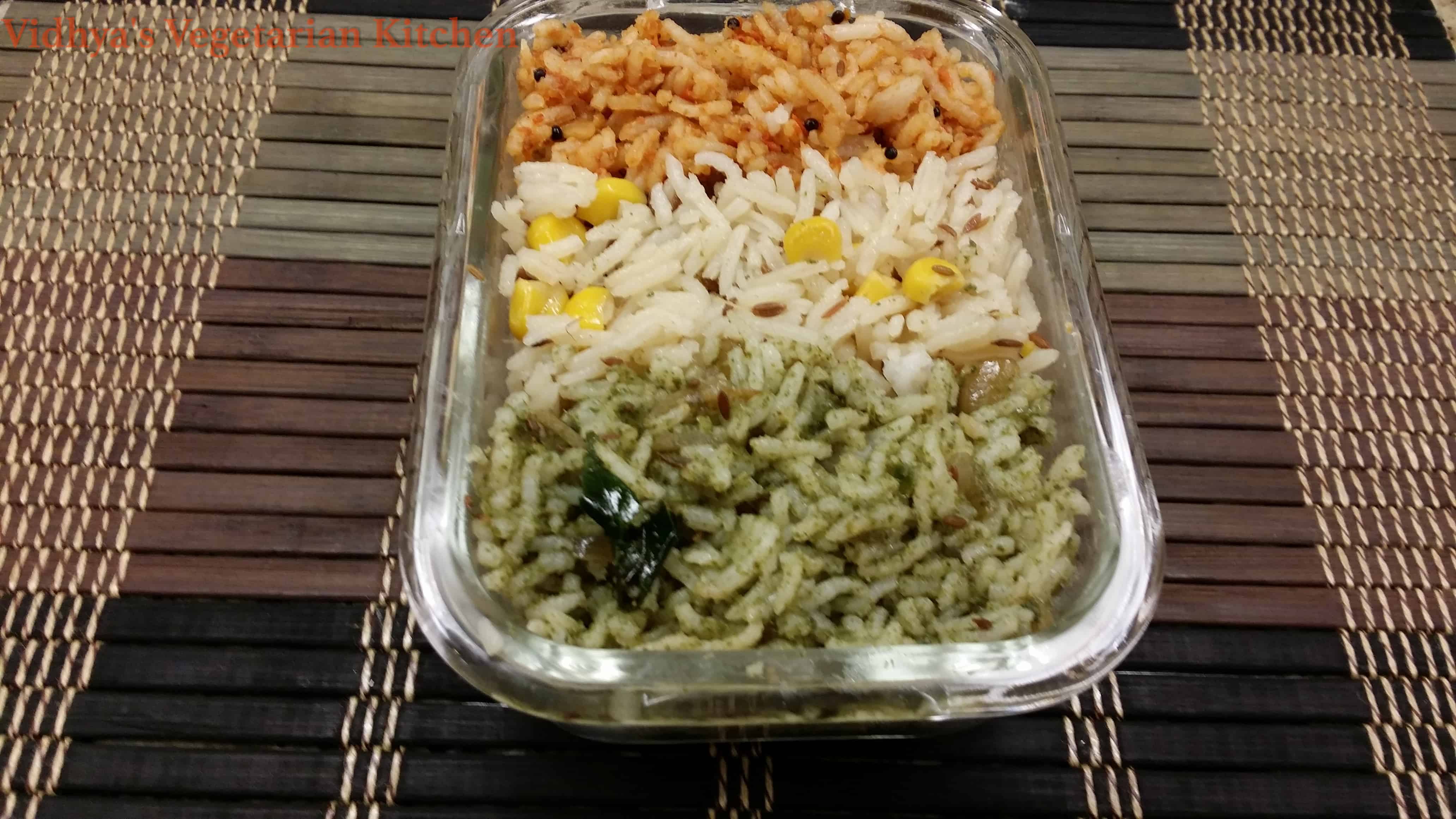 Wanted to do something special for independence day but at the same time, I wanted to keep it simple too. I don't want to add anything artificial but bring out the natural colors from the veggies itself. I want to do some rice dish as rice being the staple of South India. As a working mom, back in my mind I always think will this dish be ok for our lunch boxes and is easy to make (huh too much going on right??)
So for tricolor, variety rice will be only option for me. Simple and perfect for lunch box. For these tricolor rice, I am going to use my previously posted recipes for two color. So here we are with the recipes and our flag information.
About our flag:
Our flag is basically adopted from the swaraj flag, which is the flag of Indian National Congress. Its a tricolor flag made out of khadi/cotton cloth with ashoka chakra in the middle with 24 spokes representing 24 hrs of the day. I was planning to use pretzel for the wheel, but then it didn't go well with the rice. So dropped that idea (:-) :-) )
Color 1: Saffron
It represents sacrifice and renunciation.
For this saffron color, I picked tomato rice without garam masala which I posted here. Tomatoes with shallots and red chillies brings out the saffron color very well. This rice as I mentioned in my post, easy to make. For both mint and tomato rice you can grind the masala overnight itself and refrigerate it and cook the next day. Makes it easy to make in the busy mornings.
Color 2: White
White represents the path of truth.
For white color, I picked up jeera rice and here is the recipe. Jeera rice is very simple to make, and here I am including corn just give a texture and flavor. You can add peas, carrots or any veggie that you like. Jeera rice goes will with any subzi, or even with plain raita. I could have gone with plain white rice, but wanted to add more flavor to it, so why not jeera rice. Easy but flavorful. Here is the recipe.
Ingredients:
Basamati rice – 1 cup
Salt – 1/2 tsp
Jeera – 2 tbsps
Cloves – 2
Bay leaf – 1
Oil – 1 tbsp
Ghee – 2 tsp
Corn – 1/2 cup (I used frozen corn for this recipe)
Water – 1.5 cups
Steps:
Heat the pressure pan or cooker in which you are going to make the jeera rice
Add ghee and oil. Once its hot, add bay leaf, jeera and cloves.
As they start to splutter, add corn and salt.
Saute it for couple of minutes.
Now add the washed rice and 1.5 cups of water.
Pressure cook for 2 whistles and thats it jeera rice is all ready.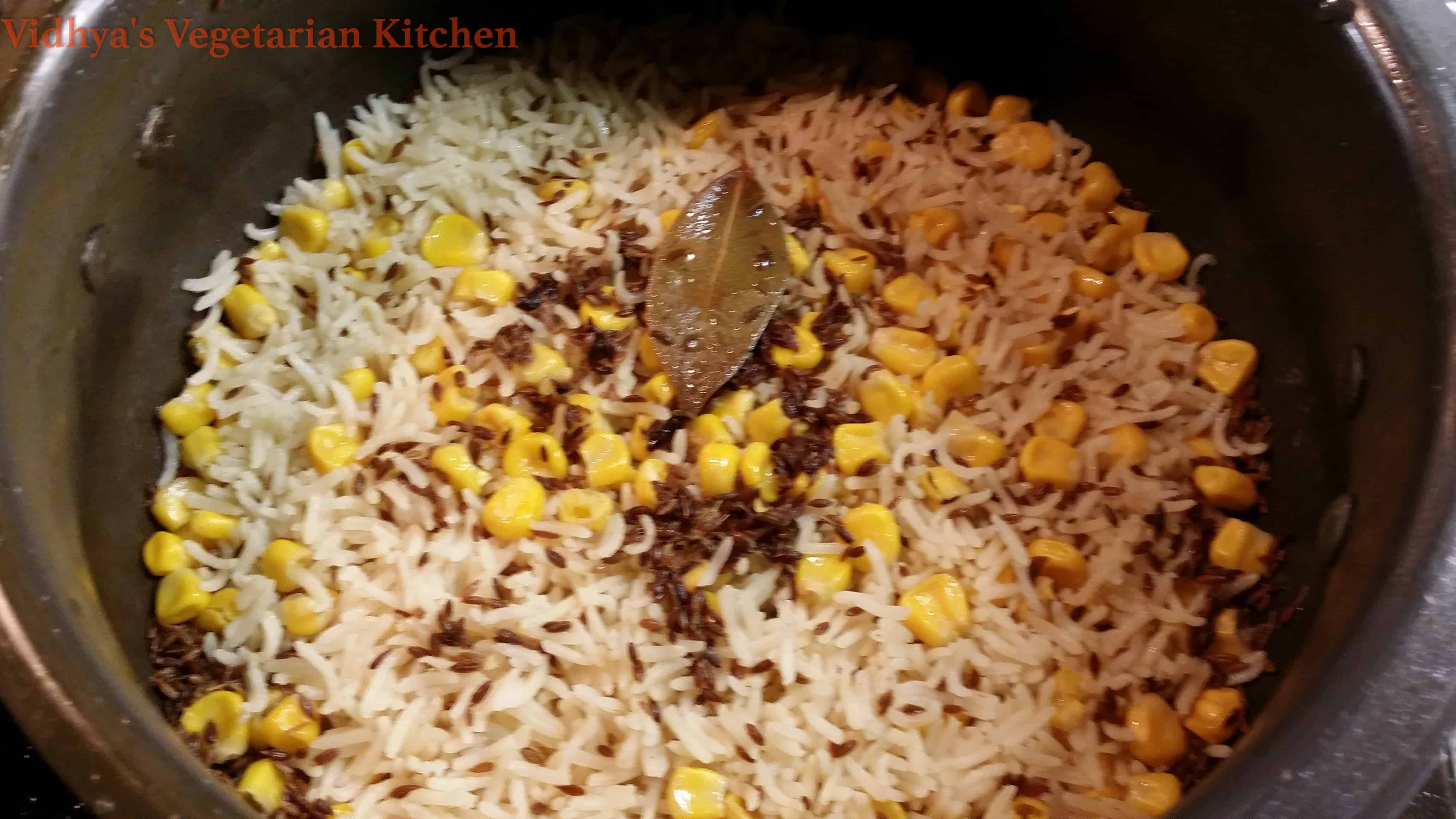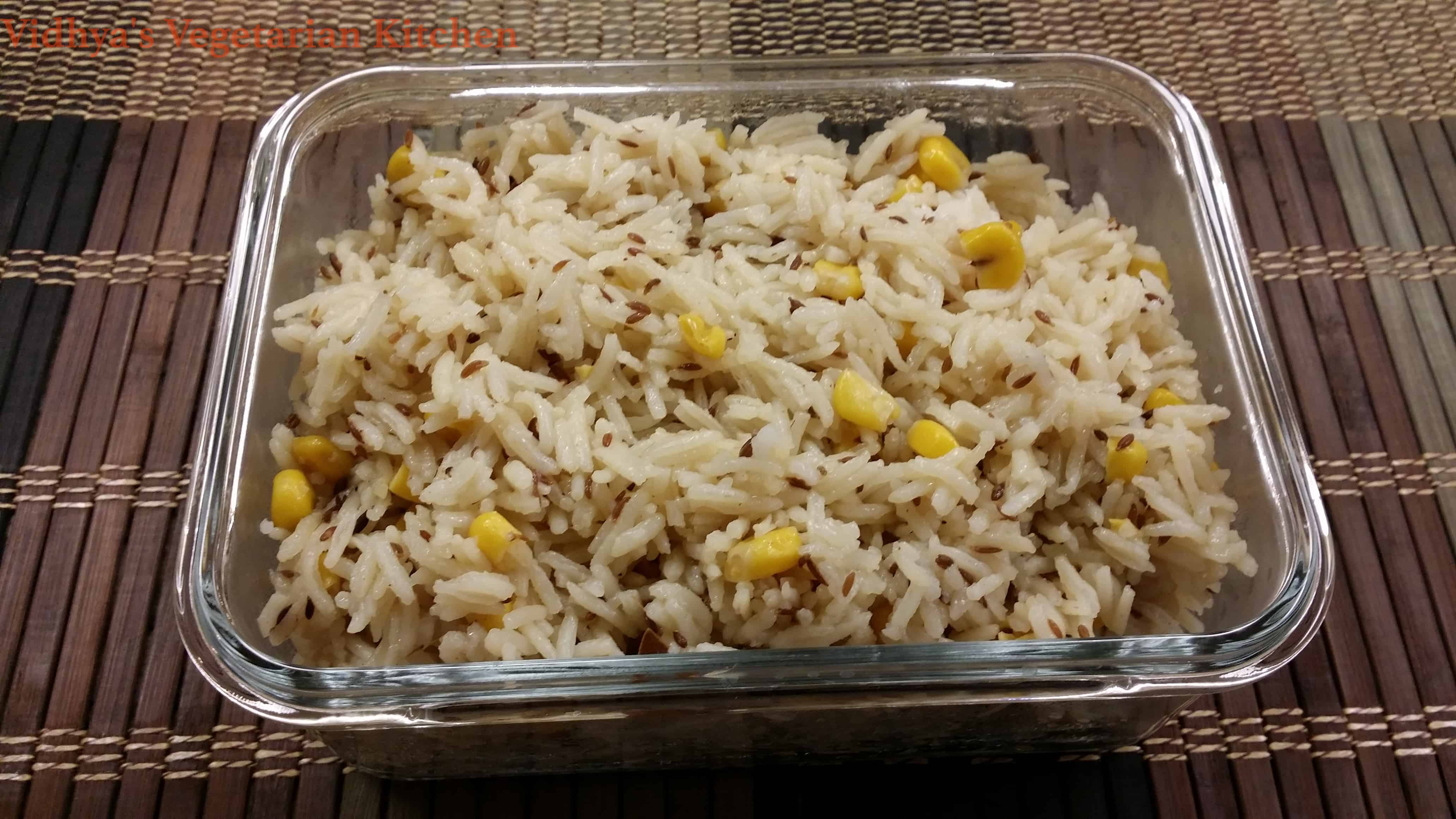 Color 3: Green
Green represents the life and prosperity.
For green rice, I decided to go with my pudina/mint rice which I have posted here. Mint grinded with green chillies and onion – yumm and one of the best way to bring out the green color. Mint is healthy also. So double hit :-)
So here is the combination of the rices.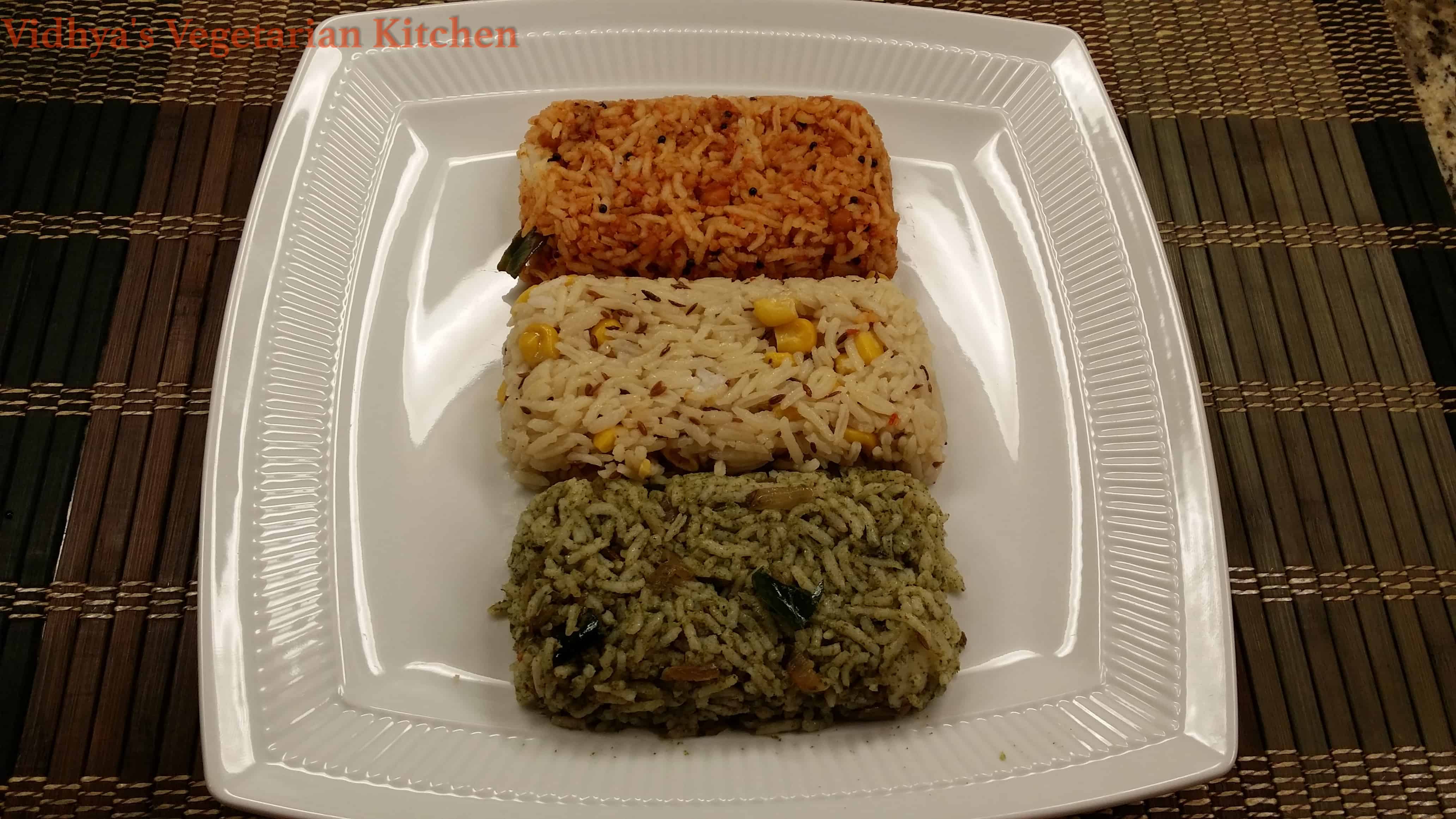 Have a great independence day :-)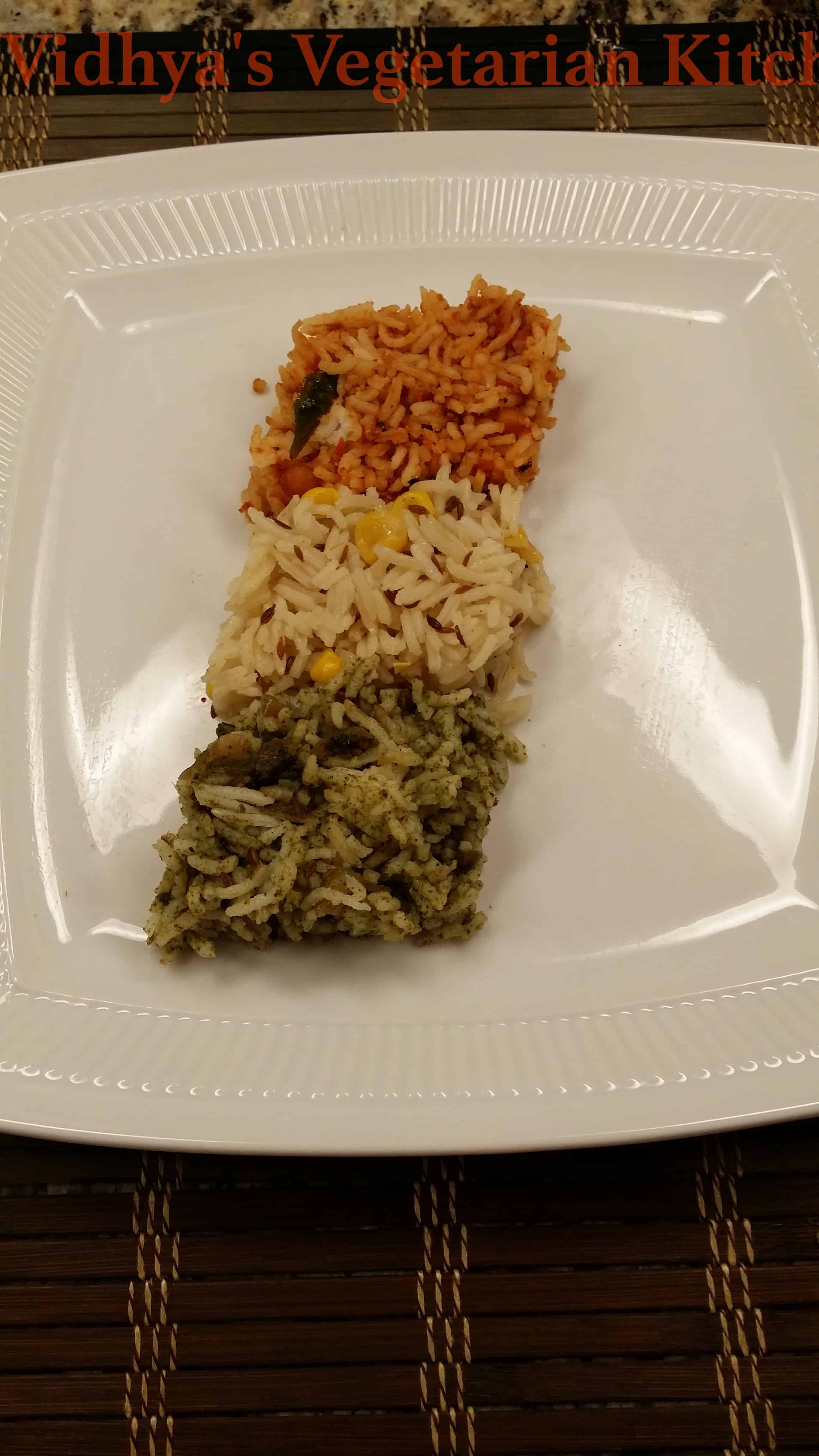 Submitting this recipe for Independent India contest