Here comes onion chutney in the chutney series. The main difference between onion/tomato and onion chutney is, we don't use tomatoes here instead we use tamarind for the tangy taste.We can either green chillies or red or combination of both. Also adding cilantro and garlic gives nice flavor but thats completely optional.
I used white onions and also because of cilantro, I got this mild green color. Usually if you use red onions this color of this chutney will be different. If you are using Costco onions(the huge ones), one onion is sufficient for this recipe.
Ingredients:
Onions – 2 (medium size)
Green Chillies – 3 or if using Red chillies – 4 to 5 (adjust according to taste)
Cilantro finely chopped – 1/4 cup
Garlic (optional) – 2 cloves
Mustard seeds – 1tsp
Urad Dhal – 1tbsp
Channa Dhal – 1tbsp
Salt – as required (I used 3/4 tsp)
Oil – 2 tsps
Tamarind – small piece, if using paste, 1/2 tsp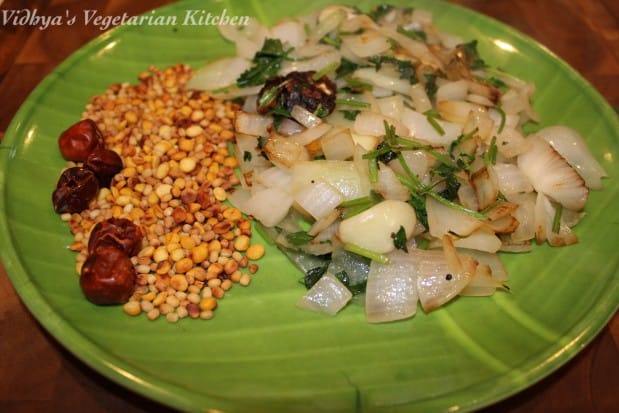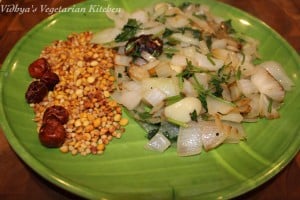 Steps:
Chop onions into small chunks.
Fry urad dhal, channa dhal ,red/green chillies till they turn to golden brown
In the same kadai, heat half teaspoon of oil and saute the onions and garlic till the raw smell goes.
Add the tamarind and cilantro.
Mix well and turn the heat off. (We don't need to soak tamarind here)
Grind the fried dhals first and add sautéed onion mixture along with salt and grind them roughly.
Now add 1/4 cup of water and grind them nicely.
Temper the mustard seeds (thadka) and add it to the chutney.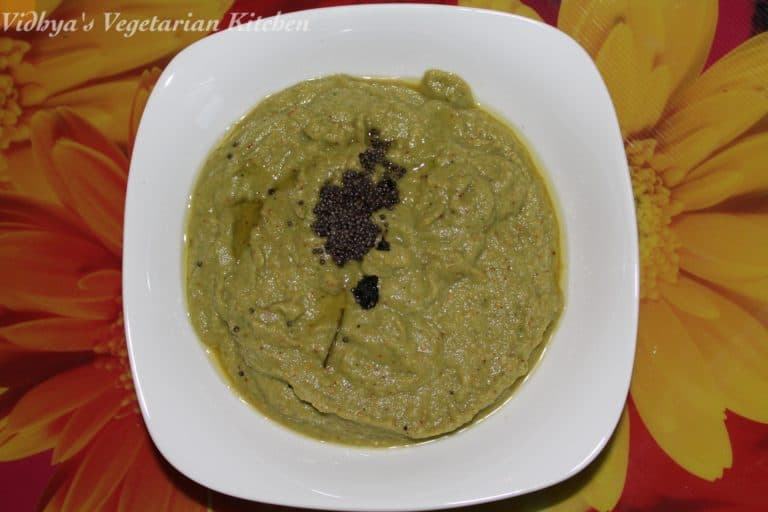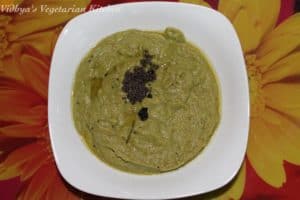 This chutney goes well with idli and dosai and also with paniyaarams.