Are you looking for some South Indian, precisely Tamil Nadu style vegetarian lunch menu ideas? Then you are in the right place.
Today I am going to share a classic combination of the paruppu usili and vathal kuzhambu combination lunch menu. Check out the menu details and recipe links below. Try this lunch combo, for a special occasion or for weekend brunch & wow everyone.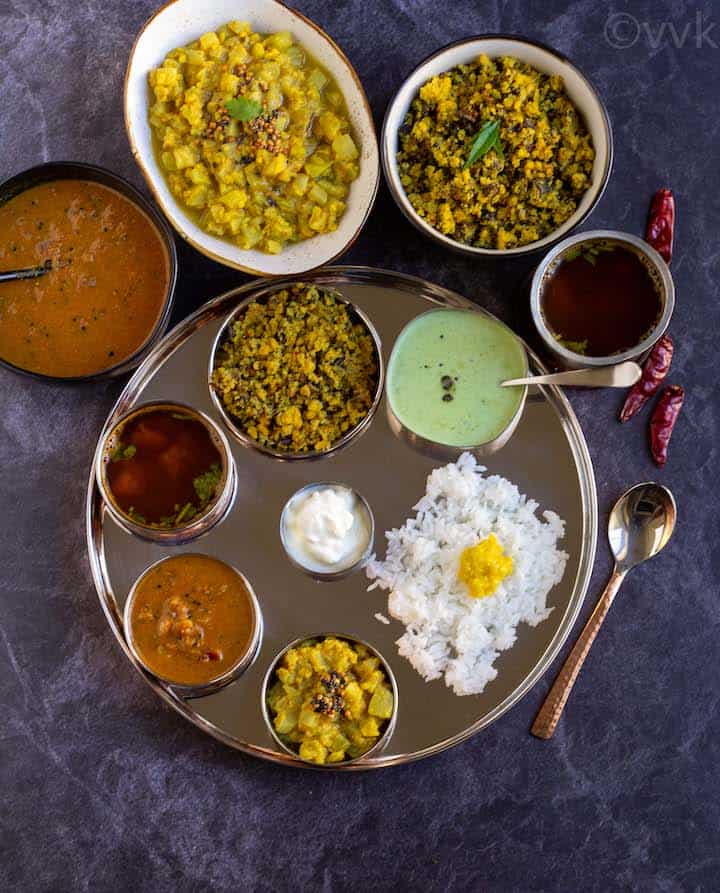 Thalis and Platters-
For the past two years, I have been participating in the month-long blogging marathon during April but this year due to the pandemic, it got moved to September and I am part of it. That means, starting today, you will be reading my posts daily until this month-end. And the theme is "Thali's and Platters". I have some sub-themes as well and I will be explaining them every week.
On my Ulli theeyal post, I had shared about our everyday meal plate, and starting today, I will be sharing some elaborate vegetarian lunch thali/meal plates and lunch combinations that you can try for a special occasion or for an elaborate weekend brunch.
On weekdays, I either make rasam or sambar or kuzhambu and pair with either kootu or dry curry/poriyal. But some weekends, I do prepare an elaborate meal with both rasam and sambar/kuzhambu and also with dry and gravy curries, like how my mom does back in India. She includes some raita too as my dad likes it.
After coming to the US, we started our own weekend rituals which obviously differ every weekend. Some weekends, I prepare an elaborate brunch with parathas, or some times I make lavish tiffin thali with idli, dosa, pongal, and sambar or biryani and gravies. I will be sharing them all in the coming weeks. So stay tuned!
For the next four days, I will be sharing some lunch thali combos like how my mom used to do. These vegetarian lunch menu will perfectly work for potlucks and small gatherings also. I am starting my first lunch thali with the classic combination of vathal kuzhambu and paruppu usili. More than with mor kuzhambu, we love usili with vathal kuzhambu. I have made arachuvitta vathal kuzhambu for this thali, but you can make regular vathal kuzhambu as well.
I didn't add any pickle in this thali because we always use vathal kuzhambu as a side for yogurt rice. Yes, when there is vathal kuzhambu, there is no need for pickles. :-)
South Indian Vegetarian Lunch Menu Combo 1-
In this lunch combo, I have arachuvitta vathal kuzhambu, paruppu rasam, chow-chow kootu, paruppu usili, and coconut-cilantro raita and some yogurt. Also, I have rice topped with plain cooked toor dal and ghee. You can always replace rice with any other grain of your choice like millets, quinoa, steel-cut oats, plant-based rice. Click recipe links below for the individual recipe posts.
I don't make a sweet separately on the weekends unless it's an occasion or festival. We always have some icecream in the freezer and if we are craving for some sweet, we have some ice cream. That's about it.
I have explained how I cooked the rice, dal, and veggie for the kootu and rasam and banana flower in my kootu and usili post. You can check it out and that saves a lot of time. Meanwhile, you can do the prep-work for usili and grind all the masalas for kuzhambu, kootu, and raita.
I do agree usili preparation takes some time, but its all worth it.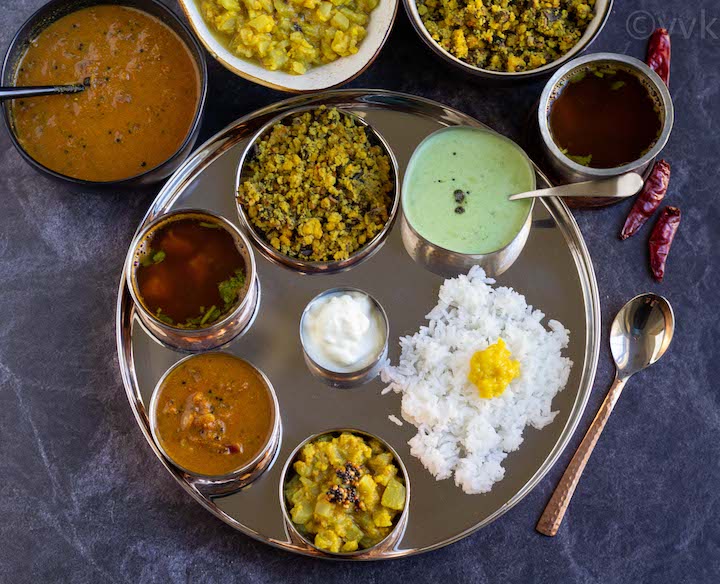 Lunch Menu List-
PS: Follow me on Instagram or join my Facebook Group for more gardening and recipe updates. If you try this lunch combo please don't forget to comment and rate this recipe. If you have any questions, please leave a comment, and I will get to it asap. Make sure to follow me on my Pinterest for more healthy and delicious ideas!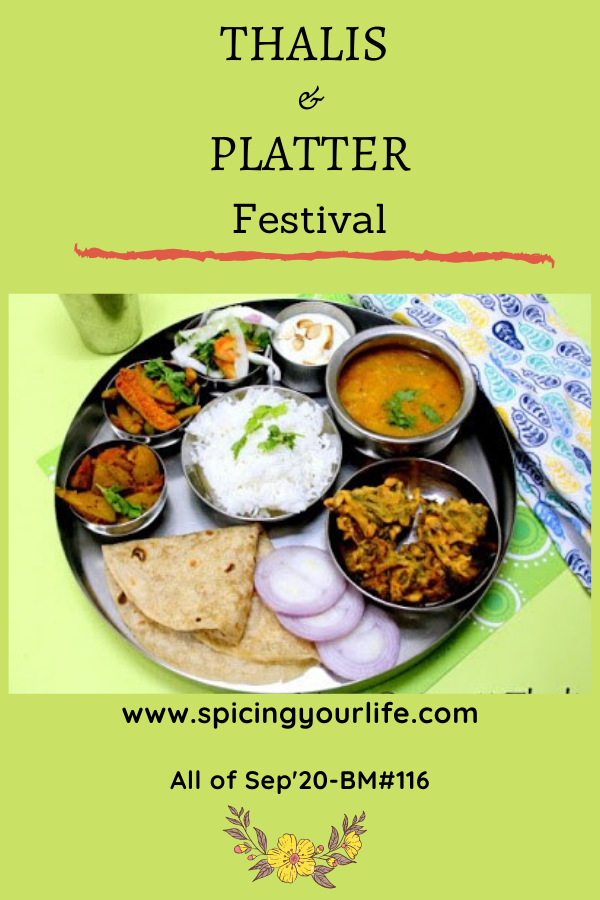 Check out the Blogging Marathon page for the other Blogging Marathoners doing BM#116