South Indian vegetarian lunch menu with mor kuzhambu/majjige huli, moringa rasam, yam roast, tomato pachadi, and pickle. A simple and satisfying lunch menu with quinoa!
Check out the menu details and recipe links below. Try this lunch combo, for a special occasion or for weekend brunch & wow everyone.

India is known for its thali or the elaborative meal plates. You can make elaborative thalis with more than dishes and also you can make a simple thali with 4 to 5 dishes. And that's what I usually do over the weekends – a simple thali with four to five dishes. Yesterday I had shared vathal kuzhambu with paruppu usili combo. And today I am sharing another favorite thali with mor kuzhambu and yam roast.
I love spicy curry with my mor kuzhambu like arbi roast or potato roast or stuffed brinjals or okra or this senai varuval. I pair avial also with these curries and this combination is heavenly.
As I had some fresh moringa leaves from my backyard, I made some simple moringa rasam and included it in the thali. If you notice, I haven't used any dal in this meal. So the major source of protein comes from yogurt and quinoa. I know it's not a substantial amount of protein but when you are looking for a semi-pathiya samayal, this would be the best bet.
When I make avial or mor kuzhambu, I always make some pickles or use store-bought one for yogurt rice. I made some cut-mango pickles for this thali.
Instead of rice, I made quinoa today and cooked quinoa using the pot-in-pot method along with rasam. You can check the details on my rasam post.
South Indian Vegetarian Lunch Menu Combo 2-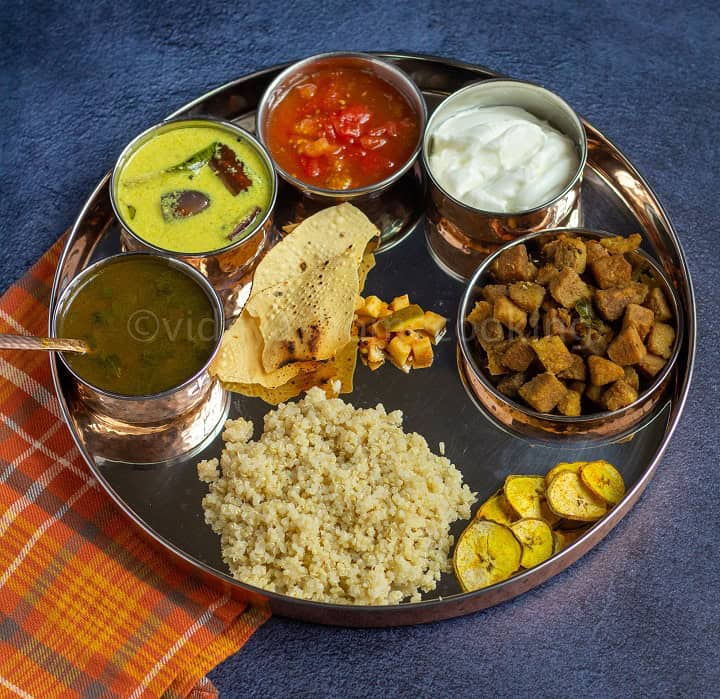 You can find my lunch menu combo in this thali post.
In this lunch combo, I have mor kuzhambu, moringa rasam, sweet tomato pachadi, yogurt, frozen yam curry/varuval, along with some papad, cut mango pickle. And instead of rice, I went with quinoa and served all the dishes with quinoa. You can always use grain on your choice.
Except for moringa rasam, all the other dishes are without onion and garlic. You can make paruppu rasam or any other rasam and make this meal for any auspicious days and festivals.
Planning and executing your South Indian lunch menu-
I made the rasam and quinoa in my Instant Pot. After setting it up, I started my prep-work for mor kuzhambu. As I used frozen yam, there wasn't any chopping involved. So I was able to make both mor kuzhambu and yam roast parallelly. Just before lunch, I made the tomato relish in the microwave and also roasted the papad in the microwave. Both chips and the pickle were made a day before.
You just need to plan and do the prep-work so that you can cook dishes parallelly. In that way, you save time and get the cooking done fast.
Click recipe links below for the individual recipe posts.
Lunch Menu List-
PS: Follow me on Instagram or join my Facebook Group for more gardening and recipe updates. If you try this lunch combo please don't forget to comment and rate this recipe. If you have any questions, please leave a comment, and I will get to it asap. Make sure to follow me on my Pinterest for more healthy and delicious ideas!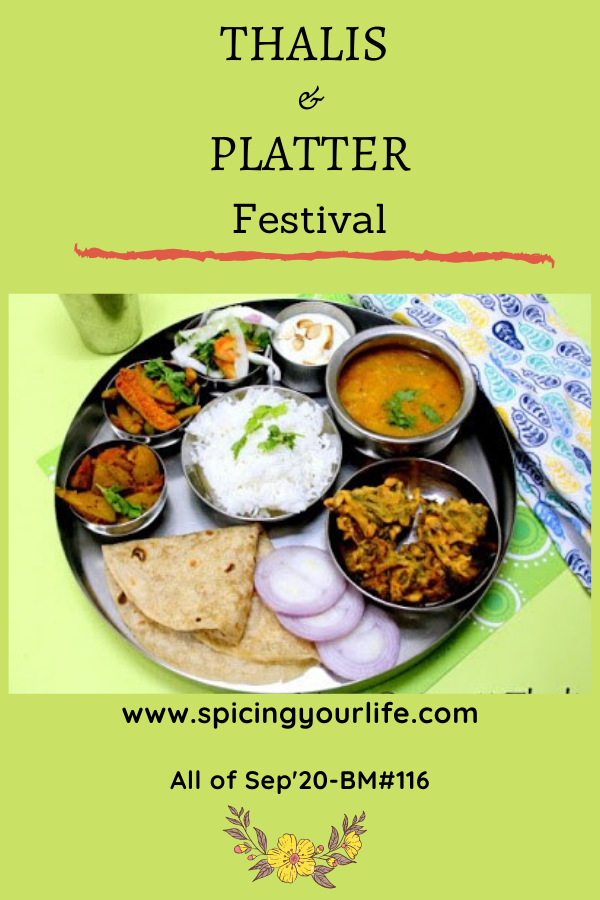 Check out the Blogging Marathon page for the other Blogging Marathoners doing BM#116