This week DFT theme is "Oil-free Cooking". I was planning to prepare some salad first but then I went back to my favorite soup. I agree I am obsessed with this little grain quinoa. :-) A small grain loaded with protein and fiber. One thing I need to admit is that it took me some time to get adjusted to quinoa taste. It's purely acquired. I started with this quinoa black bean salad. And then slowly started to mix it rice. I mix 1.5 cups rice with ½ cup of quinoa and cook them as usual in pressure cooker. Then I started adding them in bisi bele baath and other variety rices.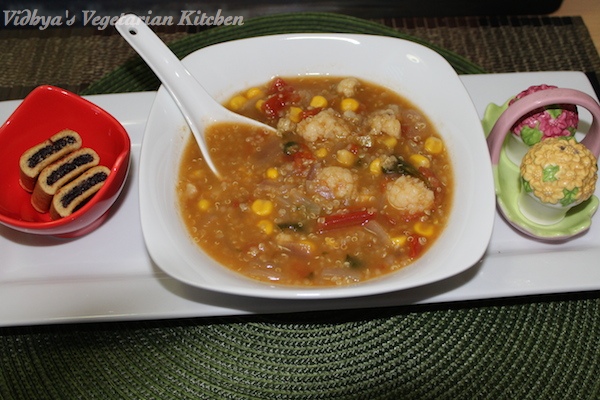 This South Indian Style Quinoa stew with veggies is another attempt to try quinoa in a different way. This is a make ahead meal and I usually make soups in bulk and have them for lunch for at least 3 to 4 days. A great filling and balanced meal. You can use the veggies that you have in hand. This is perfect for kids too. You can add whole grain pastas along with quinoa and make it to pasta and quinoa soup.
Ingredients:
Quinoa – ½ cup
Corn – ¼ cup
Tomatoes – 4 (Finely chopped)
Spinach – ¼ cup
Half of medium onion (Finely Chopped)
Cauliflower florets – ½ cup
Cumin powder – 1 tsp
Black salt – ½ tsp
Regular salt – ½ tsp
Sambhar Powder – 1 tbsp (adjust it according to your taste) / You can also use regular curry powder or mix dhaniya powder and garam masala.
Vegetable Broth – 1 can (32 oz)
Steps:
Wash the quinoa and soak it in water for half an hour.
Heat the pan and add the finely chopped onions.
After couple of minutes add the chopped tomatoes and regular salt.
Let it cook for 3 to 4 minutes and then add the corn, cauliflower florets.
Mix them well and add cumin powder, black salt and sambhar powder.
Now add the entire can of vegetable broth and then add the soaked quinoa.
Let the stew simmer until the quinoa is perfectly done.
Just before turning the heat off add the chopped spinach.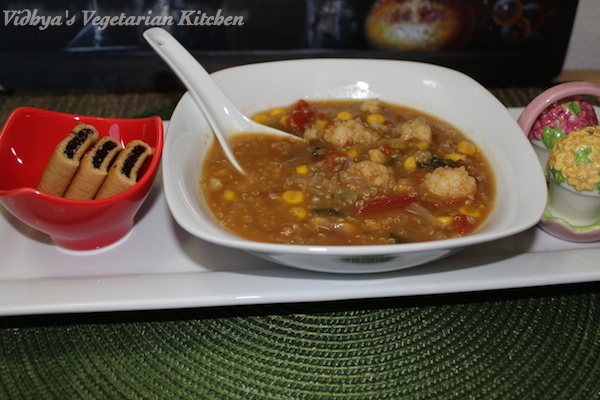 That's it yummy quinoa is ready :-) Serve hot with bread or crackers.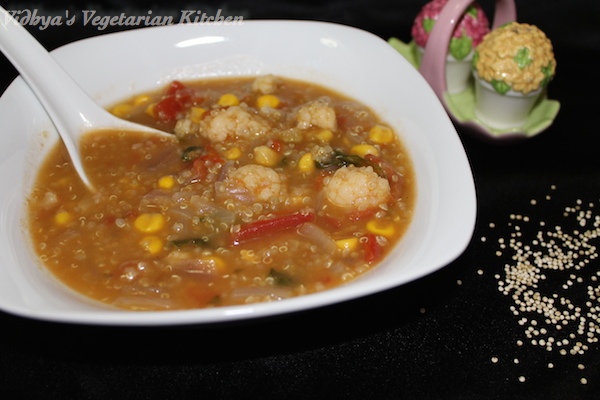 Disclaimer: I am not a nutritionist or dietitian. My knowledge and information is based on my research and reading from different resources. Please consult your doctor or dietitian before making any changes to your diet.