I am preparing this puli mandi after a long time. I didn't know how I forgot this dish for this long. Puli mandi is a simple chettinadu dish without any Sāmbhar powder which goes very well with idly, dosa, pongal and plain rice. It is served as side dish but I serve it like a rice accompaniment. I love it with plain rice and papad. A simple and quick recipe to prepare on hectic days.
Basically Mandi is the rice washed water which is one of the key ingredient in this dish. I usually take the second time washed water, as I am not sure about the chemicals and stuff used in rice. You can use the water that you use to soak the boiled rice for idly after washing it the first time. That water would be really thick and flavorful for sure. You can even soak the tamarind in rice washed water.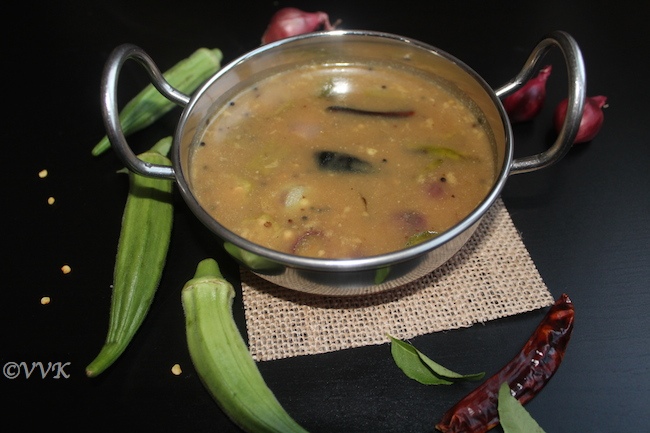 Ingredients:
Lady's finger – 5-6
Shallots/Small Onions – 5
Tamarind water – 1 cup (Extracted from gooseberry size tamarind or dilute 1 tbsp of tamarind paste in 1 cup of the mandi)
Mandi/Rice washed water – 1.5 cups + ½ cup (optional, this ½ cup is used for mixing with rice flour if you want thick consistency)
Jaggery – small piece
Salt – 1.5 tsp (as per taste)
Red chillies – 2
Green chilly – 1 (Slit them into two)
Turmeric powder – ½ tsp
Rice flour – 2 tsps(optional)
For Tempering:
Mustard seeds: 1 tsp
Methi seeds – 1 tsp
Hing – ¼ tsp
Curry leaves – 1 strand
Oil – 2 tbsps
Steps: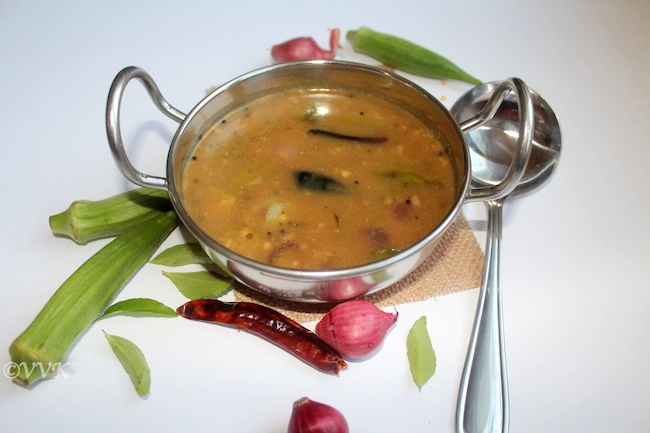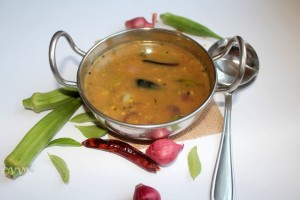 Heat the kadai and add oil.
Once the oil is hot, add mustard seeds and methi seeds.
As they splutter, add the hing and curry leaves.
Saute them for a minute and add both the red and green chillies. (Increase the chilly according to your spice level)
Now add the chopped shallots and let it cook till it turns translucent.
And then add the chopped okra and sauté it for a couple of minutes.
Now add the tamarind water , turmeric powder, salt and jaggery. Let it simmer for about 5 minutes.
Add the rice washed water and let it simmer for another 5-7 minutes.
And thats it, puli mandi is ready. If you want thick consistency, can add 2tsps of rice flour mixed in ½ cup of mandi water.