Ariachu vitta sambhar is one of the famous Tam-Bram recipe. On all the festive days and especially in the wedding menu this sambhar would be there for sure. Usually I use only one kind veggie to in the sambhar so that it gives unique flavor of that veggie and call the sambhar with that veggie name. This one is going to be pumpkin sambhar.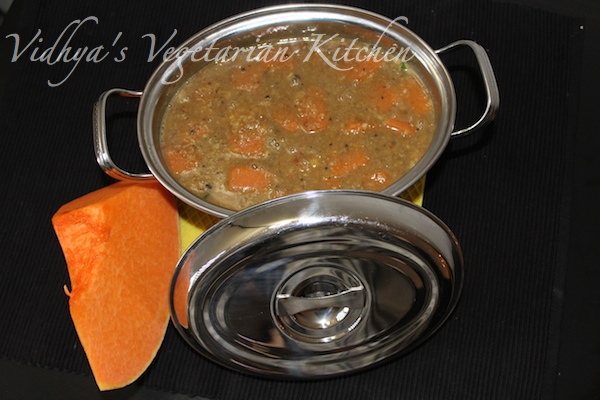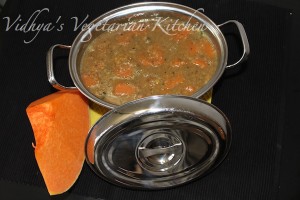 Ariachu Vitta in Tamil means grinded sambhar. We prepare fresh masala for this and use both coconut and toor dhal for this sambhar. You might feel its a lengthy process, but once the dhal is done the sambhar can be done in a jiffy.
Ingredients:
For Tempering:
Oil – 2 tsps
Curry leaves – 1 strand
Hing – 1 tsp
Mustard seeds – 1 tsp
Methi seeds – 1 tsp
For Sambhar:
Turmeric powder – 1/2 tsp + 1/2 tsp
Brinjal or Drumstick or Lady's Finger or Pumpkin or Radish or veggies of your choice – ½ cup
If you don't have any veggies 1 big onion will do a flavorful onion sambhar.
Toor dhal – 1/4 cup
Water – 3 cups
 Tamarind medium gooseberry size. Soak in water for minimum half and hour and extract the juice. If using tamarind paste, use 2 tsps and dilute in 1 cup of water.
Salt – 2 tsps
For Masala:
Coriander seeds/Dhaniya – 3 tbsps
Fenugreek seeds/Vendiyam –1 tsp
Urad dhal/ ulutham paruppu – 2 tsps
Channa dhal/Kadalai paruppu – 1 tbsp
Dried red chillies – 3 to 4
Coconut – 4 tbsps
Prep Work:
Pressure cook the toor dhal with 2 cups of water and 1/2 tsp of turmeric and mash it well.
Dry roast all the ingredients given under "masala" and let it cool and grind into fine paste by adding water.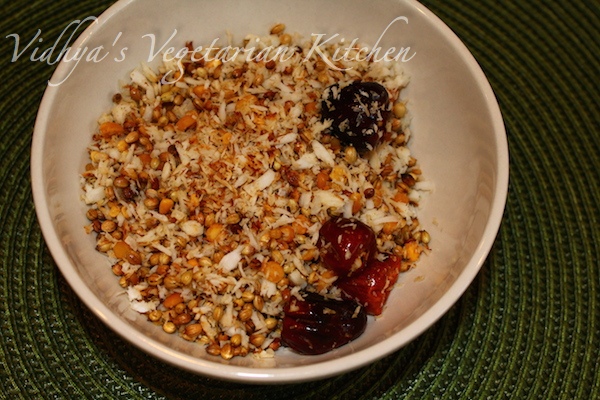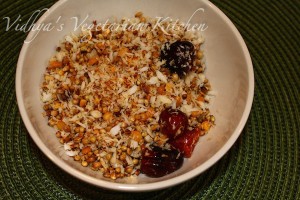 Chop the vegetables and keep it ready.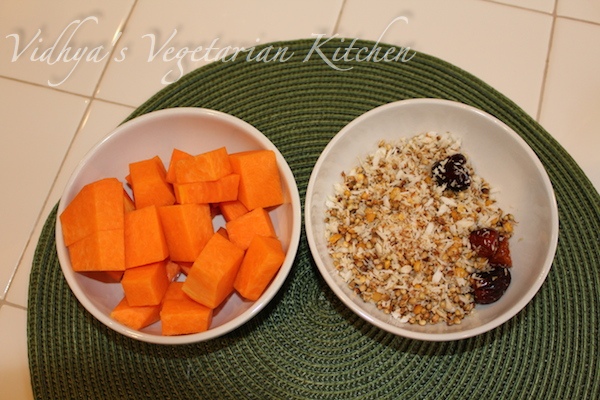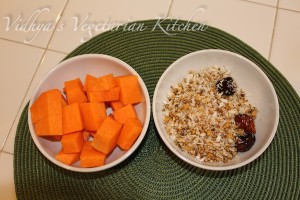 Extract the tamarind juice.
Steps:
Heat the oil and add mustard seeds and fenugreek seeds.
Once they start crackling add hing and the vegetable. (if using onion, sauté the onions first and then add the veggie)
Add the tamarind juice, salt and turmeric powder.
 Cook the veggies for 5 minutes or until they are  tender.
Once it starts to boil, add the grinded masala and the mashed toor dhal mixture.
Add water according to your consistency. Bring to boil.
If the sambhar is very thin in consistency, mix 1 tbsp of rice flour 4tbsps of water and add it to sambhar. It gives you thick consistency.
 Add the coriander leaves and serve hot with rice and poriyal or kootu
Notes:
If you using small onions along with the veggie or making onion sambhar you can add 3 small onions wight he masala mixture.
If you planning to make the Masala ahead, avoid adding water while grinding. Dry grind it and store it an air tight container.