Are you trying to get acquired to the taste of quinoa? Then this quinoa platter with sambar rice, rasam rice, yogurt rice, and kheer will definitely make you fall in love with quinoa!
Check out these simple South Indian recipes with quinoa!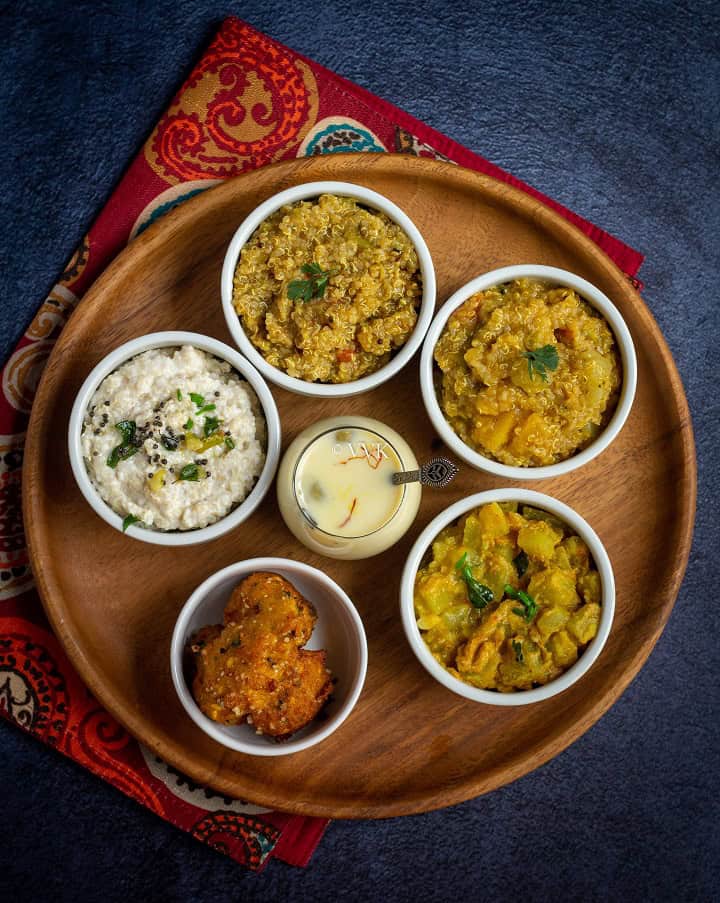 Recently, I shared festive special South Indian spread/thali. This week's it's going to be a platter week, precisely ingredient-based platter week. And from the title, you would have guessed what's the ingredient for today! It's QUINOA.
If you are following me on Instagram, you will see my everyday meal plates with quinoa. It took me some time to get acquired to quinoa, and now I can replace rice and relish all the curries and gravies with quinoa.
Every grain has its own characteristics and nutritional value, and I will not compare quinoa with any other grain today. I am just going to talk about quinoa.
Ok, I never knew, or in fact, I never heard about quinoa back in India. I learned about this ingredient only after coming to the US that too around 2011. It became the superfood, and at one point in time, it was the trending food. And that's when we started to use it as well.
What is quinoa-
Quinoa (pronounced as keen-wah) is an edible seed that is used as a grain. It's a pseudo-cereal that belongs to the amaranth family. It's native to the Andes mountains of South America.
While white quinoa is commonly used, you can also find the red ones. I read there are other colors as well. But I have seen and used only white and red quinoa.
Our quinoa consumption has increased so much that we get a big quinoa bag from Costco these days.
Nutritional Value of Quinoa-
You can find a zillion articles on the internet regarding the nutritional value of quinoa. But let me highlight a few.
We all know it has high fiber content. Also, 1 cup of quinoa has 8 grams of protein, which is comparatively high. It's one of the best sources of plant-based protein for vegans and vegetarians. The critical thing is the protein in quinoa has all the essential amino acids.
It's a low glycemic-index food, and also it's gluten-free. I can keep talking about the nutritional facts of quinoa but let me stop here. Because of these nutritional values, quinoa is often related to weight-loss food. I am not sure if we can call it that way, but it definitely improves your metabolism and overall health.
How to incorporate quinoa in the diet | South Indian diet-
Quinoa has an earthy flavor, and it's not easy for all to replace rice with quinoa right away. (PS – I am not saying rice is bad) If you love the flavor and can switch easily, then it's great.
If you are wondering how to incorporate quinoa into your diet, start with various mixed-rice recipes. And that's what I have showcased today. You can start with salads and soups too.
Apart from these rice recipes, I started using quinoa in pongal, bisibelebaath, salad, etc. Then I cooked quinoa along with rice. I want to cook 1 cup of rice, I use ½ cup rice and ½ cup quinoa. Slowly increased the proportion, and now I can relish plain quinoa with rasam, kuzhambu, and sambar.
I think I have covered the basics. Now let's get into the quinoa platter details.
Quinoa Platter
This is what I have in the platter. I made during Ugadi, so I kept it no-onion no-garlic.
Sambar rice with quinoa – a one-pot pressure cooker sambar sadam
Rasam rice with quinoa – Instant Pot rasam rice with a hint of dried neem flowers
Yogurt rice with quinoa – It's the bagalabath but with quinoa. I am linking the bagalabath recipe below
Quinoa kheer
Thavala vadai – mixed lentil fritters (no quinoa here)
Bottle gourd kootu – made it more like chow chow kootu and that's what I am linking below.
PS: Follow me on Instagram or join my Facebook Group for more gardening and recipe updates. If you try these quinoa recipes, please don't forget to comment and rate this recipe. If you have any questions, please leave a comment, and I will get to it asap. Make sure to follow me on my Pinterest for more healthy and delicious ideas!
Check out the Blogging Marathon page for the other Blogging Marathoners doing BM#116
You are invited to the Inlinkz link party!Click here to enter