A short break for Diwali snacks and sweets. What do you do during a movie break? But some popcorn and start the movie again right? I am doing the same thing too. A Popcorn Break today.
When you are watching a movie you need something to munch and sip. What's better than homemade popcorn? Theatre or home, Tea or soda – popcorn goes well with any combo. This recipe is called Popcorn Ole. It seems it is a very popular Mexican street food. It pretty much has all the flavors. Tangy, spicy and creamy with a bit of sweet – oh yum.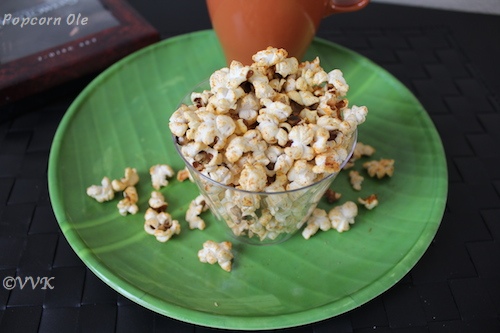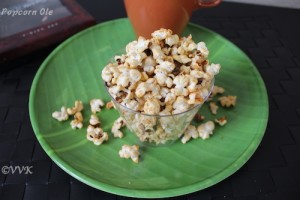 I learnt this recipe from my colleague and we tried this at our workplace too. (Err as I mentioned before we have a fully furnished kitchen with essential pantry items and other equipment too including popcorn popper) It was a great snack and I wanted to try it right away at home too. But then I don't have popcorn popper at home. So I thought of popping it in the regular stove top way. So here is the simple and delicious popcorn ole recipe. The highlight was kiddo loved it to the core. I thought he might not be ok with the spice but he was all up for it.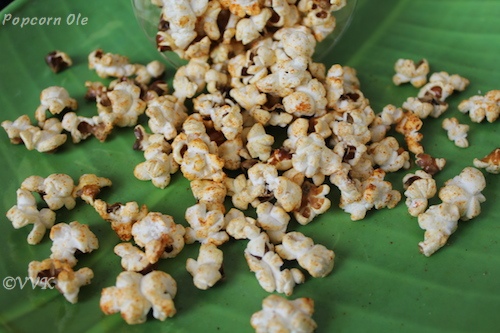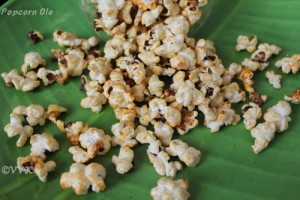 I used the organic pop corn kernels from Costco. Also I made this spice mix in bulk. It can be used for any other salads or pasta recipes too.
For the spice mix:
Salt – 4 tsp
Paprika – 3 tbsps
Sugar – 1 tsp
Cayenne – ½ tsp
Now mix all this and store in an air tight container. Viola your spice mix is ready.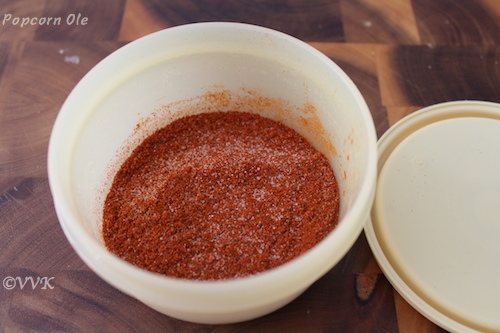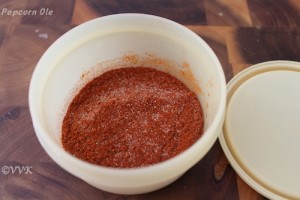 You can read about the difference between cayenne and paprika here.
Homemade Popcorn
Popcorn Kernels – ¾ cup (It yielded approx. 4 cups of popcorn)
Coconut oil – 1 tsp (you can use any other oil of your preference)
Steps:
Heat a 3 quart (so that the kernels have room for popping) in medium heat.
Add the oil and once the oil is hot add the kernels.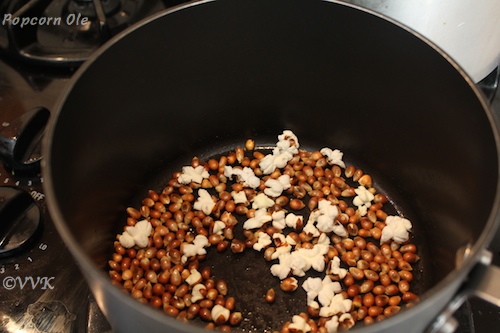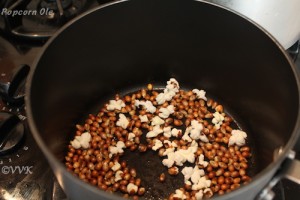 Shake them nicely every now and then and when they start to pop close the pan with the lid.
Once the popping sounds stops turn off the heat and transfer the popcorn.
Popcorn Ole:
For 4 cups of popcorns this is what I used,
Spice mix – 2 tsps.
Butter – 1 tbsp
Mayonnaise – 1 tbsp
Dash of lime juice
Steps:
Right after you transfer the popcorn, add the butter and mayo so that the butter melts easily.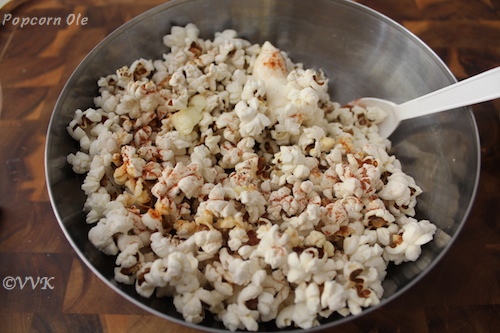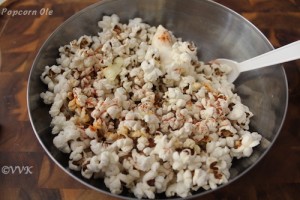 Add the spice mix and toss them together.
That's it. Popcorn ole is ready. Enjoy it with your favorite movie.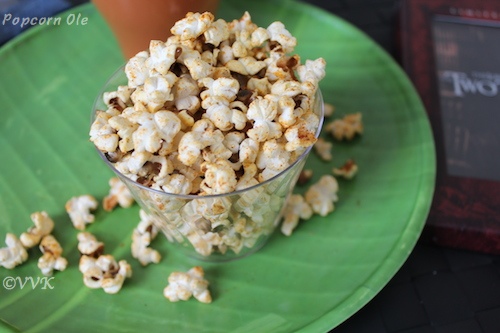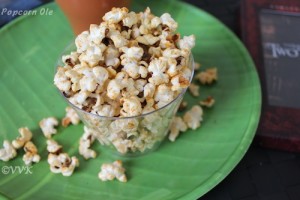 Check out the Blogging Marathon page for the other Blogging Marathoners doing this BM