Welcome to the 13th day of baking mania.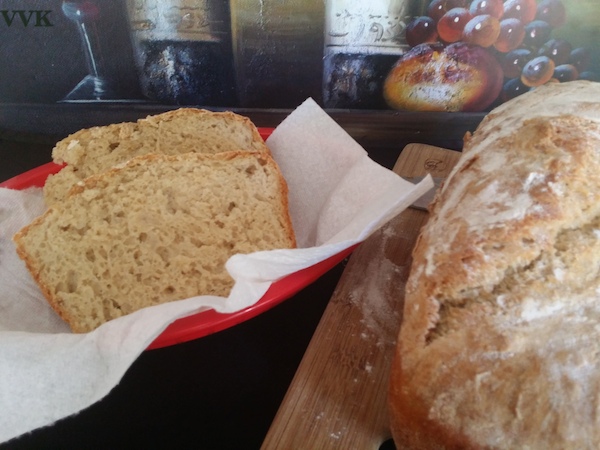 When I joined this blogging marathon group last year, they had a theme called "Tame the yeast". It ran for couple of months. I was wondering why they have this theme and was thinking is it so hard to tame the yeast? Oh mannnnn… I realized that tt is indeed very hard to tame this tiny yeast. I have one big disaster story to share but will keep that for next month. :-) But I wanted to try one bread at least in this baking marathon. So took this recipe from Varada's kitchen. Ok, what do I say about her and her breads. Such an artistic baker.
This no knead wheat bread does need lot of time but it is one of the easy bread to start with. Varada mentioned 2 cups of water in her recipe but I had to use 3 cups. Not sure if is it because of my wheat flour. But the bread turned out ok with 3 cups of water. Even though the shape didn't come out exactly like Varada's but the entire family like the bread and I was proud of myself after that disaster. :-)
Here is the recipe.
No Knead Wheat Bread
Ingredients:
All purpose flour – 2 cups
Whole wheat flour – 2 cups
Sugar – 3 tbsps
Salt – 1.75 tsp
Instant yeast – 3/4 tsp
Water – 3 cups
Oil – 3 tbsps
Steps:
Note: I mixed the flour and kept the dough overnight to rise. The temperature plays a major role. As the temperature was cold here it took me 10 hours for the flour to rise.
Sift both the flours in a large mixing bowl (make sure it has enough space for rising).
Add all the dry ingredients and add water and oil.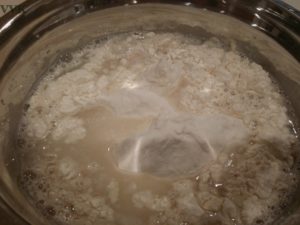 Whisk until all the ingredients are mixed together. You don't need to knead.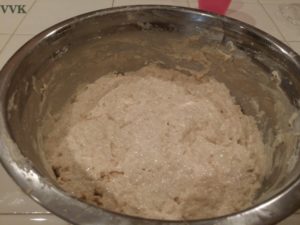 Spread some oil on top and cover it with plastic wrap and set aside.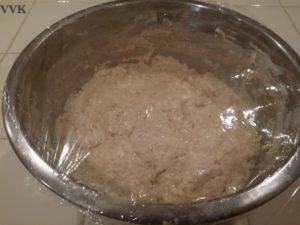 The dough will be raised twice as its original volume. Now mix the dough nicely. Fold it couple of times and again no need to knead.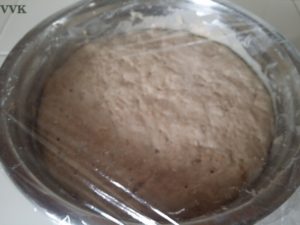 My loaf pan size is 9X5. Place the dough in the loaf pan and smooth out the top with oiled hand. (I didn't do this properly)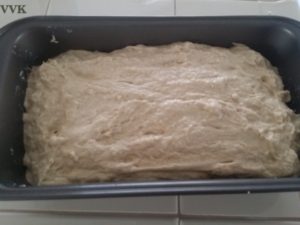 Sprinkle some flour on top and cover it with oiled plastic wrap again and let it sit for couple of hours.
The dough will raise again. Preheat oven to 375 F during the last 15 minutes of the rise.
Bake it for up to 5- -60 minutes. I got the golden crust at 50 minutes.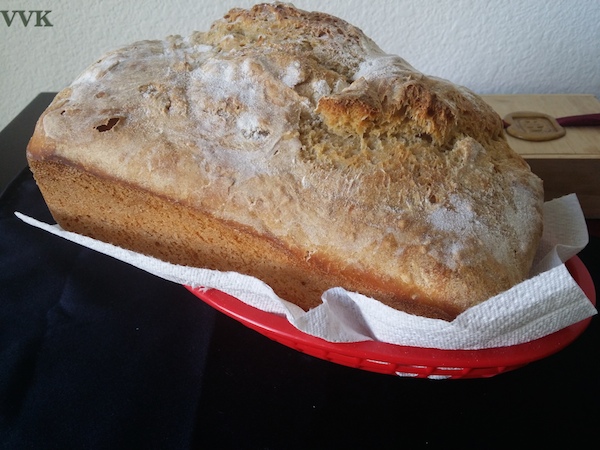 So after 14 hours I got my first bread :-)