We saw the mediterranean and Mexican way of adding beans into kids lunch menu. Now I am going with my comfort food, a typical Tirunelveli side kuzhambu or sambhar – Mochai kottai kuzhambu. Mochai Kottai is the Lablab beans and here I am using the dried ones but if you can get the fresh ones thats great. This kuzhambu is great for kids as it is very mild. The coconut milk suppresses the spiciness and adds unique flavor to this kuzhambu. Also I use methi powder instead of methi seeds to give it the taste of vendiya kuzhambu.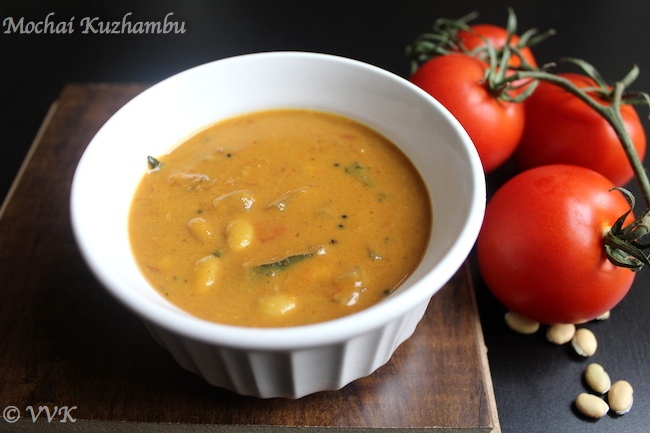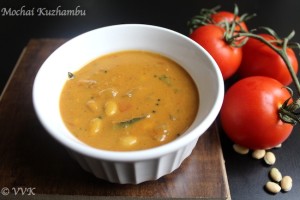 Prep Work: If you are not using fresh beans, soak 1/3 cup of lablab beans overnight and pressure cook them by adding 1/2 tsp of salt.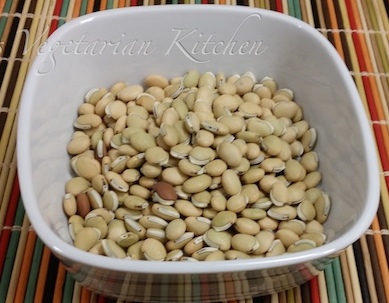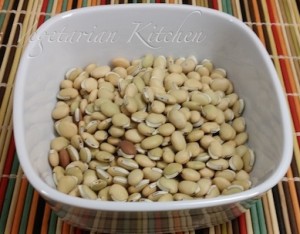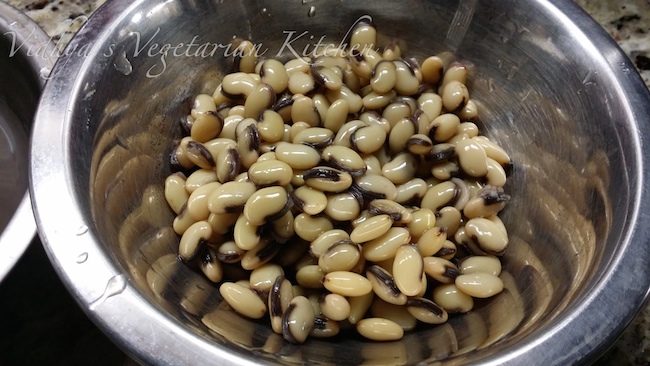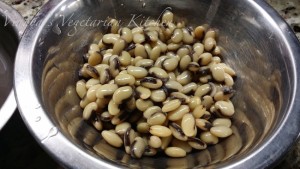 Ingredients:
Medium size onion (chopped) – 1
Medium size tomato (chopped) – 1
Cooked lablab beans
Sambhar powder – 1.5 tbsp
First Coconut milk – 1/2 cup
Jaggery – 1/2 tsp
Salt – 2 tsps (as per taste)
Curry leaves – 1 strand
Turmeric powder – 1/2 tsp
Tamarind juice – 1 cup (Extracted from small gooseberry sized tamarind or dilute 2 tsps of tamarind paste in 1 cup of water)
Water – 1/2 cup
For Tempering:
Oil – 2 tbsp
Mustard seeds – 1 tsp
Methi powder – 2 tsp
Hing – 1 tsp
Steps:
Heat the kadai and add oil.
Once the oil is hot, add the mustard seeds. As they start to splutter, add methi powder and hing.
Let it cook for a minute and add the chopped onions.
Cook till the onions turns translucent and now add the chopped tomatoes, salt and turmeric powder.
Cover and cook for 3-4 minutes till the tomato gets cooked and blends well.
Now add the lablab beans and tamarind water.
Let it simmer for 5 minutes. Meanwhile mix the sambhar powder in 1/2 cup of water. (This is done to avoid lumps)
Now add the sambhar powder mix, curry leaves and jaggery.
Let it cook for about 3-4 minutes.
Now add the coconut milk and simmer it for 5 minutes.
And thats it, yummy kuzhambu is ready.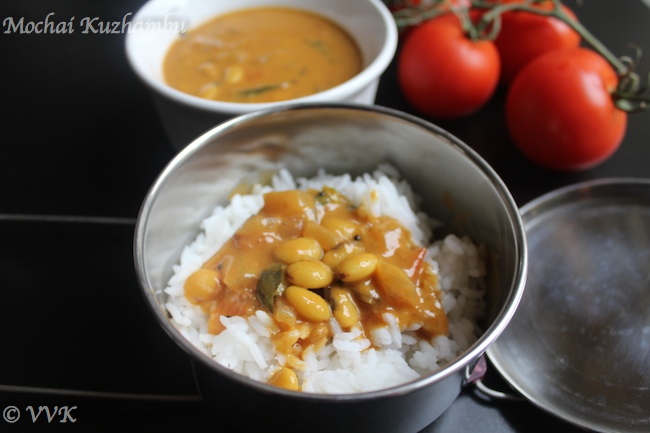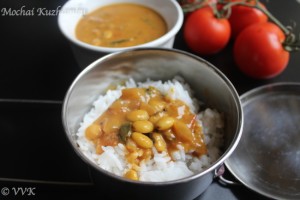 Serve hot with rice and with mild curry
Submitting this post for Blogging Marathon #45 – A 3 day marathon for 4 weeks
Blogging Marathon page for the other Blogging Marathoners doing BM#45
Submitting this for kids delight.