For the new week, here is my simple Indian meal planner, precisely a vegetarian one. Plan, prep and make healthy meals for your loved ones!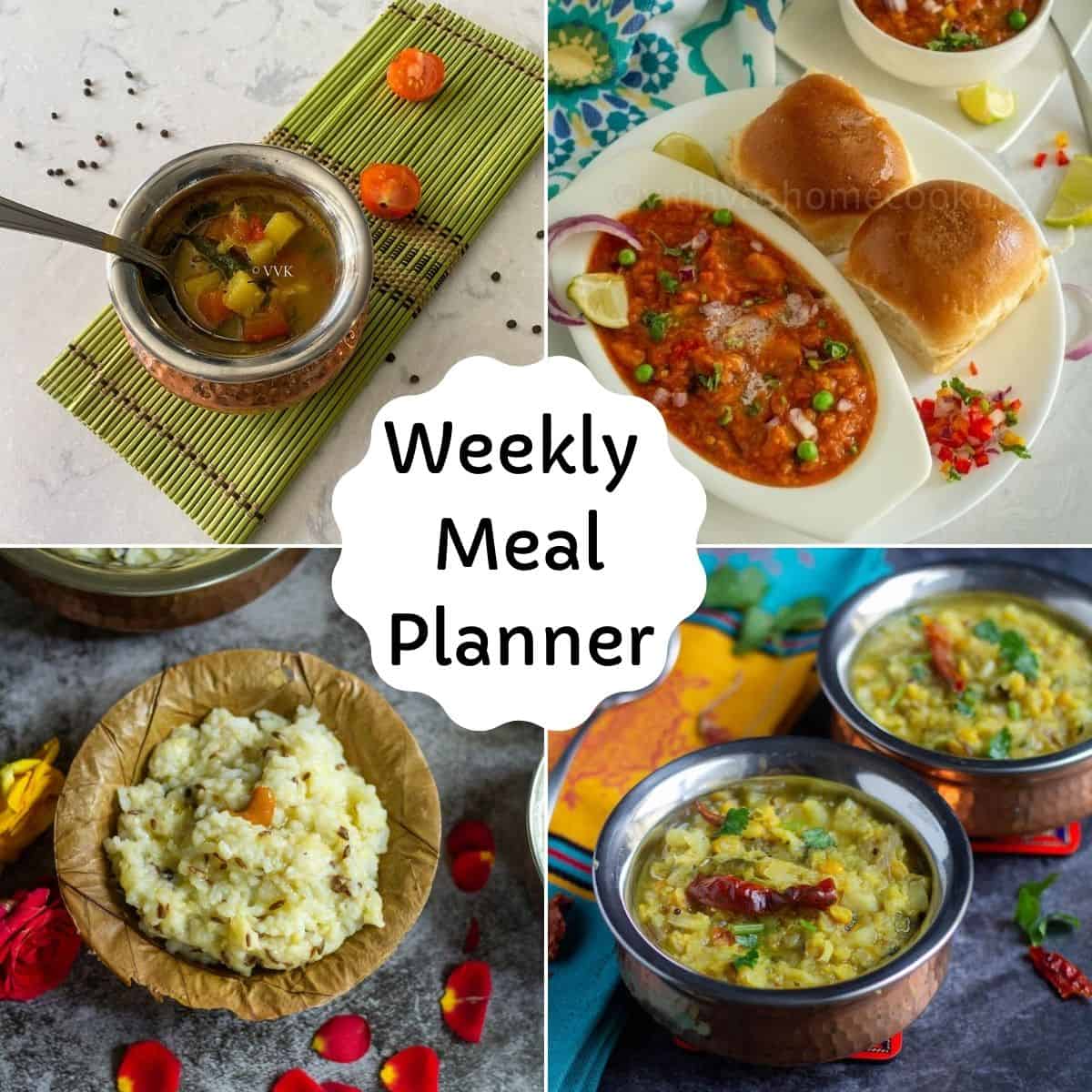 Are you new to meal planning and prepping or looking for new ideas?
I have been sharing 5-day weekly meal planners for the past two years, and I have over 40+ Indian vegetarian meal planners on my blog. You can check them out all under the "meal planner" category. Please share your thoughts and feedback in the comment section.
In my previous meal planner, I had shared why to plan meals. This week let me share some of the advantages of meal prepping.  
Advantages of meal prep
Meal prepping could be as simple as chopping all the required veggies, soaking and cooking the beans and lentils in advance, or preparing the base sauces and freezing. Or you can be well prepared by batching, cooking all the meals, and even portioning, packing, and freezing them.
This might sound like a lot of work, and yes, we need to set aside some time during the weekend. But trust me, folks, that helps a lot during the workweek.
Not all days go as planned. Some days work gets hectic, or something unplanned might come up; if we have our meals planned and prepped, we can whip up something quickly instead of ordering a take-out.
PS – You can do the prep work over the weekend or batch cook every alternative day. It all depends upon your work schedule. Opt for the one that works the best for you. I plan my meals depending upon my work week and kiddo's classes.
This week's Indian meal planner. 
Like every week, I have a mix of south Indian and north Indian recipes, and I have some paratha and pav bhaji, khichdi, and other rice dishes. Also, I am relying on store-bought pav buns and ravioli, and pasta sauce for Thursday dinner.
Let's see the prep work required for this particular week.
PS – Follow me on my Instagram to see how I pack the lunch for kiddo every day, new recipes, and everyday meals. 
Prep-work
Recently I started cooking a few dishes, especially Monday and Tuesday ones, and refrigerating them), and trust me, it comes in handy. This week, I have already prepared raw papaya chutney, pav bhaji, and cabbage kootu.
Dishes like pav bhaji freezes well, and you can make them in bulk for two to three meals. You can serve bhaji with dosa and can make pulao or sandwiches too.
Prepare the idli-dosa batter. 
Boil the potatoes and let them cool and refrigerate.
Chop the required vegetables.
Knead the roti dough in bulk and knead the day before. 
Chop the fruits and pack them in containers. Cleaning and chopping fruits like melons, pineapple, and pomegranate help a lot.  
Note – Use the grain of your choice. Instead of rice, you can use millets, quinoa, or brown rice. Also, you can make multigrain roti or quinoa, or ragi roti too. 
Without any further ado, here is this week's meal planner. Please check the recipe links below.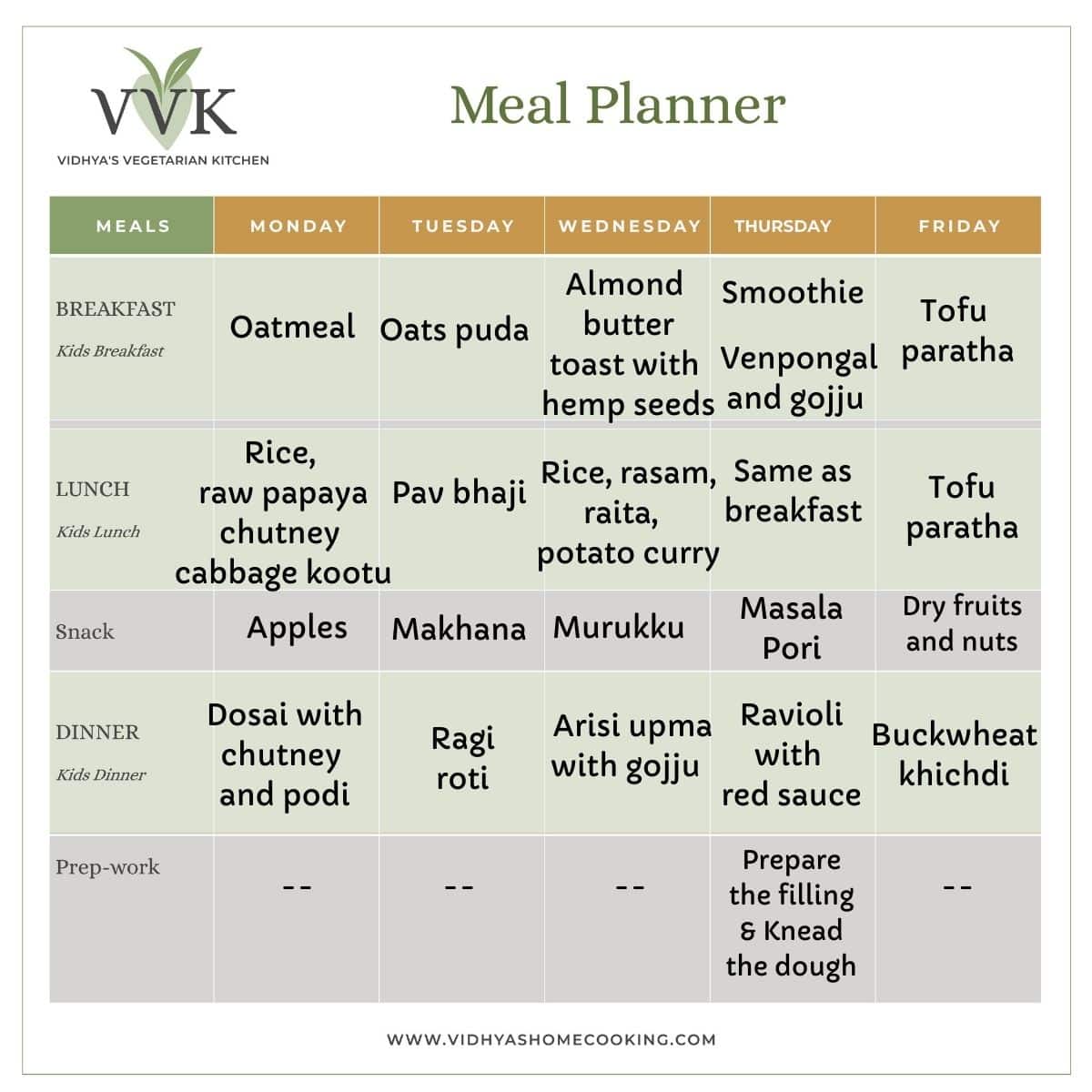 Monday Menu
Tuesday Menu
Wednesday Menu
Thursday Menu
Breakfast – Ven pongal with leftover gojju for kiddo and smoothie for us. 
Lunch – Venpongal with gojju. 
Dinner – Store-bought ravioli with red sauce
Friday Menu
Breakfast – Tofu paratha. (I am yet to share this recipe)
Lunch – Tofu paratha
Dinner – Buckwheat khichdi. (I have shared a similar recipe on my IG with bulgur wheat, you can check that for reference)
I hope this menu planner helps, and you all can draw some inspiration. If you have any questions, please leave a comment below. I will share the daily updates on my Instagram and my FB group. So stay connected!
Stay Safe & Happy Cooking!
Vidhya