A simple weekly meal planner with easy-to-make dishes for breakfast, lunch, and dinner! Indian meal plan for a week!
It's that time of the week where I share the weekly vegetarian meal planner. Check out what I have on my menu for this week.
PS – Substitute the rice/millet with grains of your choice.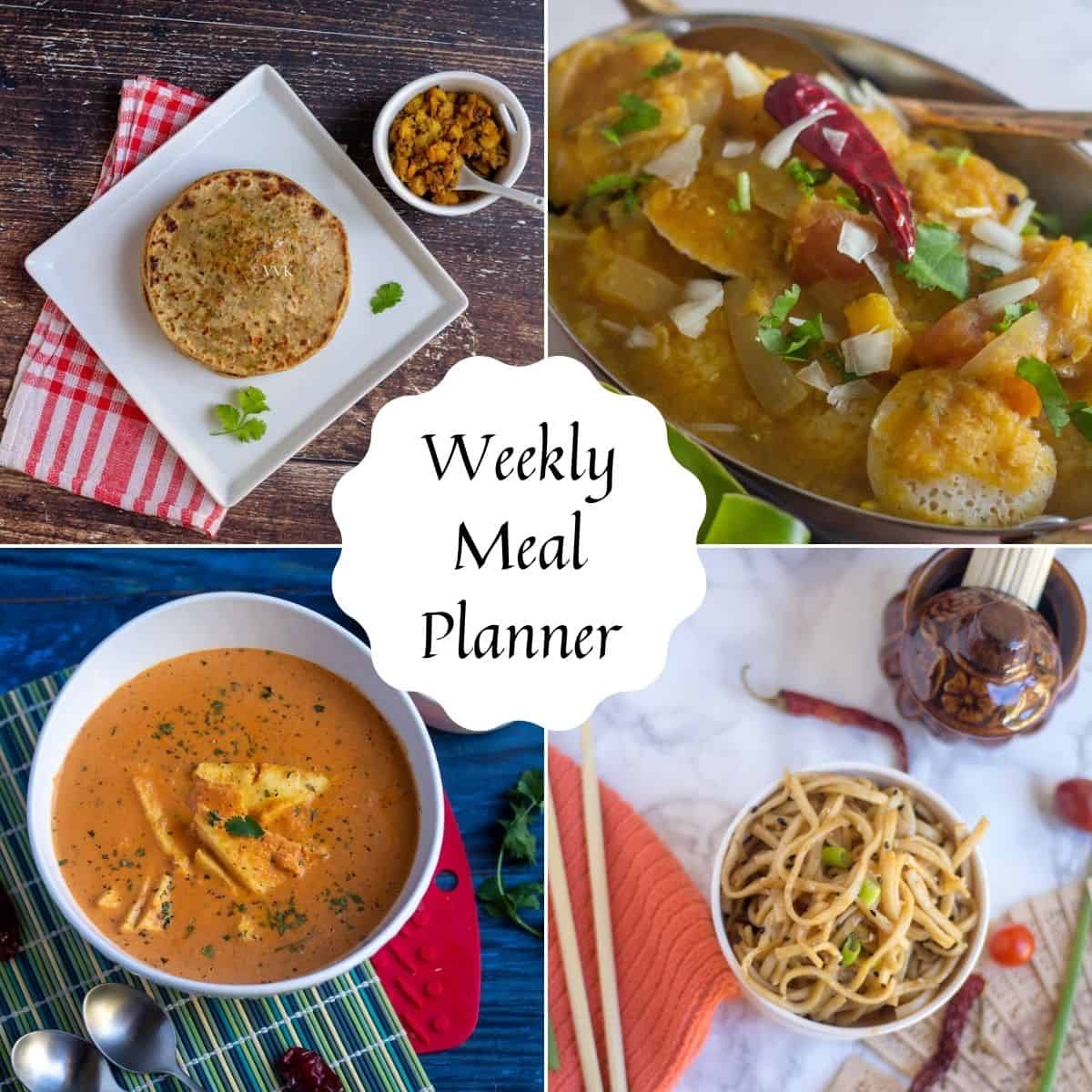 Are you new to meal planning and prepping or looking for new ideas?
Check out all my previous meal planners. I have been sharing some meal planners for the past two years. I have shared over 30+ Indian vegetarian meal planners, and you can check them out all under the "meal planner" category. All meal planners are unique, and I am sure you can draw some inspiration.
Meal-Prep | How much I do over the weekend?
This week, did a Q and A on my Instagram regarding meal planning and one of the question was how much meal prep I do over the weekend vs. weekdays for the weekday meals?
It depends upon the menu. I spend 3 to 4 hours during the weekend and do basic meal prep. I make sure I have all my vegetables cleaned and chopped. Also, I prepare the idli-dosa batter. These are mandatory activities during the weekend.
Other prep-work that I do depends on that week's menu. Few examples are,
If I am opting for homemade snacks like makhana, puffed rice, or cookies, I make them over the weekend.
I try to make some chutney like ginger chutney or relishes like tomato-onion relish or gojju that I can pair with idli or dosa or other dishes.
Soaking and sprouting the beans if needed, and if I have a lot of lentil-based recipes, I cook and freeze my toor dal, moong dal.
I make tamarind rice paste/tamarind paste and pasta sauces during the weekend. If I plan to make mint rice or tomato rice, I make the paste the day before.
Also, I knead the dough for roti the day before as well.
Disclaimer: This meal planner is specially designed based on my family's likings. I have a 12-year old son, and he can handle spicy food. He cannot reheat his food in school, so I try to avoid certain foods that need to be heated. I pack the lunch in stainless steel containers, mostly Lunch Bots or Thermos sometimes, and keep it in an insulated lunch bag. It keeps the food warm. Last but not least, I do pack leftovers.
Without any further ado, here is this week's meal planner. 
This week's meal planner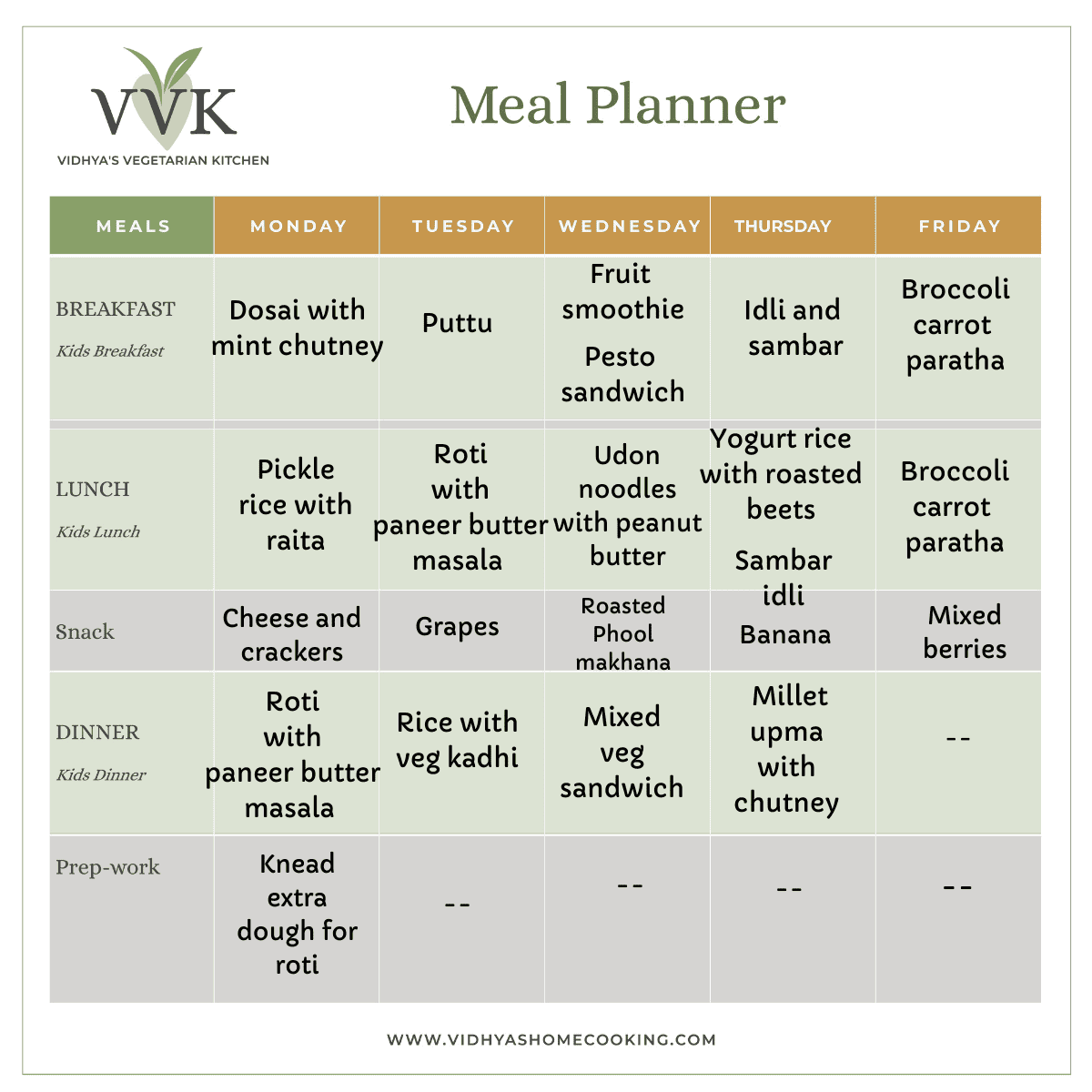 I am going with a simple menu this week as well. My breakfast recipes are usually simple ones, and I rotate between idli, dosa, upma, poha, smoothie, porridge, and puttu. So let me talk about the lunch and dinner menu that I have each day.
Please click the links for the individual recipes! I am yet to add few recipes to the blog and will update the links as soon as I post them.
Monday Menu
Breakfast – Dosai with mint chutney
Lunch– Pickle rice with raita. I plan to make this pickle rice more like gongura pulav, but instead of gongura pickle, I will be using store-bought thokku.
Dinner – Roti with paneer butter masala.
Tuesday Menu
Wednesday Menu
Thursday Menu
Lunch – Yogurt rice with roasted beets. (I will share the roasted beets recipe soon)
Dinner – Rice with leftover sambar and beets poriyal.
Friday Menu
I hope this menu planner helps, and you all can draw some inspiration. If you have any questions, please leave a comment below. I will share the daily updates on my Instagram and my FB group. So stay connected!
Stay Safe & Happy Cooking!
Vidhya