Welcome to the 25th day of Baking Mania. When I was going through my previous recipes, I realized that I didn't post any cookies at all except for Madeleine. So I thought of posting one day. I am most comfortable with oatmeal cookies but then I thought let me step out my comfortable zone and this is the first time I am trying this. But why macadamia and white chocolate chip? Both me and vaandu love white chocolate chips and we can have that as snack itself. :-)
Until last year, Macadamia was the only nuts that kiddo liked. When we went to Maui he was enjoying those to the core while me and M were enjoying the tropical vegetation and fresh pineapple and coconut water and what not?? We enjoyed these cookies there and thought of trying the same here. Its pretty simple cookie only. My ratio for flour and sugar is 1:1/2. For one cup of flour I always add half cup of sugar and 1 stick butter. Then other condiments. :-)
Eggless Macadamia and White Chocolate Chip Cookies
Ingredients:
All purpose flour – 1 cup
Baking powder – ½ teaspoon
Salt – a pinch
Unsalted butter – 1 stick at room temperature
Brown sugar – 1/2 cup
Vanilla extract – ½ teaspoon
Milk – 2 tablespoons
Unsweetened apple sauce – 3 tbsps
White Chocolate chips – 1/3 cup (adjust accordingly)
Chopped roasted macadamia nuts – 2 tbsps
Steps:
Preheat oven to 350 degree F.
Mix the dry ingredient APF, sugar, salt and baking powder.
Now slowly add the butter, apple sauce, vanilla extract and milk.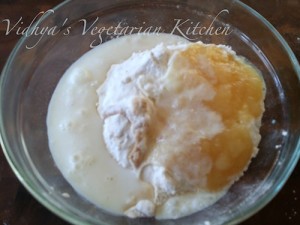 Mix it well with the hand mixer till they become fluffy.
Make sure all the ingredients are incorporated properly.
Now fold in the nuts and chocolate.
Now use a ice cream scoop and place one scoop of this cookie mix in a cooked tray lined with parchment paper.
Press it slightly so that it gets nice round shape.
Now bake this for 12 minutes.
Thats it. I was so surprised that for first time it came out well. The cookies were all gone within a day. :-)
*APF – All Purpose Flour