I am back with my Blogging Marathon posts :-) This week theme is "One vegetable in three forms". Do I need to even ask you what vegetable I would have picked? Of course its brinjal- my favorite :-) I have mentioned this in my food tag also that brinjal my favorite vegetable and the only vegetable that has got its own category is also brinjal :-) Ok, enough about me and brinjal.
This is a very simple recipe. Just our regular bhajji but instead of plantain and potato we are using brinjal. I learnt this recipe from my Paati/Grandma – my music Guru. (Even though she is now my own paati, she is as close as my own paati). As both potato and plantain are gaseous veggies, (vaivu) she does bhajji using brinjal. Its a great alternative for potato and plantain. Here is the recipe: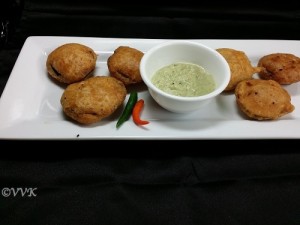 Brinjal / Indian Eggplant Bhajji
Ingredients:
Besan / Kadalai Maavu – 1 cup
Red chilli powder – 1 tsp
Salt – 3/4 tsp (adjust accordingly)
Baking soda – 1/4 tsp
Brinjals 4-5 , basically you need 10-12 slices.
Oil for frying
Water – 1/4 cup + 2 tbsps
Steps:
Heat the kadai and add oil. While the oil is getting hot you can prepare the bhajji batter.
Mix the besan, red chilli powder, salt and baking soda.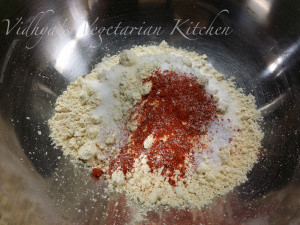 Mix the 1/4 cup water and make it thick paste. If required add more water. The batter should be in dosa batter consistency.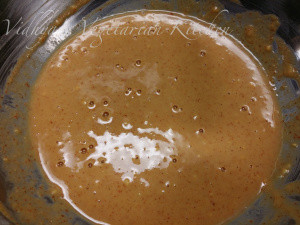 Cut the brinjal into thin round slices.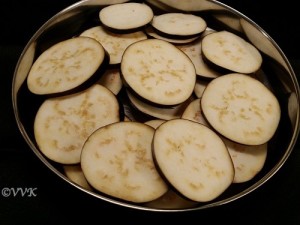 Once the oil is hot, dip the brinjal slice into the batter. Make sure both the sides are coated well and slowly drop them into the oil.
Fry them till they are golden brown.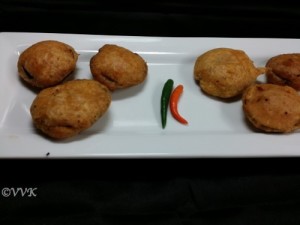 That's it. Yummy bhajji is ready. Serve hot with chutney.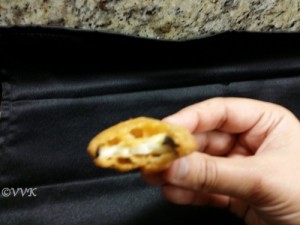 Submitting this post for Blogging Marathon #49 – A 3 day marathon for 4 weeks
Blogging Marathon page for the other Blogging marathoner doing BM#49