Last two days, we saw two traditional variety dishes as a part of adiperukku. Now bringing a new dish, which is my kiddo's favorite. One of his favorite color is pink. (I know he got bored of blue and this favorite color keeps changing). He calls this as pink mum mum. Here is the favorite dish of my dear vaandu. (Naughty boy in Tamil). It is also a one pot dish and one of the easiest dish to prepare and pack for lunch, perfect for weekday mornings.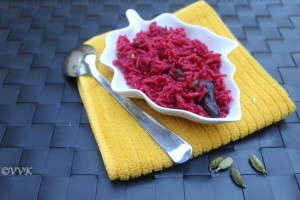 Ingredients:
1 medium size beetroot – peel the skin and grate it.
1/2 of medium sized onion – finely chopped.
Red chillies – 2
Oil – 1 tbsp
Mustard seeds – 1 tsp
Jeera/Cumin seeds – 1 tsp
Cinnamon – 1 inch piece
Cardamom – 2
Cloves – 2
Salt – 1.5 tsps (as required )
Basmati rice (Preferable) or any rice – 1 cup
Cilantro – 2 tbsps
Steps:
As it is a one pot dish, I used the handi type pressure cooker.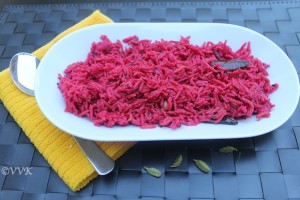 Heat the pressure cooker or pan.
Add oil and once the oil is hot, add mustard seeds and cumin seeds.
As they start to splutter, add the red chillies. (I prefer red chillies because, I will be able to remove it after cooking as I am giving it to the kid. Green chillies are hard to remove)
Crush the cardamom, cloves and cinnamon. Add the crushed mixture now. Saute it for a minute.
Add the chopped onions and cook till its transluscent.
Add the grated beetroot and also salt. Let it cook for couple of minutes.
Now add the washed rice and 2 cups of water.
Pressure cook it for two whistles. (Basmati rice cooks faster, so cook according to rice)
Before serving, garnish it with cilantro.
Serve it with raita. And this our lunch today.
Submitting this post for Blogging Marathon #43 – A 3 day marathon for 4 weeks
Blogging Marathon page for the other Blogging Marathoners doing BM#43
0